Master
Content
Baylor College of Medicine alumni keep alive an important rite of passage—the White Coat Ceremony. Each summer, alumni gifts purchase white coats for all first-year medical students and second-year physician assistant students to support them on their journey to professionalism. As our future alums don their coats before faculty, family and friends, they take an oath affirming their commitment to the highest standards of ethics in patient care.
More than a coat, each alumni gift is a message of encouragement to the next generation of Baylor physicians and physician assistants! Many alumni include with their gifts a few words of wisdom, reprinted below to remind all of us what the white coat means.
Heading
Messages from Alumni
Media Component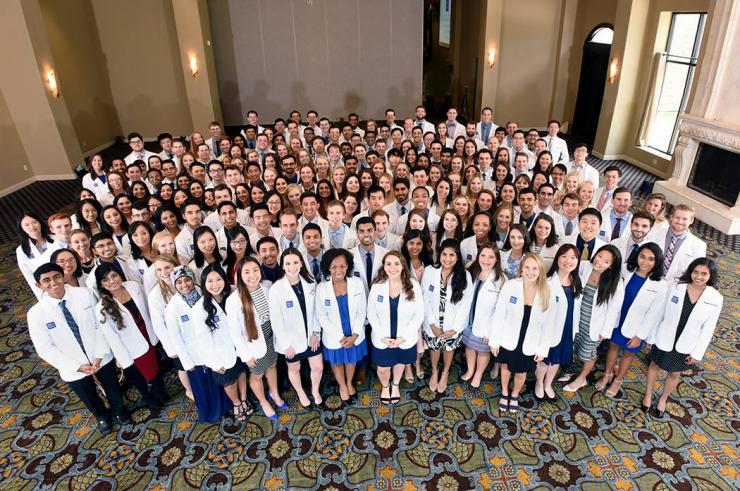 Content
"Congratulations! You have chosen a great profession. Whatever specialty you choose for your career, never forget to listen and connect with the patient."
Bhuvaneswari Krishnan, M.D., Res. '92
"Listening is the most important skill for you to hone in medical school."
George P. Taylor, M.D. '78
"Go forth and have a great career!!!"
Ellen E. Wilson, M.D. '84
"Congratulations! The next four years will be amazing."
Dan K. Seilheimer, M.D. '72
"Don't give up and be persistent. Reflect and when you're with the patient, be present. Take care of yourself along the way. Continue to love what you do. Don't give up!"
Karen G. Swenson, M.D. '81
"Read on a new topic every day."
Michael L. Schindel, M.D. '84
"Beginning of an exciting adventure; enjoy and listen well."
Tom S. McHorse, M.D. '67
"Look your patient straight in the eye. Listen carefully to their symptoms. Avoid using the computer while with them if possible."
Jan H. Garrett, M.D. '66
"Keep up the good work."
James M. Grichnik, M.D. '88
"When things get hard, don't give up!"
Paxton H. Howard, M.D. '62
"It is NEVER the WRONG time to do the RIGHT thing."
Jasvinder S. Sidhu, M.D., Fel. '07
"Remember it's a privilege to help people and always have empathy."
Michael T. Mohun, M.D. '79
"Congratulations, wear your coat proudly and with humility. This profession is a commitment to honor our patients first. I remember my white coat day well and could not have made a better choice. At 79.5 years and practicing. Welcome aboard." Betty Carlisle, M.D. '64
"You will do good for many people and have lots of fun in your career!"
Major W. Bradshaw, M.D. '67
"I wish you much success and joy!"
Albert T. Gros, M.D. '76
"Be Thankful....Culture gratitude.....Be gentle...Love your work."
Arthur S. Phelps, M.D. '69
"Work hard, be kind and enjoy the journey."
William J. Craigen, M.D. '88
"You can't diagnose what you've never heard of. Learn it all."
P. M. Mauk, M. D. '80
"Enjoy the journey!!"
Chaitanya S. Mangalmurti, M.D. '92
"Congratulations! I hope your coat will remind you of the special place you have in the lives of your patients and their families. For some you will do big things! More often your days will be filled with thousands of little things. Treasure them all!"
Kathleen R. Liscum, M.D. '88
"Remember, the best medicine for your patient is a competent, compassionate physician. Good luck on your journey!"
Karen E. Johnson, M.D. '81
"Look for Excellence."
Gerardo A. Cabrera-Meza, M.D., Res. '76
"Don't just listen to what your patient says, try to understand why they are saying it."
Alton L. Thomson, Jr. M.D. '71
"Be persistent."
Jorge A. Coss-Bu, M.D. '99
"Appreciate the privilege you are given by the trust your patients put in you. It is a great privilege to practice Medicine."
Daniel P. Logan, M.D. '78
"Stay focused and have fun."
Ravinder B. Reddy, M.D., Fel. '06
"Congratulations on your achievements and continue to work toward your most noble goal!"
Richard M. Sperling, M.D. '88
"One day at a time!"
Catherin A. Roberts, M.D. '83
"Enjoy the journey...I did!"
Barbara M. Preston, M.D. '70
"The public respects those who wear the coat so always act with integrity keeping the patient interest uppermost."
James E. Key, M.D. '70
"Enjoy your studies!"
Susan L. Sponenberg, M.D. '79
"Congratulations and best of luck! Baylor is an outstanding place to get your medical training. You will be incredibly prepared. Make the most of what Baylor and the fabulous Texas Medical Center has to offer."
Padma K. Horvit, M.D. '92
"Congratulations and best of luck! You are about to start the most incredible education. Enjoy and appreciate the next four years."
Adam D. Horvit, M.D. '92
Heading
Words of Wisdom for Physician Assistant Students
Media Component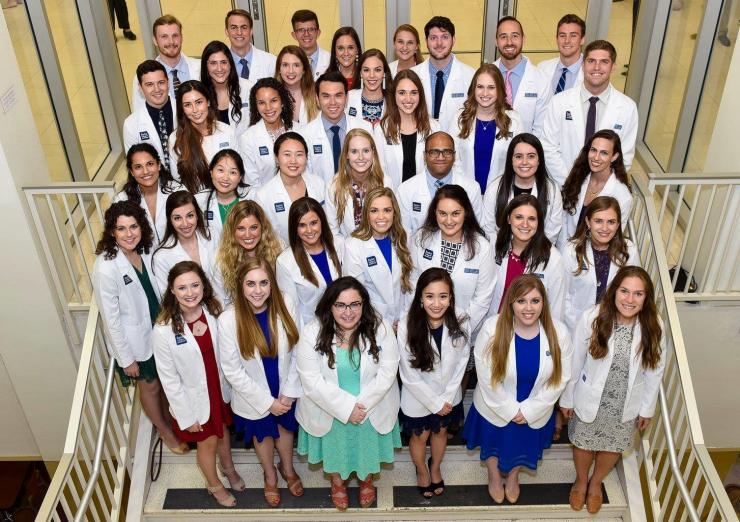 Content
"I am so bloody proud of you?"
Xinwen Wang, P.A.-C. '10
"The day we received our white coats (long before you were born), we thought we were the coolest things on this earth. I hope you will feel the same, at least for a couple of weeks! Best wishes."
Joan Appel, P.A.-C.'75
"Remember to take time for you. Stop and smell the flowers (unless you're allergic), take big breaths, laugh a lot and relax (in no particular order). Life is short! You'll be a better provider if you are healthy."
Kristen M. Meaders, P.A.-C. '97
"Throughout your rotations, never underestimate your role as a member of the healthcare team. It is only through doing and serving that you are able to learn."
Jill Vershel, P.A.-C. '07
"Best of luck to all the students! It's worth the long hours, the stress, the work."
Ross P. Madden, P.A.-C. '99
"Question rules that say 'always' and 'never'. Think about what will be best for your patient's specific needs at the moment."
James W. Foard, P.A.-C. '76
"Congratulations...the best is yet to come!!"
Amy E. Frank, P.A.-C. '96
"In your practice, always remember 'It's not about you'. It is always about the patient."
Faith L. Sanders, P.A. '87
"Take the time to listen to your patients...and your gut!"
Mary T. Tran, P.A.-C. '06
"Take the time to make each patient feel important."
Laura J. Otillar, P.A. '00
Heading
Give the Gift of a White Coat
Content
Your gift will purchase a white coat for a rising first-year medical student or second-year PA student.