Master
Media Component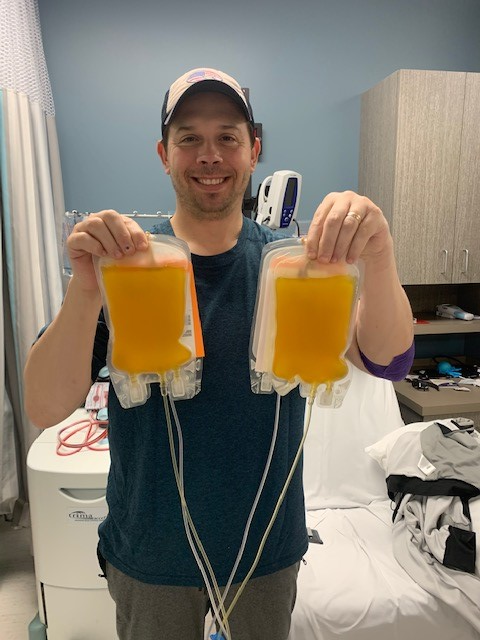 Content
One evening in early March 2020, Christopher Brann, M.D., M.B.A., Class of '07, surveyed the makeshift quarantine he had set up in a tent in his backyard. He hoped he wouldn't need it. But, as an internal medicine specialist at Baylor St. Luke's Medical Center, Dr. Brann knew he had to prepare for possibly contracting the COVID-19 virus. Preparation had always been paramount to the former Eagle Scout, from Baylor's rigorous medical training to starting a family to working on the frontlines as the virus rapidly spread worldwide.
Amidst disturbing early reports about infection rates, asymptomatic carriers and healthcare professionals falling gravely ill, Dr. Brann and his colleagues imposed on themselves travel restrictions, treatment procedures for infected patients and exposure protocols. At home, he used his guest room for changing out of scrubs and showering after work. He focused on his patients and, having prepared for the worst, hoped for the best.
Unfortunately, all those preparations proved necessary when Dr. Brann learned he had been exposed to COVID-19 in mid-March. Despite his good health and lack of risk factors, he immediately quarantined himself in the tent. He was prepared to do whatever it took to protect his family, just feet away inside. He checked his temperature multiple times a day, ate the meals his wife left outside and came inside only to use the guest bathroom. By the time he could be tested for COVID-19, he had developed the trademark symptoms. Upon learning that his results were positive, Dr. Brann found he was not prepared for the uncertainty and anxiety he felt.
And it was impossible to prepare for the long, lonely hours in the tent. He could distract himself only so much by Facetiming with his family, answering concerned texts from friends and listening to podcasts. "You don't realize how many minutes are in a day when you spend them alone, especially when you're so physically close to your family. I realized very quickly how easily your defenses can crumble. Like when my two-year-old would escape my wife, run downstairs and bang on the door because he knew I was out in the tent. Emotionally, it's hard to even talk about. He thinks the tent is the place to play."
Two and a half weeks after quarantining himself, Dr. Brann tested negative on his second COVID-19 test. After a joyful and emotional reunion with his family, during which his wife handed off the children for a much-needed break, Dr. Brann jumped back in the fight against COVID-19. Armed with his experiences, he augmented his care by focusing on helping isolated COVID-19 patients maintain contact with their families and stay informed. "The human part is just as important as the clinical part," he explains.
His illness also empowered him to fight COVID-19 on a different front. While quarantined, he learned about convalescent plasma, a potential new treatment that uses antibodies from recovered COVID-19 patients to treat high-risk individuals and those with severe symptoms. With Baylor's help, Dr. Brann donated plasma to four different COVID-19 patients. He plans to donate again. "Those of us who can advance research should actively participate in those efforts. The oath I took is to do everything possible to help a patient. Here, donating blood is the same as prescribing medication. That's why I'm very proud to be a Baylor alum right now—our research is so strong and pursuing all these different ways to help. This pandemic has given me a newfound respect and pride for our institution."
Even with all he's accomplished post-recovery, Dr. Brann doesn't consider his actions to be heroic. "The hero is my wife. She's a rock. All the frontline people and their families who are making tough decisions to protect themselves as we did, they're the ones who deserve the credit. This is as much an emotional fight as it is a physical fight."
Today, Dr. Brann is happy to care for his patients and to continue donating plasma. Ever the Boy Scout, he plans on replacing his old tent as soon as possible.