Master
Media Component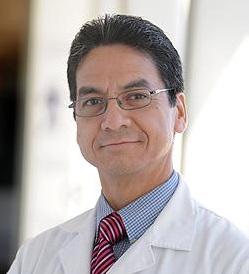 Content
His dream as a youth was to be a doctor and particularly a pediatrician. Yet, what Dr. Jorge Coss-Bu couldn't predict was a journey that would span two countries, entail two decades of medical training and require recurring visits to the U.S. Embassy in Mexico City to secure legal entry into the United States. Undeterred and as driven as ever, this world-class pediatric critical care and nutrition specialist attributes his successful career to a single trait: "lifelong persistence."
Dr. Coss-Bu's story began in Monterrey, Mexico, where he grew up the youngest of nine children. His brothers were good at math and became engineers, but he lacked their mathematical aptitude. Instead, he chose medicine, the same path taken by his mother, a nurse, and his maternal grandfather, a physician. "I always thought I wanted to be a pediatrician, so early on I thought that was my calling," he remembers. "Children are vulnerable, and we want to make them better when they get sick. I also was attracted to the idea of helping kids because they are the future."
Dr. Coss-Bu obtained his primary medical education in Mexico, where he graduated from medical school and completed a residency in general pediatrics. As a senior medical student in 1985, an inter-institutional agreement with Baylor College of Medicine allowed him to travel to Houston to participate in clinical rotations at Ben Taub and Houston Methodist hospitals. Here, he learned how medicine was practiced in the United States and in the Texas Medical Center. After the program ended, he recalls, "I went back to Monterrey for the pediatrics residency but always with the idea to come back to Houston and to Baylor."
When he returned to Houston in 1990, he spent his initial six years at Baylor and Texas Children's Hospital pursuing a long-held interest in research. At that time, Texas Children's owned very specialized equipment and, under the mentorship of pediatric pulmonologist Dr. Larry Jefferson, Dr. Coss-Bu had the unique opportunity to measure metabolism in critically ill children and later to study their nutritional needs. As he explains, "It's one thing to measure metabolism, but more importantly, how do you nutritionally support these children when they are sick and in the ICU?" Uncovering and applying this new knowledge was his goal.
Persistence remained the central theme of his early career at Baylor. His resolve saw him through a three-year pediatric critical care fellowship followed by a second residency that would ensure his eligibility for certification in pediatrics and pediatric critical care by the American Board of Pediatrics. Despite the numerous challenges and obstacles he faced, Dr. Coss-Bu feels his unconventional and lengthy path was worth it. "My six years in research helped to pave my career after I completed my clinical training," he recounts. It also positioned him for his appointment to Director of Research in the Section of Pediatric Critical Care Medicine and the oversight of research conducted by the section's fellows and faculty.
Throughout his career, Dr. Coss-Bu has demonstrated a keen interest in mentoring students and trainees, a duty that always has been important to him. Early on, he benefitted from exceptional mentors like Dr. Fernando Stein, a revered Texas Children's pediatrician and critical care specialist who played an influential role in Dr. Coss-Bu's professional growth. Dr. Stein also instilled in him a responsibility to help others. "He taught me early on by always saying, 'Jorge, what we do for you guys, you need to continue doing this for others,'" he explains. Thus began Dr. Coss-Bu's decades-long legacy of mentorship.
He continues to grow this legacy as Director of Research, a role in which Dr. Coss-Bu demonstrates his genuine interest in people and his desire to serve others. As he explains, "Leadership is one of my commitments, and I have learned the art and science of leadership from our Chief of the Section of Critical Care at Baylor, Dr. Lara Shekerdemian. She gave me the opportunity to be Director of Research for the Section, a position I still hold. And in this capacity, I can continue helping and guiding people in their quest for academia."
You can find Dr. Coss-Bu today advising a continually rotating mix of medical and dietician students from Mexico or providing career guidance to fellows and young faculty in his section. He also encourages his proteges to give back through mentoring others, as was modeled for him.
On July 1, 2020, Dr. Coss-Bu celebrated a remarkable 30 years of service at Texas Children's and Baylor. He smiles when asked what motivates him to stay and says, "It's a combination of factors." These two institutional homes became his northern star after his initial visit in 1985, and he speaks of his gratitude to Baylor for helping him through the many arduous and lengthy immigration requirements. Moreover, it is here where he was afforded the training opportunities not available in Mexico that proved foundational to building an impactful and rewarding career. "Baylor was good to me, and the support of pediatrics chair Dr. Ralph Feigin when I arrived was very important to my ability to pursue my dreams and goals," he asserts.
Like many Baylor alumni who preceded him and who now follow in his footsteps, Dr. Coss-Bu came to Houston three decades ago with no resources and was given the opportunity to work and live here and to establish himself as a leader in his specialty. He believes deeply in giving back to Baylor, the institution that supported him and that does so much for the community and for students. To show his appreciation, he makes regular philanthropic donations, something he calls a mindset. "It doesn't have much to do with the amount of money you have. And it's not about how much you can give. It's more about you wanting to support and to help," he emphasizes. This is a message he conveys to colleagues and other alumni.
We are indebted to this outstanding physician-scientist for his devotion to helping critically ill children and for his unwavering support of an alma mater that is so proud of who he is and what he contributes to the world. Thank you, Dr. Coss-Bu.