Master
Media Component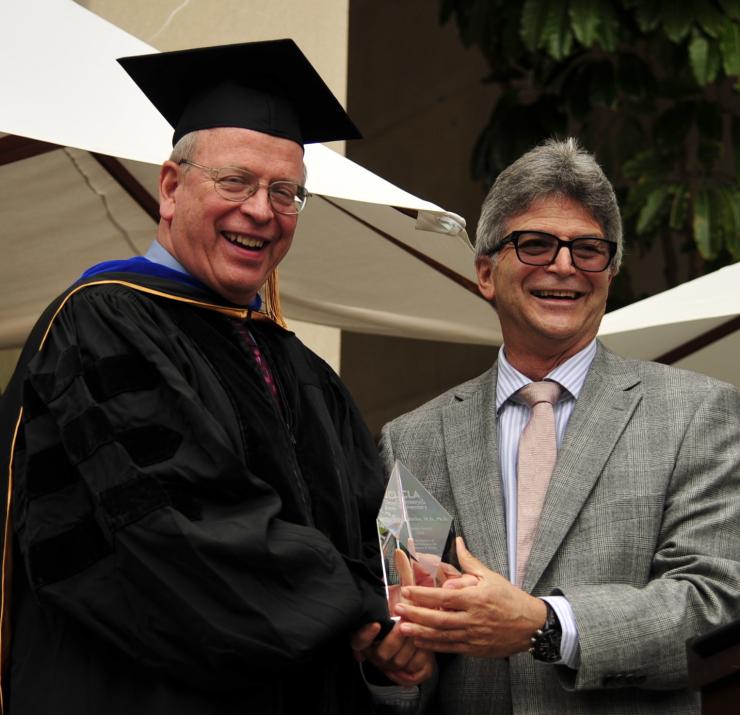 Content
Going Beyond the Lab to Create the Most Meaningful Impact
 
Encountering a stranger who shapes the course of your life can be miraculous. Such an encounter happened to Richard Buller, M.D., Ph.D.'77, when he stepped into the office of Bert O'Malley, M.D., who currently serves as Chancellor at Baylor College of Medicine. He did not know that this outstanding mentor would be involved in his future or that Dr. O'Malley would lead him to Baylor, the medical school that taught him a unique, hands-on approach to medicine.
Before coming to Baylor, Dr. Buller matriculated at Vanderbilt University School of Medicine in 1971 intent on a medical endocrinology career. This field attracted him because it complemented his undergraduate chemistry degree from the University of California, Los Angeles (UCLA). At Vanderbilt, he tried to connect with several of the internationally recognized endocrinology faculty but only one was ever in town – Dr. Bert O'Malley, who then directed Vanderbilt's Reproductive Biology Center. "Bert was very warm and engaging," Dr. Buller said. Following their initial conversation, Dr. O'Malley provided Dr. Buller with the classic William's Textbook of Endocrinology and a reading assignment. "From there, it went to 'Let me introduce you to some people around the lab,' because I was interested in laboratory research to understand the molecular biology of endocrinology."
In 1972, Dr. O'Malley accepted the Chair in Cell Biology and Anatomy at Baylor College of Medicine. He convinced Dr. Buller to take a research year off from Vanderbilt to come to Houston in 1973. That year in the O'Malley lab enabled Dr. Buller to conduct studies that were published in high impact journals. Dr. O'Malley then nudged him to transfer to Baylor and enter the M.D./Ph.D. program in cell biology. In Dr. Buller's eyes, Baylor's training opportunities were unparalleled. Over the next three years, he was able to integrate lab research with phenomenal clinical training. Baylor was one of only a handful of institutions at the time with such a tightly integrated program. During his time at Baylor, extensive hands-on training influenced his education and ultimately his career. He would draw from Baylor's broad clinical experiences throughout the course of his professional journey.
After earning his Baylor medical degree and doctorate, Dr. Buller considered what he wanted to do next. He was still interested in research but wanted to be around people. "One of the things that drove me to expand my horizons beyond biochemistry was the desire to interact more with people," he said. "I also liked surgery a lot, so I decided to go into OB/GYN because it had its own branch of endocrinology, offered the opportunity to engage with patients, and to continue surgical training." With this in mind, Dr. Buller completed a residency in obstetrics and gynecology at the University of California, San Francisco, and joined a private practice of obstetrics, gynecology and infertility in Berkeley, California. While there, however, he identified inefficiencies of care as a significant obstacle for women with gynecologic cancers who often required input from a gynecologist, a general surgeon, a urologist, and a medical oncologist.  "The surgical aspect of patient care of women with gynecological cancers was problematic," he said, "because a lot of the initial care was delivered by OB/GYNs who didn't have the surgical skills to do the kinds of things that needed to be done when patients had cancer."
To address this critical gap in care, Dr. Buller obtained a fellowship in gynecologic oncology at the University of California, Irvine in 1990 where he trained in radical pelvic and reconstructive surgery as well as learning to administer chemotherapy. From there, he accepted a faculty position in Gynecologic Oncology at the University of Iowa College of Medicine, where he led laboratory research focused on identifying genomic variants involved in ovarian cancer, served as division head, held a joint appointment in pharmacology, and built a nationally recognized research program for fellows. But the Baylor clinical training never left him. On one occasion, making rounds as an attending OB/GYN, he evaluated a woman, postoperative from removal of a benign ovarian tumor, thought by the Endocrine Service to have caused hypercalcemia secondary to ectopic ovarian production of parathyroid hormone. However, with dangerously high calcium levels persisting after surgery, the ovarian tumor was really a red herring, because a careful physical exam revealed a palpably enlarged parathyroid gland, subsequently confirmed as an adenoma causing undiagnosed primary hyperparathyroidism.
Realizing that work was becoming too administrative and distanced from the science, Dr. Buller left Iowa in 2003 to focus on the development of novel, molecularly targeted cancer therapeutics. He has worked on diagnostic testing and designing clinical trials for regulatory approvals at GlaxoSmithKline, Exelixis, and finally at Pfizer. At Pfizer, Dr. Buller led translational oncology, and subsequently the entire oncology franchise, including clinical pharmacology, statistics, and clinical development groups. Over time, he has contributed to the development of multiple drugs and diagnostics for more than a dozen indications in many different cancer types.
Dr. Buller has led a remarkable career in medical science through molecular biology research and drug development. Over the years, he led one of the early clinical gene therapy programs for the treatment of ovarian cancer, taught hundreds of medical students and was named the 2016 UCLA Department of Chemistry & Biochemistry Distinguished Alumnus, delivering that year's graduation speech. "I think the ability to set an example and get folks to carry on and move areas forward is an important role for academics," he said. Mentoring students and young scientists also gave him the opportunity to inspire others. He has instilled in trainees and direct reports that one can develop skills and talents in multiple areas – something he learned early in the O'Malley Lab at Baylor.
Currently, Dr. Buller sits on the boards of several organizations and shares his knowledge through consultation services. Life experiences as a student, scientist, mentor, drug development leader and now consultant have culminated into his overarching goal of going beyond the lab to make an impact on human lives. Giving back to the community is what matters most.
One of the many ways Dr. Buller gives back is by supporting Baylor College of Medicine. Since graduating, he has supported class scholarships and in 2020 established the Richard and Catherine Buller Endowment Fund in Translational Cancer Research in the Department of Molecular and Cellular Biology. The endowment gives promising young scientists the funds needed to launch studies that will transform the field of translational oncology – "where the action is," according to Dr. Buller.
Baylor is fortunate to have a family of compassionate and talented alumni like Dr. Buller who demonstrate what it truly means to be a leader in healthcare. We are grateful for this phenomenal investment in young scientists with the same drive to make a difference beyond the lab.