Master
Heading
Sticking Together for the Battle of a Lifetime
Media Component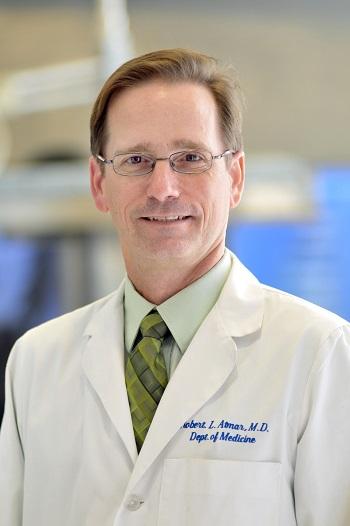 Content
When native Texan Robert Atmar, M.D., began his medical school journey, he did not know that Baylor College of Medicine's comprehensive, hands-on training would prepare him for the fight against the largest global health crisis of our time – the COVID-19 pandemic.
Dr. Atmar enjoys all aspects of medicine, so it was not until he met Stephen Greenberg, M.D., a respiratory virology specialist at Ben Taub Hospital (a Baylor affiliate) that he decided to work in infectious diseases. Under Dr. Greenberg's direction, Dr. Atmar conducted research with some of the world's premier scientists in virology and completed a fellowship. His list of mentors grew from Baylor greats in virology like Robert Couch, M.D., Vernon Knight, M.D., Wendy Keitel, M.D., and Mary Estes, Ph.D. But they were more than teachers – they continued to influence and inspire Dr. Atmar throughout his career.
This family of talent made the transition from Baylor student to faculty member an easy one. When Dr. Atmar finished his training, he jumped at the opportunity to join the staff at Ben Taub. His favorite part about sticking with the Baylor community is seeing his colleagues grow and support each other to make a meaningful difference in medical science and patient care.
Currently, Dr. Atmar plays a huge role in addressing SARS-CoV-2. For years, his colleagues believed the next 1-in-100-year pandemic would originate from an avian flu, not a coronavirus. COVID-19 was a surprise, but Dr. Atmar's career has been a culmination of experiences in preparation for this moment. As Chief of the Infectious Diseases Service at Ben Taub, he advises the hospital's Clinical Incident Command Center that plans for infection prevention and other strategic activities and helps Baylor's Incident Command Center by providing guidance to leadership. That, in addition to helping Baylor's federally funded Vaccine and Treatment Evaluation Unit (VTEU), has had a huge impact locally and nationally (the VTEU held Phase 3 clinical trials for the Moderna vaccine). He has been exceptionally proud of how Baylor has responded to the pandemic, from conducting testing and research to keeping the community well-informed.
Equally important has been his work on the Centers for Disease Control and Prevention (CDC) Advisory Committee on Immunization Practices, a group of healthcare experts from a variety of backgrounds who recommend effective vaccines for distribution and use. One of Dr. Atmar's Baylor mentors, Dr. Wendy Keitel, nominated him for his background in infectious diseases. Since joining, he has provided guidance on vaccines for influenza, dengue, Japanese encephalitis and others. His term was scheduled to end in June 2020 – then the coronavirus appeared in full force. The CDC requested that Dr. Atmar and his fellow committee members stay on through December 2020 to review vaccine candidates. This resulted in guidance on how to use the Moderna and Pfizer vaccines available today.
To those who are on the fence about getting vaccinated, Dr. Atmar says, "Patients come into the hospital who die or have significant morbidity and don't return to their baseline health. This happens to people of all ages, not just older persons. Think about protecting your family and loved ones as well as yourself."
Dr. Atmar's family extends to his colleagues at Baylor – the incredible mentors, patients and students who have stuck with him and readied him for this moment in time.
"I feel very fortunate to be here and experience this community," he said.