Master
Media Component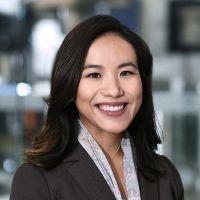 Content
As the eldest of four daughters and with immigrant parents who resettled in Texas after the Vietnam War, Theresa Tran, M.D. '13, M.B.A., is used to turning obstacles into opportunities. Inspired by her family's sacrifices, she has always pushed herself to excel and to elevate those around her. "I have always seen myself as the daughter of immigrants," she says. "My Vietnamese American heritage is what drives me. I work to make my grandparents and parents proud. Everything I do to improve the lives of others is because my grandparents gave up their comfortable life so that when they came here, we'd be able to have the freedom to do what we wanted to do and to believe in what we wanted to believe in. I owe a lot of what I do as a physician nowadays to that heritage and that story. I never want that to become something in vain."
Dr. Tran has encountered closed doors all her life, but her family's immigrant experience has empowered her to open many of them. Her dedication to preserving her heritage has taught her that she must do her best to ensure everyone, no matter their background, is treated with dignity.
Gathering the Tools to Empower Herself
Her hard work and determination carried her from a childhood in Arlington, Texas, where she didn't always feel at home, to the University of Dallas. There, she studied Business Leadership and Spanish, which gave her the knowledge and confidence to pursue an unexpected dream –medical school.
Dr. Tran not only planned a volunteer study abroad trip to serve impoverished Hondurans, but she also founded a 501(c)(3) nonprofit to fund other premed students wishing to volunteer there. While abroad, she decided to pursue emergency medicine, which would enable her to help anyone, anywhere, at any time, especially underserved populations.
Yet Dr. Tran knew, like many doctors, that business-minded individuals helm most hospital administrations instead of physicians, a scenario that addresses financial pressures but can undermine compassionate patient care. To gain both medical expertise and business skills, she applied to several M.D./M.B.A. dual degree programs. She ultimately chose the M.D./M.B.A. dual degree program at Baylor College of Medicine and Rice University, which taught her to understand both the human body and the business realities facing hospital systems.
It's also where she encountered the setbacks that pushed her evolution into becoming an even more insightful physician-leader. Dr. Tran still remembers failing to meet the submission deadline for the research paper she had hoped would secure her a coveted publication credit before residency. To make sure she wouldn't have to share the credit, she had rejected help from a younger student. But her workload grew heavier, and she ended up missing the deadline.
Her mentor laid it out clearly: she had let her ego get the better of her, and now she had nothing to show for her research. If published, her work could have helped many, but she had slammed the door in her own face by refusing help.
"I was very selfish with that opportunity," Dr. Tran recalls. "I remember reflecting on that and thinking, 'I never want to be that person again.'"
Empowering an ER by "Upending the Hierarchy Triangle"
After completing her residency at Mayo Clinic, Dr. Tran returned home to Baylor, determined to become the most adaptive leader she could. Once she started as an emergency physician at Ben Taub Hospital, she used "servant leadership" to develop and elevate her team. She set aside rigid hierarchy and cultivated a collaborative atmosphere where all team members, regardless of rank, felt valued. Their contributions were acknowledged and lauded. Instead of taking sole credit for their work, she encouraged her team members to take ownership of their successes. "It's in those tiny little interactions where I think leadership is most effective and not just in making sweeping organizational changes," Dr. Tran explains.
Ben Taub is seeing results. Her communication skills help her lead multidisciplinary teams with an ER's limited resources. To keep operations running smoothly, she pitches in with "dirty work" like cleaning beds and ensures that even "simple" tasks, such as sanitization, are respected. At the onset of the coronavirus outbreak, Dr. Tran led a collaborative initiative to develop a PPE safety monitoring system. This new paradigm empowers a dedicated team member to bar entry to any individual attempting to enter resuscitation bays without appropriate PPE, no matter the person's position, no questions asked.
By consulting a range of physicians, residents, nurses and technicians, this initiative helps ensure all team members can care for critically ill patients without risking their own health. She quotes President Truman: "'It is amazing what you can accomplish if you do not care who gets the credit.'"
Empowering Others to Know Their Worth and Realize Their Potential
When she's not on shift at Ben Taub, Dr. Tran serves as assistant professor of emergency medicine at Baylor and as director of the same Baylor-Rice M.D./M.B.A. dual degree program from which she matriculated. She recently began an administrative fellowship, where her M.B.A. skills aid her in understanding the nuances of hospital administration. Drawing upon her business communications skills, she regularly networks with Texas lawmakers and advises them on pending medical legislation. She even helped edit a recently proposed bill to benefit physicians statewide.
As she tells her students, her joint M.D./M.B.A. degree has helped her open many doors for herself and others, from designing academic programs to implementing new ER protocols. Soon, she hopes to expand recruitment for the program and thus contribute to Baylor's commitment to diversity. But most of all, Dr. Tran wants to use her leadership to advocate for her patients, colleagues and students and to teach them their worth. "When I know what I want and what I am worth, it projects onto others," she explains.
"Sometimes it's so hard to advocate for yourself if you're a minority or feel like you don't belong. You'll take what you can get. But I advise them to start at the other end: 'What value do you see in yourself? What do you want? Don't settle outside of that.'"
By holding open the doors she has walked through, Dr. Tran again inverts the traditional leadership structure to shape her students into the kind of doctors for whom she would want to work. By beckoning her patients, colleagues and students to walk through, she shows them how they can find new doors to open.