Master
Media Component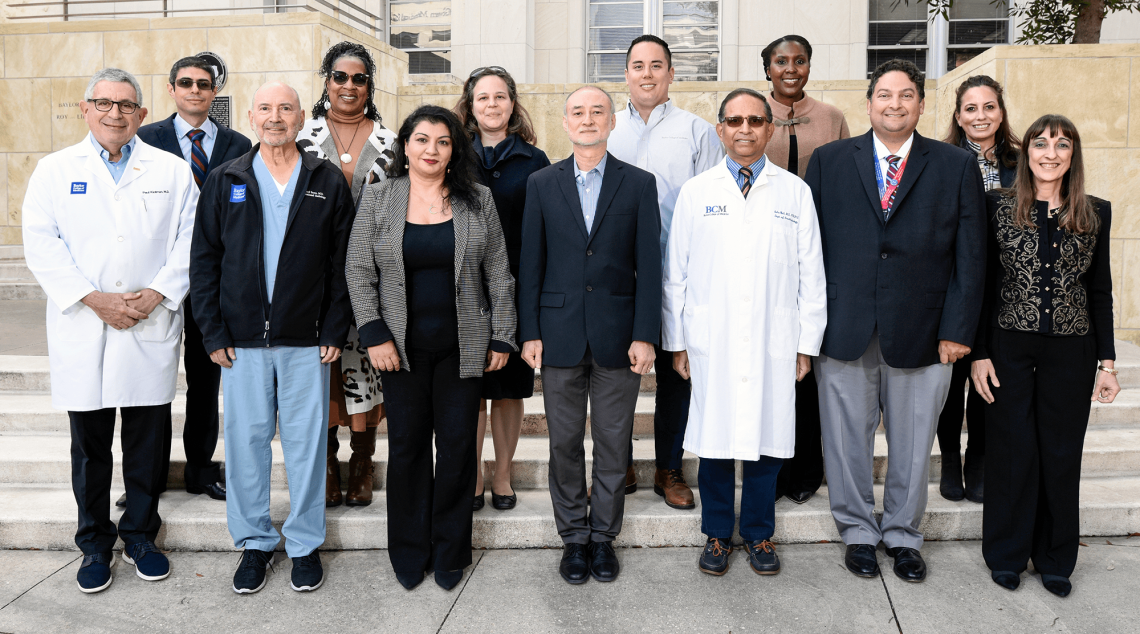 Heading
Applications Open
Content
This standing committee of the College advises the senior associate dean of community engagement and health equity and senior leadership on diversity, equity and inclusion issues. Calls for nominations to serve on the council are made each year via application.
Heading
About the Excellence Council
Content
At Baylor College of Medicine, we believe that diversity, respect and inclusiveness create the best environment for academic excellence and workplace culture. Our values of respect, integrity, innovation, teamwork and excellence are core to continuing to have a respectful and inclusive environment at Baylor College of Medicine. This also allows us to strengthen our institution by increasing talent, encouraging creativity and ensuring a broader perspective.
In November 2016, a new Inclusion and Excellence Council was announced. Council members are made up of faculty, staff and trainees from throughout the institution. The purpose of the Inclusion and Excellence Council is to establish a body that will support Baylor's institutional diversity and inclusion goals and serve in an advisory capacity to the Senior Associate Dean of Community Engagement & Health Equity who will serve as the chair of the council. The council will work to maximize the engagement of people throughout the Baylor community who share our passion for inclusion, diversity and equity.
The Inclusion and Excellence Council is comprised of twenty-five voting members including the "council" chair, fourteen faculty, at least two administrative staff members, two postdoctoral trainees, two residents and four students. Send your thoughts and suggestions on ways to enhance inclusion and excellence at Baylor by emailing them to institutionaldiversity@bcm.edu.
Content
Inclusion and Excellence Council Members

| Name | Position | Membership Year | Title | Department |
| --- | --- | --- | --- | --- |
| Alli Antar, Ph.D. | Member (At-Large Faculty) | 2021-2023 | Assistant Professor | Department of Pediatrics |
| Jonnae Atkinson, M.D., M.S. | Member (At-Large Faculty) | 2022-2024 | Assistant Professor | Department of Family and Community Medicine |
| Jairo Barrantes-Perez, M.D. | Member (Faculty Senate) | 2021-2023 | Assistant Professor | Margaret M. and Albert B. Alkek Department of Medicine |
| Enrico Barrozo, Ph.D. | Member (Trainee) | 2022-2023 | Postdoctoral Associate | Department of Obstetrics & Gynecology |
| Mara Cardenas,  | Member (Student) | 2022-2023 | Student | Graduate School of Biomedical Sciences |
| Sara Carranco, M.D. | Member (Trainee) | 2022-2023 | Medical Resident PGY2 | Department of Obstetrics & Gynecology |
| Lindsey Godfrey,  | Member (Administrative Staff) | 2021-2023 | Senior Coordinator, Program Management | School of Medicine |
| Shixia Huang, Ph.D. | Member (At-Large Faculty) | 2021-2023 | Associate Professor/Proteomics Core Director | Department of Molecular & Cellular Biology |
| Michelle Ludwig, M.D., Ph.D. | Member (At-Large Faculty) | 2021-2023 | Associate Professor | Department of Radiation Oncology |
| Cassius Mensah, M.D. | Member (At-Large Faculty) | 2021-2023 | Assistant Professor | Department of Anesthesiology |
| Achilia Morrow, M.D., M.P.H. | Member (At-Large Faculty) | 2021-2023 | Associate Professor | Margaret M. and Albert B. Alkek Department of Medicine |
| Nidal Moukaddam, M.D., Ph.D. | Member (Faculty Senate) | 2022-2024 | Associate Professor | Menninger Department of Psychiatry and Behavioral Sciences |
| Roger Nicome, M.D. | Member (Faculty Senate) | 2022-2024 | Associate Professor | Department of Pediatrics |
| Dorina Papageorgiou, Ph.D., M.H.Sc. | Member (Faculty Senate) | 2021-2023 | Assistant Professor | Menninger Department of Psychiatry and Behavioral Sciences |
| Elizabeth Shell, Ph.D., M.P.A.S. | Member (At-Large Faculty) | 2021-2023 | Assistant Professor | Physician Assistant Program |
| Crystal Shin, Ph.D. | Member (At-Large Faculty) | 2021-2023 | Assistant Professor | Michael E. DeBakey Department of Surgery |
| Cassandra Shorter, B.S. | Member (Administrative Staff) | 2021-2023 | Supervisor, Program Management | Department of Pediatrics |
| Richard Strax, M.D. | Member (At-Large Faculty) | 2021-2023 | Professor | Department of Radiology |
| Isabel Valdez, M.S. | Member (At-Large Faculty) | 2021-2023 | Assistant Professor | Margaret M. and Albert B. Alkek Department of Medicine |
Content
Ex-Officio Members

| Name | Position | Membership Year | Title | Department |
| --- | --- | --- | --- | --- |
| Kjersti Aagaard, M.D., Ph.D. | Ex-Officio | 2022-2023 | Professor | Department of Obstetrics & Gynecology |
| Ali Abbas Asghar-Ali, M.D. | Ex-Officio | 2022-2023 | Associate Professor | Menninger Department of Psychiatry and Behavioral Sciences |
| Biykem Bozkurt, M.D. | Ex-Officio | 2022-2023 | Senior Dean of Faculty | Office of the President |
| Shad Deering, M.D | Ex-Officio | 2022-2023 | Associate Dean of Faculty Affairs at CHRISTUS Children's | Office of the President |
| Krista Defalco, M.B.A., M.H.A. | Ex-Officio | 2022-2023 | M.D./Ph.D. Administrative Operations Director | Medical Scientist Training Program |
| Aimee Gardner, Ph.D. | Ex-Officio | 2022-2023 | Associate Professor | School of Health Professions |
| Anne Gill, Dr.P.H., M.S.N. | Ex-Officio | 2022-2023 | Professor | Department of Pediatrics |
| Susan Gillespie, M.D., Ph.D. | Ex-Officio | 2022-2023 | Associate Professor | Department of Pediatrics |
| Alison Goulding, M.D. | Ex-Officio | 2022-2023 | Fellow Physician PGY7 | Department of Obstetrics & Gynecology |
| Toni Gray, M.A. | Ex-Officio | 2022-2023 | Title IX and Disability Director | Human Resources Office |
| Tamara Ortiz-Perez, M.D. | Ex-Officio | 2022-2023 | Associate Professor | Department of Radiology |
| Frederick Pereira, Ph.D. | Ex-Officio | 2022-2023 | Associate Professor | Huffington Center On Aging |
| Jose Perez, M.D., B.S. | Ex-Officio | 2022-2023 | Associate Professor | Margaret M. and Albert B. Alkek Department of Medicine |
| Jean Raphael, M.D. | Ex-Officio | 2022-2023 | Professor | Department of Pediatrics |
| Amandi Rhett, M.S. | Ex-Officio | 2022-2023 | Assistant Professor | School of Health Professions |
| Nimrah Riaz, M.S. | Ex-Officio | 2022-2023 | Senior Coordinator, Research Administration | Department of Medicine |
| Antonie Rice, Ph.D. | Ex-Officio | 2022-2023 | Assistant Professor | Department of Pediatrics |
| Peggy Smith, Ph.D., M.A., B.A. | Ex-Officio | 2022-2023 | Professor | Department of Obstetrics & Gynecology |
| Jeffrey Starke, M.D. | Ex-Officio | 2022-2023 | Professor | Department of Pediatrics |
| Annie Torres, B.A. | Ex-Officio | 2022-2023 | Senior Manager, Development | Institutional Advancement and Alumni Affairs |
| Ronald Vilela, M.D. | Ex-Officio | 2022-2023 | Associate Professor | Department of Otolaryngology - Head and Neck Surgery |
| Ashutosh Wali, M.B.B.S., M.D. | Ex-Officio | 2022-2023 | Professor | Department of Anesthesiology |