Master
Media Component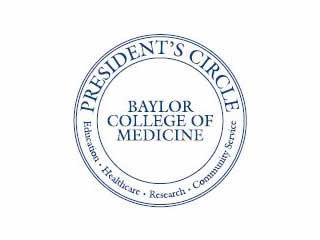 Content
The Houston community has played an important role in helping Baylor College of Medicine become one of the nation's top medical and graduate schools and establishing its faculty as leaders in health care and biomedical research. Our goal is to uphold our standards of excellence and expand our national and international presence.
Strengthening Baylor's position requires the continued support of our community. The Baylor College of Medicine President's Circle includes business and community leaders from diverse industries and backgrounds who share an interest in science and medicine and a commitment to shaping the future of Baylor.
The President's Circle meets throughout the year to learn about areas of strategic importance to the College and for presentations by biomedical leaders on topics ranging from genomic medicine to lung disease to global health. Members of the President's Circle have phone access to healthcare professionals for assistance with hospitalization, physician referrals or general medical questions.
Membership contributions help fund new ventures as they emerge and allow the College to make strategic investments.
Join Baylor College of Medicine's President's Circle. Together we can make a difference in the education of future physicians and scientists and in treating and curing disease.
Content
Charter members
Polly and Murry Bowden
Paul Klotman, M.D.
Pat and Harold Korell
Mary Jo and Bill Robbins
Jeri and Marc Shapiro
Becca Cason Thrash and John F. Thrash, M.D.
Platinum level lifetime members
Ozi Amanat
Karen and John Huff
Daphne and Thomas Kaplan, Ph.D.
Gold level members
Omar Lateef, D.O.
Silver level members
Inger and Norbert Bischofberger, Ph.D.
Polly and Murry Bowden
Kimberly and David Dominy
Laura and Michael Fisch
Melanie Gray and Mark Wawro
Doris and Terry Looper
Miguel Loya
Claudia and Fred Lummis
Mary Jo and Bill Robbins
Beth Robertson
Hillevi and David Saperstein
Jeri and Marc Shapiro
Becca Cason Thrash and John F. Thrash, M.D.
Carol and Kirk Townsend
Carrin and Bill Way
Bonnie and David Weekley
Bronze level members
Joan and Stanford Alexander
Frank Benton
Alex Dell, D.D.S.
Shahab Fatheazam
Kristen K. Habich
Pat and Harold Korell
Pam and Randall Onstead
Radoff Family
James Robertson
James R. Swanson