Master
We are committed to developing training physicians to work with the breath of community we serve.
Content
Graduate Medical Education at Baylor College of Medicine is committed to improving the culture and climate of social equity by addressing biases and to learn the factors that perpetuate inequity. We are dedicated to fostering a transformative culture of equity, diversity, and inclusion to create an environment powered for optimal education, research and clinical excellence throughout our residency and fellowship programs. 
Through education and prevention, we support our faculty, staff and trainees by bringing together people from diverse backgrounds to enrich the academic environment so that all are able to achieve their academic and professional goals. We will ensure equity in the hiring, professional development, promotion, retention, participation in department activities, and support of women and underrepresented faculty, staff and learners. We are dedicated to eliminating all forms of bias and discrimination and elevating social consciousness and cultural competence.
Working at Baylor College of Medicine, I've learned just how involved the faculty and staff are. Not only have I experienced DEI events with residents, but I have sat besides program coordinates behind closed doors to have personal and in depth conversations on how to be the most progressive, intentional, and educated institution we can be.
Heading
Race Demographics
Content
BCM Residents and Fellows breakdown by race. (Data collected from 2022.)
White: 41%
Asian: 30%
Black or African American: 6%
Hispanic: 5%
Other or Not Specified: 18%
Heading
Gender Demographics
Content
BCM Residents and Fellows breakdown by gender. (Data collected from 2022.)
Heading
Diversity, Equity and Inclusion Events
Media Component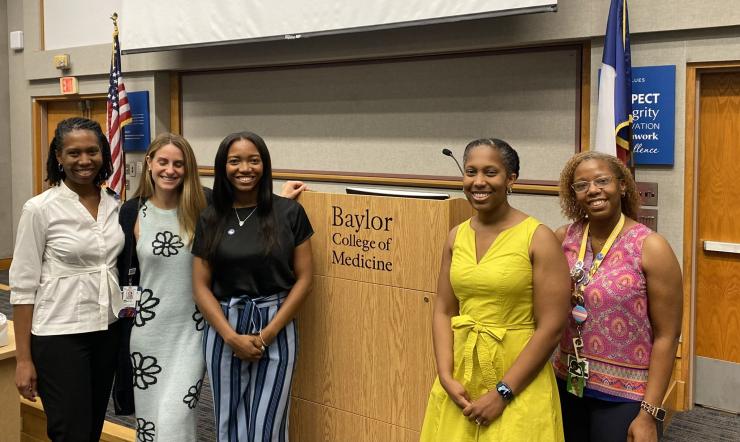 Content
Pre-Look Symposium (done with the Baylor College of Medicine Office of Community Engagement & Health Equity)
Students represented 79 different medical schools across the United States
Over 70 Under Represented in Medicine (UiM) students attended the Pre-Look Symposium
Speaker: Andria E. Tatem: "As a Black woman, I was told not to pursue a career in medicine. The path must be easier for others." View Washington Post article.