Master
Media Component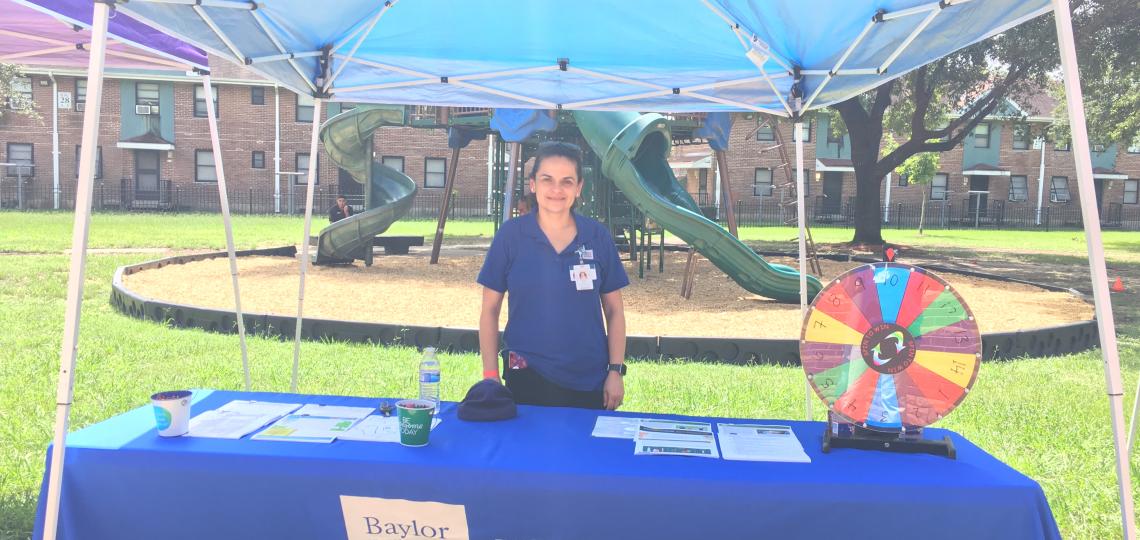 Content

The Baylor College of Medicine Environmental Health Service seeks to educate and empower communities to reduce exposure to environmental health hazards by compiling, maintaining and providing information and resources. Our faculty regularly make community presentations, write OpEds, participate in television and radio interviews, serve on environmental health committees, and partner with the City of Houston and others on neighborhood initiatives. Some recent efforts include: 
How to Make Your Home Healthier and Reduce Your Chance of Getting COVID-19, virtual meeting hosted by the BCM Environmental Health Service and the Houston Housing Authority, February 2021.
Kids Lives Matter Event at Cuney Homes, September 2019 (pictured above)
University of Houston Downtown Health Fair, 2018 (Pictured below): Ritu Virk shows participant supplies homeowners can utilize in the event of a flood in order to keep their homes healthy).
Take a Deep Breath! Town Hall on Asthma, hosted by the BCM Environmental Health Service and the Harris Health System, May 2018.
Children, Learning, and the Role of Place, Galena Park School Health Advisory Council, April 2016. 
The Health of Two Cities: Paradoxical Risks for Poor and Prosperous Houstonians (part of The Priestley Lecture Series), First Unitarian Universalist Church, February 2015.
Media Component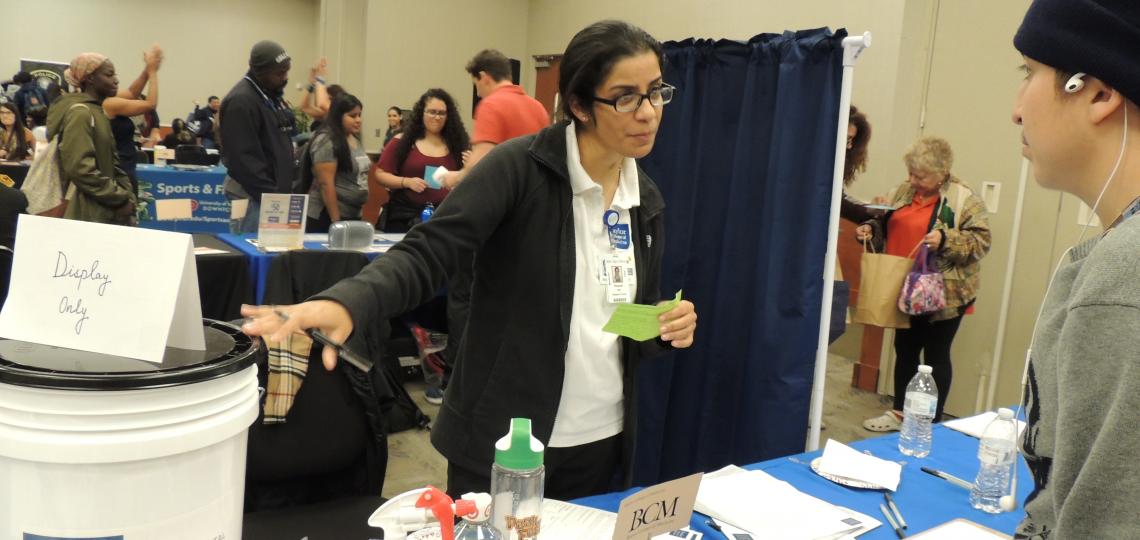 Heading
Television and Radio Interviews
Content
Baylor EHS faculty and staff have been interviewed in local and national media, including:
Houston Public Media regarding the impact of stay-at-home orders on air quality in Houston (2020)
KPRC2 on the Deer Park fires (2019)
KPRC2, KHOU11, the Texas Tribune, CNN, and others regarding the impact of Hurricane Harvey on health, August and September 2017
July 2016 interview on ABC13's Crossroads about asthma in Houston's African-American community
February 2014 and June 2016 interviews on KUHF Houston Matters regarding asthma in Houston
Heading
Leadership on Environmental Committees
Content
The Baylor EHS has been involved in a number of area efforts to reduce regional environmental hazards and exposure to these hazards. Our faculty currently serves on the Houston Health Department's Lead and Healthy Homes Strategic Planning Committee and has previously served on the American Lung Association's Houston Clean Air Network, Rice University's Shell Center for Sustainability steering committee and the Houston Tomorrow board of directors.
Dr. Hamilton, along with Mr. Rock Morille of BCM Facility Services, co-founded the Texas Medical Center Sustainability Advisory Council. Dr. Hamilton and Mr. Morille also lead BCM's highly successful recycling and sustainability program. In recognition of her leadership in environmental health, Dr. Hamilton was awarded the U.S. EPA's "Children's Environmental Health Champion" award in 2008.