Master
Content
The Baylor College of Medicine Environmental Health Service has developed rich research collaborations with a number of academic, governmental and community groups. In cooperation with its research partners, the Baylor EHS has conducted groundbreaking work involving geospatial modeling and analysis of health effects, with a special emphasis on defining "hot spots" for potential targeted intervention. We also focus on efforts to promote and measure the efficacy of educational, policy and other interventions to improve health. Selected research projects are described below.
Media Component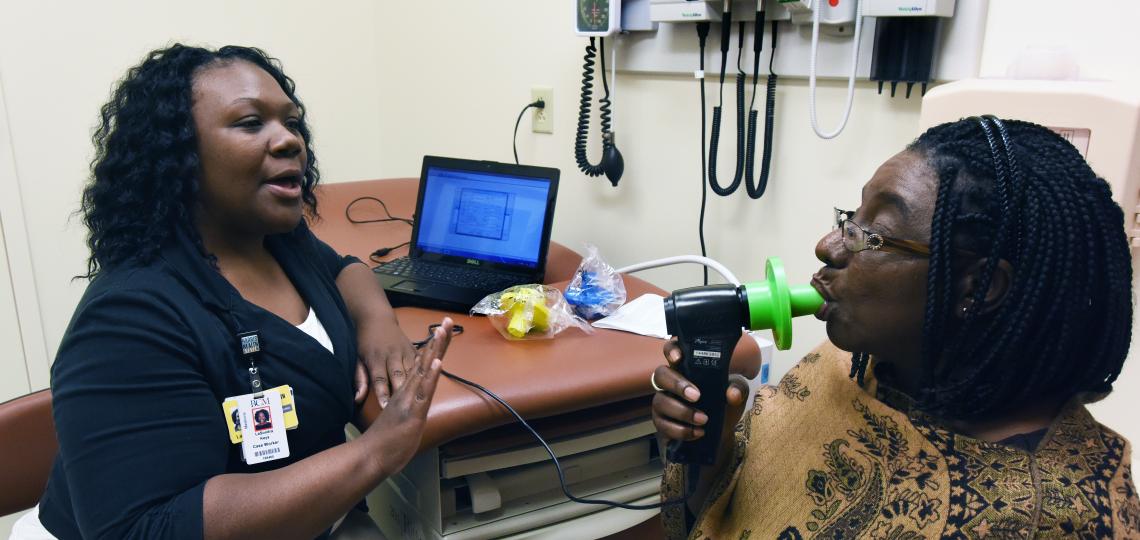 Heading
Clinical Research
Content
The Patient-Centered Outcomes Research Institute funded BCM-EHS to examine the effectiveness of a home-based environmental intervention program to improve asthma control and quality of life among African-American adults in the Houston area. Data collection for the Houston Home-based Integrated Intervention Targeting Better Asthma Control in African Americans (HIITBAC1) ended in January 2017, but analyses are ongoing. See the study webpage for more information. 
BCM is currently conducting the Houston "Breathe Easy" Healthy Homes-based Model for Multifamily Rental Communities study, funded through the U.S. Department of Housing & Urban Development Healthy Homes Technical Studies Program.  In the first phase of the project, the investigators are analyzing data on environmental exposures and health from the HIITBAC study and HIITBAC2-HH study, described below. These analyses on the relationships between home environmental exposures and health are being used to refine our home-based environmental intervention program for low-income, multifamily housing residents. In the second phase of the project, we are implementing a randomized control trial to evaluate the effectiveness of our intervention program for adults with asthma who are living in selected Houston Housing Authority communities (multifamily public housing).
Media Component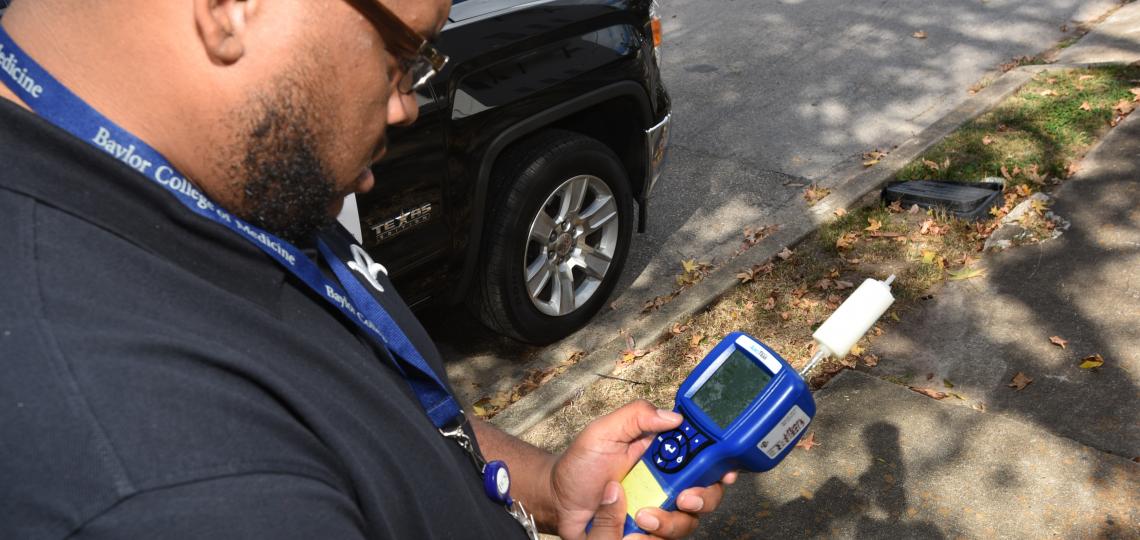 Heading
Exposure Research
Content
Post-Disaster Research
Members of the BCM EHS team are currently working on several studies examining the impact of Hurricane Harvey and flooding-related exposures on Houston-area residents. These studies are funded by the National Institute of Environmental Health Science.
1. Environmental Exposures, Health and Resilience Before and After Hurricane Harvey in a Houston-area Cohort of African-American Adults with Poorly Controlled Asthma (called HIITBAC2-HH, with "HH" referring to Hurricane Harvey; PIs: Dr. Winifred Hamilton and Dr. Abiodun Oluyomi). This study is re-assessing 75 African-American asthmatic adults from the HIITBAC study who exited within 12 months of Hurricane Harvey. It uses self-report, observed, clinical, biomarker, and environmental data to examine the impact of the hurricane on this vulnerable population.
2. Environmental Health Outcomes Research Among Hurricane Harvey Survivors (PI: Dr. Abiodun Oluyomi). This study is assessing exposure and health using passive sampling devices, microbiome specimens, and self-report from individuals from four Houston communities that experienced flooding in Hurricane Harvey.
3. Hurricane Harvey DR2: Individual Chemical Exposure Assessments (PI: Dr. Kim Anderson, Oregon State University). The study team is using silicone wristband samplers to assess chemical exposures in 150 flood-affected individuals.
4. After the Flood: Investigating the Health Consequences of Mold Growth in Homes Damaged During Hurricane Harvey (PI: Dr. Josh Schaeffer, Colorado State University; BCM site PI: Dr. Rebecca Bruhl). This study seeks to measure associations between fungal exposures and asthma exacerbations in the HIITBAC study population. 
 
Heading
Geospatial Modeling and Analyses
Content
Our faculty worked with MD Anderson Cancer Center on iMove!, a project in which our team used geospatial tools to look at neighborhood-level incentives and barriers to physical activity in sedentary minority adults (PI: Dr. Lorna McNeil). We are now working with MD Anderson on an American Cancer Society funded project, "Pathways linking neighborhoods and activity behaviors in diverse populations" to better understand how attributes of neighborhood social environments affect physical activity behavior, particularly in minority populations. Specifically, the team is examining associations between reported crimes and self-reported moderate-intensity physical activity in a sample of Houston area African-American adults using geospatial modeling and analysis tools. 
As part of the Houston Geospatial Lead Exposure Analysis, Baylor-EHS geocoded 55,331 children tested between 2004 and 2008, and analyzed numerous risk factors for high blood lead levels including housing, income, race and other factors. In collaboration with the Galveston County Health District, a "hot spot" analysis and extensive literature review helped to drive renewed attention to the ongoing problem of childhood lead poisoning.
In cooperation with the University of Houston, Baylor EHS modeled spatial variability of benzene concentrations in Harris County using the U.S. Environmental Protection Agency's Community Multiscale Air Quality Model with Air Toxics. The Baylor-EHS study used multipollutant exposures and demographic variables to predict "hot spots" of concern.
Other Research
BCM EHS worked with Texas Southern University on a Health Impact Assessment (published in June 2012) of transit-oriented development at the Quitman light rail stop in Northside Village, a largely poor Latino neighborhood just north of downtown Houston. The assessment was coordinated and funded by the Health Impact Project, a joint project of the Pew Charitable Trusts and the Robert Wood Johnson Foundation.