Master
Media Component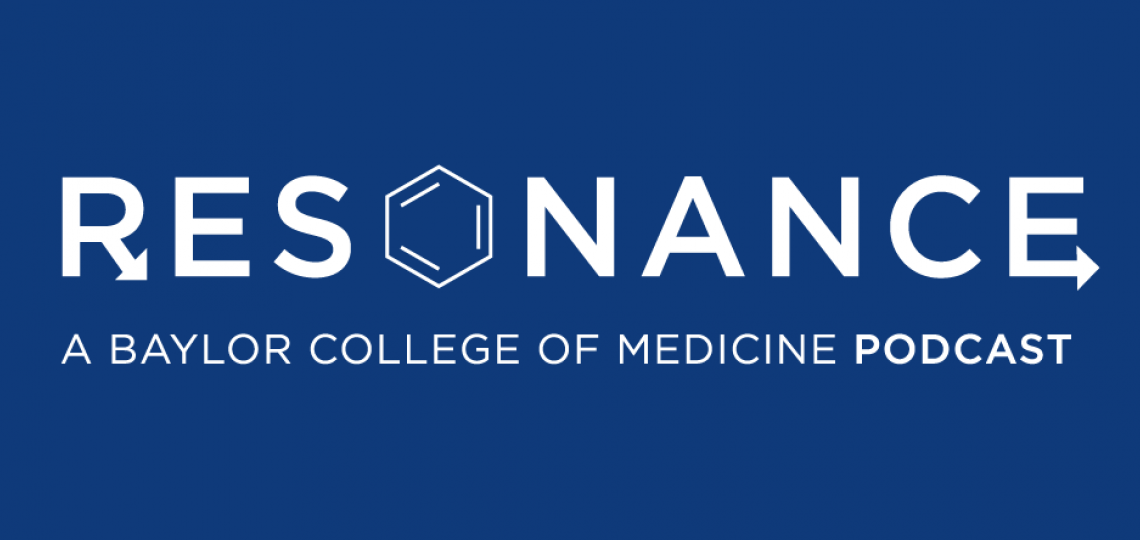 Content
Listen Here
iTunes | Google Play | Spotify | Stitcher | Length: 28 minutes | Published: April 1, 2020
Resonance is a student-run podcast aimed at showcasing the science at Baylor through the eyes of young professionals. Each episode is written and recorded by students who have a passion for research and the medical community. Guests on the show include both clinical and basic science research faculty who are experts in their fields.
Dr. Francis Gannon describes how he arrived at his position and specific assignment, how the experience changed him, and the role science plays in helping us to understand and cope with tragic events. 
The Columbia Shuttle | Transcript
Roundtable Discussion
Erik: And we're here. This is the Baylor College of Medicine Resonance Podcast, I am one of your hosts Erik Anderson.
Brandon: And I'm another host Brandon Garcia.
Jennifer: And I'm the head writer for this episode and I'm Jennifer Deger.
Erik: And we're gonna be taking a bit more of a somber tone for this episode because we're going to be talking about the Columbia space shuttle disaster that happened in 2003. And we're gonna be talking with Dr. Francis Gannon who actually performed some of the autopsies for that disaster…and we urge if you have not heard our first episode with Dr. Gannon and want to know more about his journey into medicine and how he got to Baylor, I would urge you to go and listen to the first episode that we did where he discusses his body armor that he helped design, because we're really going to just be talking about Columbia in this episode.
Brandon: Yeah and just for everyone who's listening, we are going to be talking about some sensitive things. We're going to be getting into the personal feelings and some of the stuff that Dr. Gannon went through and others went through with this disaster. If this is something that's not for you then just go ahead and go to the next episode or take this light, take it easy, just be aware that we are going to be talking about autopsies, we're gonna be talking about death and that could be an issue for some of you listeners out there. We greatly appreciate and honor the people who have given up their lives for space exploration for…all the different ways that that it has benefitted humanity and we've done everything we can to treat this subject with respect because we know just of how devastating it was for their families and for the people that were involved. This is something that's very sensitive and we've done everything that we can to bring this to you in a way that's both honorable and respectable towards the people who are involved.
Erik: But enlightening, we hope you learn something.
Brandon: Yeah, that's the whole point.
Jennifer: So we'll start this story way before spaceflight came into existence with Leonardo da Vinci who once said "For once you have tasted flight you will walk the earth with eyes turned skyward, for there you have been and there you will long to return". So we've designed much more advanced methods of flight since da Vinci's time. It started with the Wright brothers in 1903 with their little, you know, basically a paper and wood airplane that could get about twenty feet of ground on the beach. And then not even a century later, not even a hundred years later we put someone on the moon two people on the moon and brought them back safely. It's just insane.
Brandon: Yeah that just goes to show the ingenuity that humans have and the ability that we have to do amazing great things. You think about it like, we have cell phones in our pockets right now all three of us, and… those have more computing power than what they had in 1969 when they sent Neil Armstrong and Buzz Aldrin to the moon.
Jennifer: Yeah it would have taken up a stadium the amount of computing power that is in one phone now, it's just insane, we're just inherently driven to answer the question of what's next. We were like in the trees and then we thought we wanted to go down to the ground and then we looked up to the sky and then the sky was next, and then the moon was next, now Mars is next.
Brandon: But that's not always easy.
Jennifer: Yeah.
Brandon: There's a lot of things that can go wrong, and do go wrong, and have gone wrong for centuries and probably will continue to. That's part of what comes with discoveries, there's that sense of danger and the unknown.
Erik: Yeah, and this unfortunately was not the only disaster, like space shuttle disaster that happened. Am I right about that?
Jennifer: Yeah, there was challenger in 1986 was the other big one, there was one in 1967, and you know of course cosmonauts have not always had an easy time getting out of the Earth's atmosphere or getting back in. But…yeah so, it's amazing that people are willing to leave in a little metal cage basically and shoot through the Earth's atmosphere.
Erik: But yeah, well and what's amazing about Columbia is that for many of us it was in our lifetime whereas some of us weren't alive during the Challenger, which is the last big one.
Brandon: Yeah I was I was actually living in East Texas at the time when Columbia exploded and I actually remember the explosion itself. I was over at a friend's house, me and a couple of buds, and I woke up to the sound of an explosion in the sky, woke up my friends and we ran outside, looked out, and there was the debris flying out all around us. And I remember, you know, the weeks…for weeks afterwards people coming all through, government agencies and stuff like that, to try to recover as much as they could and you know just the kind of hubbub that it generated and all the rumors and stuff like that. It was really terrifying and amazing at the same time.
Jennifer: This story's pretty personal to me because I also remember it, I think I was eight at the time. I lived down near Johnson Space Center and I come from kind of a NASA family I would say. I remember laying flowers at the memorial around Johnson Space Center afterwards and my dad…he actually was one of the astronaut instructors for the astronauts on this flight, so here's an excerpt with him talking about his experience with Columbia.
Daniel Deger Columbia Excerpt
Jennifer: Okay, did you know any of the astronauts on board?
Mr. Deger: Oh yes I did, I knew three of them fairly well. The commander's name was Rick Husband, and he and I had a common ground that we both were born and raised in Amarillo Texas. So Rick Husband became the astronaut from Amarillo, I was the astronaut wanna, the turned astronaut instructor. Rick and I got along really well together, in fact they named the airport in Amarillo after him. The airport Amarillo is the Rick Husband International Airport named after Rick Husband who was a son of Amarillo.
Jennifer: Yeah, did you train those three astronauts?
Mr. Deger: Yeah three of the astronauts I remember were in my class at some point so I knew you three people when I first heard Columbia went down, there were three people I knew personally that were in the shuttle when it went down. So it was a little bit of an emotional experience shall we say. To know that three of your buddies…
Jennifer: The day of Columbia was there any expectation that something bad would happen or was it just like a complete surprise?
Mr. Deger: A little bit of forewarning, they knew the shuttle has been hit with a piece of foam.
Jennifer: With a piece of what? Oh Foam.
Mr. Deger: Foam, from the tank. They knew it had been hit, they saw getting hit on the television cameras watching the astronauts, they did see a piece of foam fall out off and hit the shuttle. But they had come to the conclusion there was no significant damage to the space shuttle and it would be able to enter okay. But obviously they were mistaken it was obviously in retrospect fatally damaged.
Jennifer: Do you think that was what made the difference? Was the foam hitting it?
Mr. Deger: Oh yeah the foam hitting it is what caused the accident, yeah a piece of foam fell off of the tank, hit the leading edge of the wing of the shuttle and poked a hole in it.
Jennifer: Could you explain like how the hole… the mechanics of how the hole led to the entire spaceship scattering.
Mr. Deger: Well what happened is there's a hole in the wing, and entry is very very hot. If you're in outer space and you enter you have a lot of heat get to deal with. So there was a surface on the leading edge of the wing to protect the wing from the heat, well that surface was damaged…it had a big hole in it. So all of these very hot gases from entry entered the wing and then basically melted the wing off. I mean that's pretty much what happened is the wing melted off from all the heat because they lost that heat shield. Without that heat shield aluminum melts at about 450 degrees and it was up like 3,000 degrees. So the aluminum couldn't survive that hot temperature without the heat shield. With the heat shield aluminum is okay but you take away the heat shield and the hot plasma hits the aluminum directly the aluminum loses the battle and that's what happened. Now after Columbia, every time the space shuttle flew they had a backup shuttle sitting on the launch pad ready to go, so in case the one that was just launched was fatally wounded by foam coming off the tank there was a process in the place at that time, in retrospect, to launch the shuttle and go get the crew off of the crippled shuttle and bring them home. But at the time of Colombia there was no such thing of sitting a shuttle on the launch pad ready to go.
Jennifer: What was it like at NASA after that happened?
Mr. Deger: Oh wow that's hard to describe, obviously a lot of, a great deal of sadness because people knew these astronauts. No we came together as a family, I could put it as NASA came together as a family to support each other and make sure it never happened again.
Back to round table
Erik: Wow that was really interesting
Brandon: Yeah.
Jennifer: Thanks guys. So Dr. Francis Gannon, our guest on this episode, is an osteopathologist at Baylor and he performed the autopsies after the disaster, and for this work he was awarded the meritorious civilian service award. We have the honor of speaking with him now.
Interview
Jennifer: Could you tell us about the path that brought you, you know, to doing the Columbia autopsies after the shuttle disaster.
Dr. Gannon: Sure, while I was at the Armed Forces Institute of Pathology that we had talked about, before unfortunately the Columbia Shuttle exploded on re-entry, and I know that that story is well known. There are books on it, so if your listeners want to read about that and why it happened there was an exhaustive investigation into it. But, at the time what was surprising to many of us was that there were large portions of the astronauts that were recovered for their remains and this was only the second time in history that that had happened. I think in the early 70s there was some cosmonauts that had had this…something similar happen, not in a shuttle. And so, this was one of the first times that we could look at bone, we don't often biopsy astronauts for bone because it's invasive and it's harmful and you can do it through x-ray. So to look at the bone and to look at the nervous system and things like that, myself as a bone pathology perspective and a longtime friend of mine Glenn Sandburg, who is a neuro pathologist, we were both working at the Armed Forces Institute of Pathology and were called by the commander to say to report to the Dover Air Force Base. So the Armed Forces Institute of Pathology is located in Washington DC and the Dover Air Force Base is in Dover Delaware. That is the place where all the remains of people who've died in combat or other places are brought for…to be taken care of. And so the astronauts were brought there and when Glenn and I showed up to say we're here to do…to provide some specialty expertise, we are pathologists, so it was decided that since we were going to look at samples the two of us should do the autopsies, which we did on all of the crew members.
Erik: Is it common for pathologists to do the autopsies? Or does that generally go to another specialty? Or do all specialties…are they…I know like with Semmelweis era right, it sounded like back in the day everybody would do autopsies, is that the case now, or…?
Dr. Gannon: Another really good question. The short answer is autopsies are done by a pathologist now. Now, in olden times physicians would do the autopsy but now there are two types of autopsies. So there are people trained in forensic medicine, which you need to do a fellowship for because it's specialized and they do autopsies of patients who have died of trauma, or not under our physicians care, or suspicious circumstances. The things you see on TV. However the autopsies that I and others like me who have not been forensically trained are patients that have died after long-term illnesses, or things like that. And so a pathologist does the autopsies now.
Jennifer: More for research purposes I guess…was your assignment?
Dr. Gannon: Correct, partially. My original assignment in this case was to look specifically at the bones, but an autopsy…the best way that I try to describe autopsies to others is…it is a clinical investigation, but probably the best result of it is to bring closure to a family. So the best answer that I can give a family after an autopsy is there really was nothing else that could have been done. Because oftentimes when a loved one dies the question is should we have gone with a respirator or should we have done the experimental chemo. And so being able to tell them no you did everything that you could and there really was nothing else that could be done brings healing to people, and that's one of the things I enjoy most about being a physician in general and a pathologist in particular. In doing these autopsies there were a lot of questions about pain and suffering and things like that and we were able to answer that and so that was the successful closure to that.
Erik: Well that actually leads us into our next question. Can you tell us a little bit about some of the thoughts and emotions that you faced while working on this project?
Dr. Gannon: Wow, we had talked about the body armor before and I will tell you I was very proud to do that. It was a very different feeling doing this. I was moved almost to tears even while I was doing the autopsy at their bravery, at the tragedy of the loss, at the dignity and solemnity of the situation, and proud that I could assist in this. And additionally, it was moving in another way, one of the astronauts was Israeli and so there was a rabbi I believe he was a colonel in the Israeli army, or Air Force, unfortunately I can't remember. He was flown over to perform the Orthodox burial rites and so to stand back and witness that was the memory of a lifetime. And so, even in death there was a sharing of our humanity that was very very nice.
Jennifer: Do you think the experience changed you?
Dr. Gannon: It did. I was, yeah young at the time, which we're all guilty of at some point. I think I was in my mid-30s and I just remember thinking that I was part of something that would be in the history books and even though my name…I mean I was part of the official NASA report but I wasn't…that's not why I'm talking about it, but just to be a small cog in this to help future shuttle missions be successful was…really reminded me of why I like doing what I do.
Erik: And I'm curious, given I guess…there's a lot more talk now about space travel with space X, Blue Origin, all of all of those companies are sort of reviving because…you know I'll be just be honest I feel like our generation, I'm a millennial, we sort of missed a lot of the space, like you know the space television, like nobody watched launches or anything like that. But now it's sort of being revived a little bit, but given your experience with Columbia, does that make you now a little bit more hesitant about space travel or even just technological development in general for going and kind of pushing the boundaries? Or do you think it's probably necessary that it should be done?
Dr. Gannon: So I may or may not be the right person to us because if I was told that I could get on a shuttle tomorrow I would be packed and be at the launch early. So I think we should go out and explore, I think there are a number of very real technical issues to overcome. Bone loss is one, radiation is a huge problem. You know, the year and a half to get to Mars, or two years to get to Mars, the amount of exposure of solar radiation you would get…there would likely be malignancies by the time they got there so that alone is enough. But I don't think that should stop us.
Jennifer: So how is there…is there any thought as to how we could prevent bone loss in space beside, I mean everyone knows you see the astronauts on their treadmill and their rowing machines, but are there any like treatments or drugs that you found in your research that might be helpful?
Dr. Gannon: Not that we know of. The treadmills and the armbands and things do provide a little bit. The problem is the effect of gravity on bone, and there is a significant bone loss that occurs within the first few months, which is different from what we used to understand. That it goes up sharply as a spike and then plateaus off, and we haven't developed any drugs to combat that because it's a biophysical issue. So maybe someone in your class or your generation will be able to take that and figure something out.
Jennifer: That would be awesome, especially if we go to Mars.
Erik: Yeah, they understand, I presume they understand the mechanism behind how gravity affects the cell orientation?
Dr. Gannon: Not so far, or if they do I don't know because I'm not heavily involved in that anymore.
Erik: Because I know, I think they…there's research on…because plants obviously have a mechanism to detect gravity and even some bacteria with iron. But yeah that's interesting.
Jennifer: So going back to, you know the Mars mission that might or might not happen in the future. Are you excited about the lunar gateway, they're building like a pit stop by the moon?
Dr. Gannon: Oh no I am. I've been following it, and so I'm very excited about that.
Erik: Can you talk about that? I don't think I'm familiar with that.
Jennifer: Yeah, since it's gonna be hard to just go directly from here to Mars in one trip, they're building it both as you know a refueling stop and everything like that, and to kind of like practice going to Mars I think.
Erik: Oh wow.
Jennifer: I'm also curious what you think about, so there's some debate about whether the crew going to Mars should be all one gender because we have no idea what it would be like to you know, for a fetus to develop in microgravity. So that might be a whole other set of complications that we had no idea what would happen, and you know like hopefully the astronauts would refrain from that but it gets very boring…
Dr. Gannon: On a two-year trip in a confined space, yes. No I…I'm trying to be as delicate as I can but I think there are very real concerns about…I mean science fiction is full of trying to wrestle with that question of, if a child is born in space can they actually come back to earth or an earth-like gravity, or what would that do to the…even the spatial patterning of things like bone morphogenic proteins and you know bone remodeling during puberty. Because you have to have stress across the bones to help that so, that's why often times I mean…we could send someone to Mars today. The technology exists, the rockets exist, the question is how do we get people there and back safely, and I don't know if much of the sort of the lay public understands that it's not a question of the machinery. We have that. It's the human beings.
Jennifer: Yeah I mean the rover has been there for years and years and years so…and he's been fine. Curiosity. So our last question is a little more general it's…we're asking about your perspective on how science helps us cope with disasters like the Challenger disaster in the 80s and the Columbia disaster now. So you obviously had a role in you know looking at the astronauts after and trying to understand what happened but, more in general like, what is your perspective on science helping us with that?
Dr. Gannon: So if I may, if you would accept a refinement to your question I would like to talk about medicine and how it can help just because I can't speak about the others. No I understood your question, but I believe that there are untapped sources in medicine which is why I'm a big believer in a multidisciplinary team to approach a problem. Because you're at least…a lot of thoughts on how do we make astronauts safer or in space you wouldn't…you might not normally think of a pathologist or someone like that because you know, even among other physicians you know pathologists deal with dead bodies and that's a lot of understandably the stereotype because that's the thing that people know most about pathology. But there are you know, endocrinologists and oncologist, I mean all of those problems are going to be in space and so I think bringing smart people together to say, how can we think about how the body's going to react in this harsh environment? Cold, weightless, radiation, a moment away from suffocating from the lack of oxygen, I mean these things we can bring together people now to address that as we move forward. So I'm a big proponent in having…not just talking about how do we keep someone from getting an infection, which is definitely important in space and how to treat it, but how can we get people to survive and back in a homeostatic physiologic way.
Jennifer: Yeah, do you think…do you have your own time estimate for when we'll be able to go to Mars and back safely?
Dr. Gannon: I don't, because it's daunting even to think about overcoming the challenges and that's for some people way smarter than me so…
Jennifer: I think we're pretty close, what did Trump say like 2026? Or something.
Erik: Correct me if I'm wrong but you received a medal for your work on this as well right?
Dr. Gannon: I did.
Erik: Would you be willing to tell the audience?
Dr. Gannon: Sure. I received the third highest civilian service medal for this. It was recognized as a help to NASA and to this space program as a whole.
Erik: And was there…how was your interaction with I guess the higher-ups during your time there?
Dr. Gannon: Um, what I found was not well received because it essentially said that the paradigm of bone loss that we had all been working on in space was wrong.
Erik: And that was that it doesn't happen, right?
Dr. Gannon: Close, the paradigm at that time was that there was 1% of bone loss for every month in space. Whereas what I found was in the first month there's about a 25% loss. It's not that 25% of your bones go away, it's 25% of your trabecular bone and some of your cortical bone is resorbed and then all of that calcium that's released into the body, at least some of us believe, causes the space sickness and the other things that people get, but then it plateaus off. And so after many many months in space it looks like, you know, after 18 months and you lose 18 percent of your bone by DEXA scanning, it looks like 1 percent a month, but what it is it's acute increased spike. So that was…unfortunately that was not well received, but recently they recognized that that is correct and now it's accepted that that's how bone is lost.
Erik: And I believe issued you an apology?
Dr. Gannon: Yes they sent me a letter saying thank you…you were right essentially.
Jennifer: Yes frame that by your metal.
Dr. Gannon: It is! It's hanging by that metal.
Jennifer: I mean, I feel like that should be good news for them because then, you know, people can go out in space for longer if there's a plateau rather than, you know, if you're just losing bone linearly while you're out there you can't stay out there very long.
Dr. Gannon: Which goes back to your point that if we could find something to halt that resorption.
Jennifer: So when you come back down, does that resorbed calcium then go back into your bones, or do we know?
Dr. Gannon: Another good question. We don't know, but we do know that after a couple of months of being back on earth, I mean that the bone volume goes back to if not the same then close.
Erik: I think maybe we could close it off by having a moment of silence for the crew members and their family.
<Moment of Silence>
Erik: Thank you so much for your time Dr. Gannon
Dr. Gannon: Thank you, thank you for having me.
Outro
Brandon: Alright, that is it for now, we would like to thank everyone out there who took the time to listen to our episode of the podcast. Special thanks to Jenni for writing the episode. Thank you to our faculty advisor Dr. Poythress for helping us put everything together. Thank you to the Baylor communications department for your help with the production and website. And thank you again to Dr. Gannon for taking the time to be interviewed by us. We hope again that everyone enjoyed it, and hope you tune in again soon. Goodbye for now.