Master
Media Component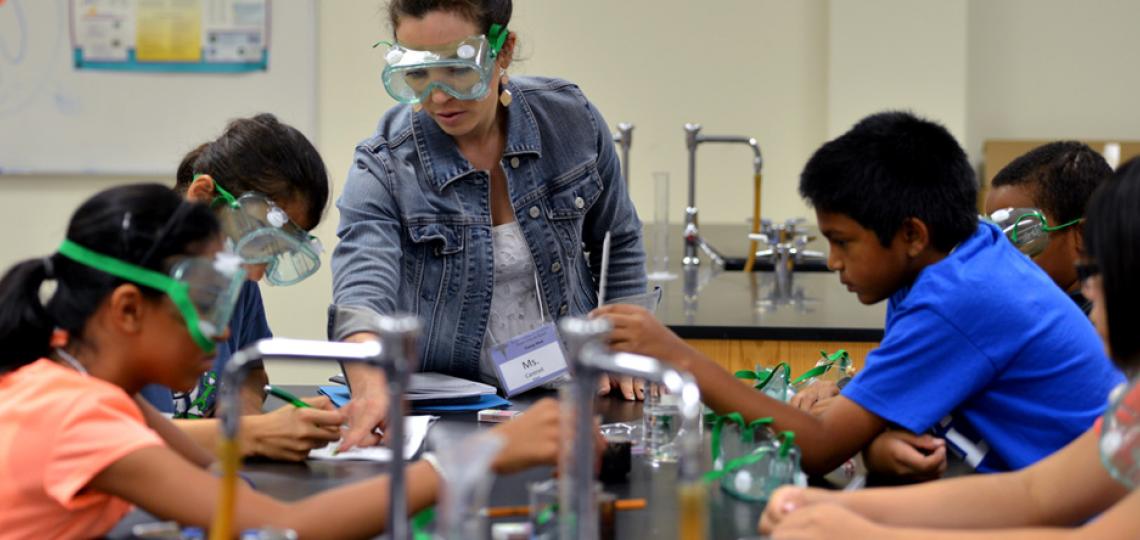 Content
Baylor College of Medicine Academy at Ryan offers its students opportunities to learn about neuroscience, biotechnology, bioengineering, and the principles of scientific research.
Content
Baylor College of Medicine Academy at James D. Ryan Middle School opened in 2013 on the site of the former Ryan Middle School in Houston. An affiliation of Baylor College of Medicine and the Houston Independent School District, the academy offers a STEM magnet program with an emphasis on medical and biomedical sciences.

Students have the opportunity to learn about neuroscience, scientific decision-making, and bioengineering and biotechnology. They explore medicine outside the classroom through the school's activities with Baylor and other organizations in the Texas Medical Center. The academy provides students with early exposure to potential medical careers and prepares them for success in high school, college, and life. The current number of students enrolled is 777, with a population that is 94 percent minority and 60 percent economically disadvantaged.
The key distinguishing feature of the school's curriculum is its emphasis on medical disciplines in science classes. Sixth grade students are introduced to neuroscience. Seventh grade students explore scientific decision-making. Eighth grade students also have the opportunity to earn high school credit.
In addition to its STEM and health science curriculum, the school is distinguished by its early introduction of Pre-AP classes and the foreign language requirement of learning Latin. From sixth grade onward, students follow a Pre-AP track in science, mathematics, English, and social studies.
The Texas Education Agency's 2017–2018 School Report Card for the academy rated the campus as having met the accountability standard with seven out of seven distinctions: English Language Arts/Reading, Mathematics, Science, Social Studies, Top 25 percent Student Progress, Top 25 percent Closing Performance Gaps, and Postsecondary Readiness.
For the second year in a row, Magnet Schools of America honored Baylor College of Medicine Academy at Ryan, naming it a School of Distinction for 2017.
Children at Risk awarded the school a letter grade of A, and ranked it #24 of Houston area middle schools, and #78 in the State of Texas.
For more information, contact Beatriz Perez-Sweeney, Ph.D., Baylor's STEM Specialist by email (Beatriz.Perez-Sweeney@bcm.edu) or by phone at (713) 942-1932.
Visit the Baylor College of Medicine Academy at Ryan website.