Master
Media Component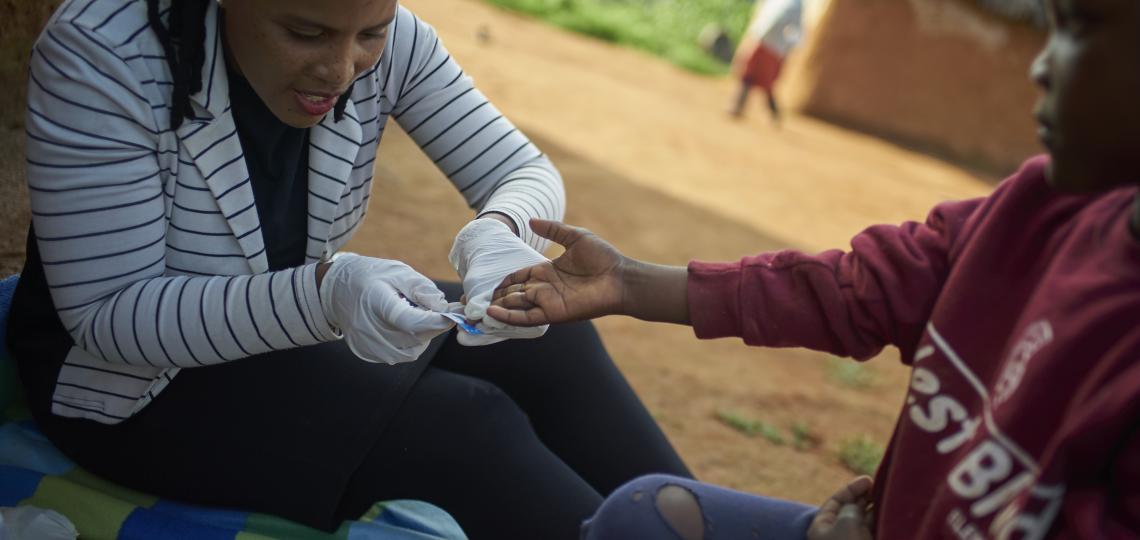 Heading
TB Center of Excellence
Content
The fulcrum of the Global TB Program is based in Mbabane, eSwatini. In May 2015, the Program completed construction on a clinical and laboratory facility to serve as a Swazi national referral center for pediatric TB and host a broad range of translational research projects. The facility has been specifically designed to support cutting edge immunologic and microbiome research that will elucidate the pathophysiology of HIV-TB co-infection and inform the development of future preventive and treatment interventions.
The Global TB Program has made a substantial investment in the construction of a clinical, radiologic, and laboratory facility in Mbabane, eSwatini, the country ranking first globally for HIV-TB co-infections rates and rapidly increasing rates of drug-resistant TB. The Ministry of Health dedicated this building as a national reference laboratory for pediatric TB. Construction of a TB pediatric reference center is situated on the grounds of the current Baylor College of Medicine Children's Foundation – eSwatini Center of Excellence (COE). The Prime Minister, the Right Honorable Dr. Barnabas Sibusiso Dlamini, performed the dedication May 8, 2015.
The TB reference center contains a dedicated open air space to support advanced sputum collection methods including gastric and nasopharyngeal aspirates and sputum induction. In addition, there are two multi-functional consultation rooms, a laboratory, and a radiology room with a digital x-ray machine as describe in more details below. This building is a free standing 178 square meters of TB clinical and laboratory facility will be completed adjacent to the existing COE structure with the purpose of strengthening TB clinical and lab facilities within the COE complex which also houses HIV services.
The new facility will include exam and counseling rooms, a dedicated open air space induced sputum procedures, a 38.3 square meter X-ray room to hold a digital X-ray machine, worth $250,000 USD, donated by the eSwatini Ministry of Health through the Global Fund, and a 30.99 square meter laboratory. The new laboratory is equipped for PBMC isolation, Elispot assays, DNA isolation, Microscopy and GeneXpert NAAT technology. The facility has also been expanded to offer child and adult audiology services in order to facilitate the management of multidrug resistant TB patients.
Content
In 2013, the Global TB Program was instrumental in the awarding of the prestigious American Society of Tropical Medicine and Hygiene Burroughs Wellcome DSCF4688Trust Post-Doctoral Fellowship to an adult Infectious Disease Fellow at Baylor College of Medicine, Dr. Andrew DiNardo. The director of the Global TB Program, Dr. Anna Mandalakas acts as Dr. DiNardo's co-mentor for this fellowship. Dr. DiNardo is conducting his research at the Baylor-eSwatini TB Center of Excellence and works closely with key members of the BIPAI Swazi team at the TB clinic throughout the process. His research interests include the Immunologic effect of helminth infection on HIV and TB specific immunity.
The Global TB program is collaborating with a number of investigators from other institutions in eSwatini in the areas of behavioral and epidemiologic study. The TB program collaborates with Dr. Lisa Adams from Dartmouth College to develop and conduct a study of Primary Care Givers and adolescents to determine the knowledge, attitudes, and barriers to Isoniazid Preventive Therapy adherence at the Baylor-eSwatini COE.
Heading
TB REACH : The Butimba Project
Content
One of the most important projects with a community-based intervention and operational research component is the WHO supported Stop TB Partnership's TB REACH initiative. This programmatic and operational research funding was provided to increase early detection of TB cases in high HIV burden settings through innovative approaches.
The Global TB Program was selected from a large competitive pool of applicants to receive funding for two large projects from the Stop TB Partnership. The web-based database was created has been operationalized for data entry and analysis on a multinational setting. These efforts broaden our research platform to support a variety of new research collaborations.
The TB Program increased capacity building and diagnostics by purchasing a Gene Xpert machine at the Baylor–eSwatini Center of Excellence and expanding sputum induction procedures to increase case detection across Lesotho. The TB Program is conducting operational program interventions with symptoms screening and household contact tracing for patients presenting to Baylor–eSwatini COE and Baylor-Lesotho COE.