Master
Content
The extensive research conducted at Baylor College of Medicine and its affiliated hospitals is a strong feature of the residency program. Our committed faculty members provide robust support for residents actively pursuing research projects.
Baylor College of Medicine among the very top in the nation for funds received for pediatric research from the National Institutes of Health.
Explore Research at Baylor
Content
Texas Children's Hospital has three distinct research facilities that offer specific areas of focus to expand learning opportunities. The Feigin Center houses state-of-the-art laboratories including a GMP cell and vector processing facility; an animal imaging facility, and SIM center for educational training. The Jan and Dan Duncan Neurological Research Institute offers collaboration with different clinical departments to research developmental disorders and other inherited pediatric neurological diseases. The Children's Nutrition Research Center, the largest and most comprehensive center of its kind, is dedicated to the study of childhood nutrition.
View All Texas Children's Research Centers
Heading
Research Highlights
Content
Residents have the opportunity to interact, pursue, and receive mentorship from all faculty, including subspecialties.
Residents gain insight into future subspecialty career options during Fellow's Research Day.
Baylor College of Medicine's reputation and scholarly research pursuits attract high acceptance rates of residents interested in fellowship opportunities at other prestigious institutions.
The Texas Medical Center provides avenues for collaboration with other institutions of higher learning and patient care such as The University of Texas School of Public Health, MD Anderson and Rice University.
Heading
Resident Scholarship Program
Media Component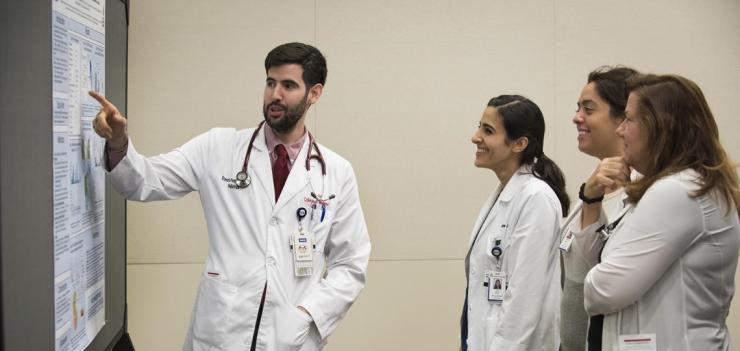 Content
Medicine is rapidly changing. Increasingly, pediatricians are no longer just clinical practitioners. In many settings, pediatricians are expected to participate in a range of scholarship activities including clinical studies, basic science research, advocacy, education, quality improvement, patient safety, and simulation. Reflecting this trend, the Accreditation Council of Graduate Medical Education now requires that all pediatric residents engage in scholarship. The aim of the Resident Scholarship Program is to provide knowledge, skill, and supervised experience in designing, conducting, and reporting a scholarly project.
The Resident Scholarship Program consists of several components:
Core lecture series
Scholarly Project rotation to work on your scholarly project
Participate in Resident Scholarship day and present your project to the wider Baylor College of Medicine community
The possibilities for what your scholarly project might entail are vast. Our hope is that you find an area of interest, capitalize on all components of RSP and begin your career with an eye toward scholarship. Scholarship can be in any of the following fields: research, clinical (case reports, chart reviews, patient information), advocacy, teaching, or quality improvement.
Heading
Current Resident Scholarly Activity
Content
Our most recent Resident Scholarship Day was held on June 2, 2023.