Master
Media Component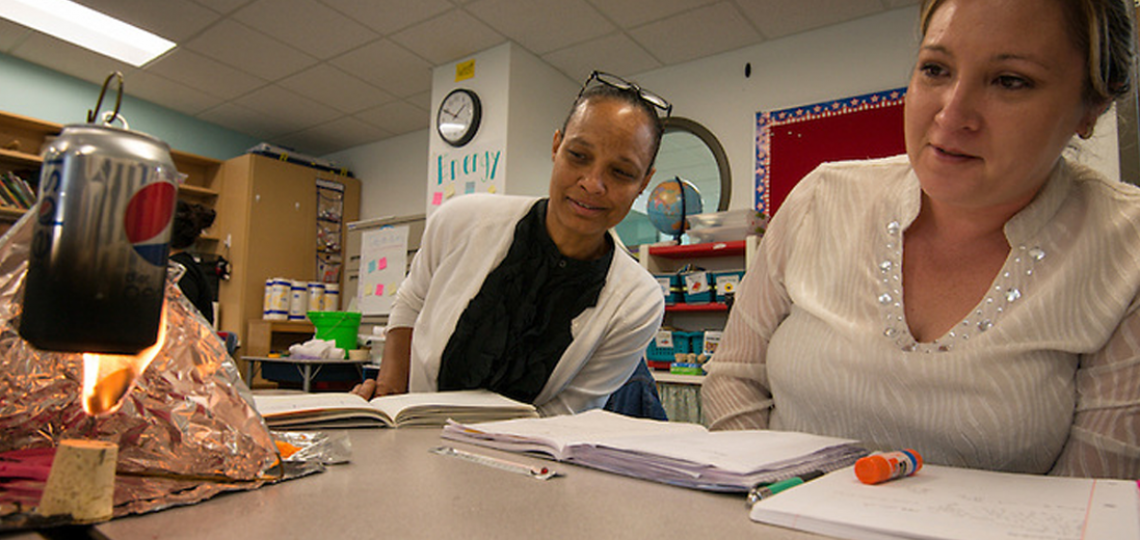 Content
Houston Independent School District teachers learn how best to teach students physical science, life science, environment and health activities that are part of Baylor's curriculum unit, "The Science of Global Atmospheric Change."
Heading
Professional Development Solutions
Content
Baylor College of Medicine, one of the nation's premier scientific research institutions, has more than 30 years of experience in conducting science education programs for and with area teachers, schools and districts. Baylor's Center for Educational Outreach has developed comprehensive teaching resources that offer an integrated approach to science, mathematics and literacy; partnered with The Children's Museum of Houston on a permanent exhibit and a traveling exhibit; and conducted leadership and science professional development programs for teachers in Houston and across the United States.
The center's professional development workshops provide unique and fun learning experiences. Scientists and master teachers present the latest science content, along with strategies to address educational standards tests. Printed materials, black-line masters, suggestions for integrating science with other subject areas, and step-by-step instructions are all provided. Follow-up sessions can be offered throughout the school year.
All sessions model appropriate questioning techniques, differentiated instructional methods, strategies for authentic formative and summative learning assessments, and gender/ethnic neutral instructional approaches. Teachers learn each activity by working together in teams. Connections to mathematics, reading and language arts, social studies, art and health enable teachers to teach science as part of an integrated whole, and therefore, afford more time for science.
All teaching strategies, content information and activities covered in CEO professional development workshops follow national and state standards for the teaching of science and mathematics.
Heading
Face-to-Face Courses
Content
Each BioEd professional development course uses a teaching unit or module which is designed to provide six-nine weeks of instruction integrating guided inquiry science with mathematics, reading and language arts. Individual activities (in PDF format), online demonstrations of activities, video presentations by scientists and educators, slide sets for classroom use and online workshops are available for free viewing or download at our BioEd Online Website.
The Baylor Summer Science Institute is conducted annually in collaboration with the Houston Independent School District for approximately 250 elementary and middle school teachers.
CEO workshops and series can be tailored to meet the needs and requirements of individual schools and/or school districts. Additional topics are available by request.
For more information, contact Nancy P. Moreno, Ph.D. at (713) 798-8200, (800) 798-8244, or by email at edoutreach@bcm.edu.
Heading
Online Professional Development
Content
Teachers may participate in online courses found on the BioEd Online website (appropriate for elementary and middle school and high school teachers). These resources utilize state-of-the-art technology to give you instant access to online professional development, reliable, cutting-edge life science information and educational tools for biology and related subjects.
Additionally, BioEd Online offers supplemental videos on science content, just-in-time lesson demonstrations, and teaching strategies.
Content
Funding for professional development online resources provided by: Houston Endowment Inc., Howard Hughes Medical Institute grant numbers 51006084, 51004102, 51000105; National Institute of Environmental Health Sciences, National Institutes of Health (NIH) grant number 5R25ES010698; National Science Foundation grant number 0723433; Robert Wood Johnson Foundation grant number: 57363; and Science Education Partnership Award, NIH grant number 1R25RR032158.