Master
Media Component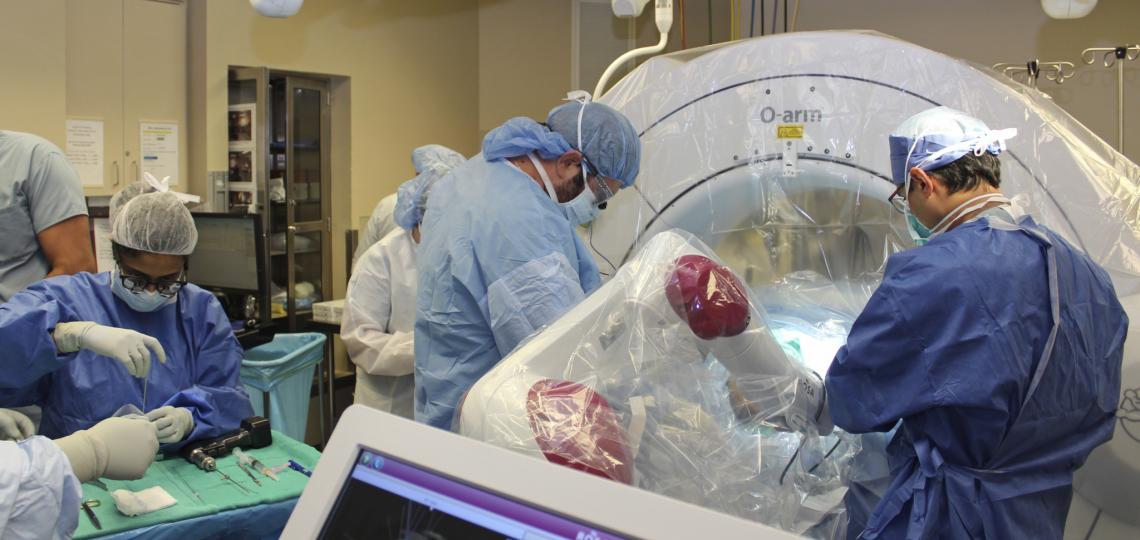 Heading
About the Program
Content
The 12-month BCM Stereotactic and Functional Fellowship provides an intensive surgical experience in all areas of adult and pediatric functional neurosurgery, combined with collaborative training with neurology, pain management, psychiatry, neurophysiology, radiation oncology, and radiology.
We train neurosurgeons to achieve comprehensive expertise in stereotactic/functional neurosurgery, including the neurosurgical management of movement disorders (using deep brain stimulation [DBS] and MRI-guided focused ultrasound [MRgFUS]), epilepsy (resection, laser ablation, intracranial implants, and neuromodulation), pain (microvascular decompression, rhizotomy, cordotomy, tractotomy, spinal cord stimulation [SCS] and dorsal root ganglion stimulation [DRGS]) and psychiatric disorders (DBS, ablative techniques) in both adults and children. The management of these patients includes not only procedural knowledge but also deeper understanding of the diagnosis and non-surgical management strategies.
Our fellows develop an area of research focus that advances a specific area of our field to improve the care of patients with neuropsychiatric dysfunction. Fellows pursue collaborative research projects with a mentor of their choice within an affiliated discipline. We expect that, in the course of their fellowship, fellows will perform basic research or clinical study that results in two or more peer-reviewed publications. These should add meaningfully to the understanding of functional neuropsychiatric diseases and their treatment.
Fellows also assist in the teaching of residents and medical students during conferences, work rounds, and in the operating room.
We expect that fellows will achieve Milestone Level 5 competency in all areas of stereotactic/functional neurosurgery. Graduating fellows should be poised to run a program independently and to advance some aspect of the field of stereotactic and functional neurosurgery.
This program is accredited by the Texas Medical Board and the Baylor College of Medicine Office of General Medical Education.
Program Director: Sameer Sheth, M.D., Ph.D.
Program Administrator: Gina Collier
Currently accepting applications for the 2025-2026 Fellowship year.
View Curriculum
Heading
Texas Medical Center
Content
Residents and fellows discuss what it is like to train in the world's largest medical complex in this video.