Master
Content
Texas Children's Hospital is the primary site for training for the Pediatric and Adolescent Gynecology Fellowship. Texas Children's consistently ranks among the top five in  US News & World Report.  It is the largest children's hospital nationwide, with more than 860 hospital beds, three busy campuses in Houston, TX (Texas Medical Center, West Campus and The Woodlands Campus), and many satellite locations throughout the city as well as satellite partnerships in San Antonio, College Station and Austin.
Content
Our Pediatric and Adolescent Gynecology Fellowship will give you comprehensive training in both medical and surgical aspects of pediatric and adolescent gynecology.
Our busy surgical service provides extensive opportunity for fellows, who perform more than 300 procedure per year during their training.
As a fellow you will divide your clinical time between our basic, complex and multidisciplinary clinics, which combined have over 12,000 outpatient encounters every year.
In addition to training at the Texas Children's Hospital in the Texas Medical Center, the world's largest medical complex, you will have the opportunity to rotate at community sites.
The departments of obstetrics and gynecology and pediatrics at Baylor College of Medicine consistently rank among the best in the world. They are also both among the top recipients in the country of funding from the National Institutes of Health, providing extensive research opportunities for our fellows.
Heading
Message from Program Leadership
Content
Thank you for your interest in our program.
We are seeking candidates possessing a strong interest in pediatric gynecology and minimally invasive surgery in children as well a commitment to clinical excellence, the ability to work well in multidisciplinary teams and who have a passion for innovation. Applicants with dedication to furthering clinical care and research in our field will do well in our program.
The fellowship is completed over two years, offering fellows a balance of clinical training, research, and educational development. Formal training in the areas of biostatistics and epidemiology is also available through the Baylor College of Medicine and we strongly encourage our fellows to take advantage of one of these.
We are a very supportive and welcoming group. We all like to share our interests and celebrate each of our successes. We try to get together regularly outside of work to have meals together, go to exhibits and outdoor events. Although we all come from different places and have different backgrounds, it is remarkable how quickly we start to feel like a great team.
Explore our site to learn more about our program. We hope you like what you see and choose to apply.
Terms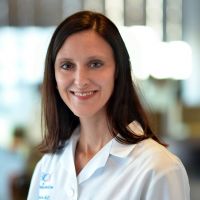 Jennifer E. Dietrich MD, MSc
Item Definition
Pediatric and Adolescent Gynecology Fellowship Director
(832) 826-7464
jedietri@bcm.edu