Master
Heading
When Preparation Meets Opportunity: A Path to Research in Women's Health
Media Component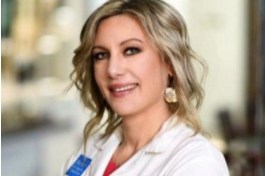 Content
When Preparation Meets Opportunity: A Path to Research in Women's Health
For Dr. Julie Hakim, assistant professor in Baylor's division of Pediatric and Adolescent Gynecology, the path to becoming a scientist and inventor has been anything but straight.
The twists and turns included leaving behind a pre-med major to pursue African studies, plans to join UNICEF, a rejected initial application to medical school, a year doing research, and an application to a French medical school, a language she barely spoke.
She got an interview.
"I had three months to figure out how to explain why they needed me in their francophone school and what would be their return on investing in me," said Dr. Hakim. "It was then that I realized there are certain things I've always been good at or enjoyed, but never thought of as skill sets."
Among them: storytelling and selling a vision she's passionate about.
"So I went to that interview, sold them on my vision about why they needed me, and got in," she said. "Then came the hard part – learning French and medicine at the same time. That led me to realize another theme in my life: I can do hard things that I'm passionate about."
Like starting an orphanage in Kenya during medical school. Becoming a Pediatric Gynecology Fellow at Baylor. Creating her own research lab. And developing innovative medical devices.
"During my fellowship we saw patients developing scar tissue in their vaginal tract following reconstructive surgery. All we had to help them were makeshift vaginal stents," said Dr. Hakim. "I kept thinking there has to be something better."
"I didn't have a background in basic science, engineering, or business, but I had passion, a vision and a story to tell, so I decided I was going to create a device to help these patients heal."
This month, she was issued a U.S. Patent on her designs. In April, that novel vaginal stent she envisioned is going to clinical trial.
"This is a fantastic institution for young people who have a desire to do more, think broadly, be outside the box, and create things that don't exist. There is enormous opportunity and potential here."