Master
Heading
Our Training Sites
Content
Our training sites include Texas Children's Hospital and Ben Taub General Hospital. Texas Children's Hospital is one of the largest and highly regarded pediatric hospitals in the nation, consistently ranked among the best by U.S. News & World Report. Ben Taub General Hospital is an outstanding acute care facility and an elite Level I trauma center in the heart of Texas Medical Center. 
Learn More
Heading
About the Program
Content
The Baylor College of Medicine Neonatal-Perinatal Fellowship program trains post-doctoral clinical fellows in four major domains:
Patient Care
Scholarship
Education
Leadership
Our core values of inclusivity, excellence, integrity, respect and service support our fellows' development as a whole physician to pursue careers as:
Clinician rsearchers with expertise in clinical, basic science, translational and QI tracks
Medical educators with proficiency in curriculum development, evaluation, teaching and educational research
Master clinicians with excellence in patient care to support both academic and private practice careers
Leaders in administration with skill sets to pursue positions such as department chairs, division heads, deans, medical directors and program directors.
The neonatal-perinatal fellowship provides fellows with a structured curriculum that includes extensive education in perinatal physiology, clinical neonatology, and research methods, and includes completion of a research project mentored by an experienced faculty member.
Upon completion of the program, qualified fellows are eligible for certification by the American Board of Pediatrics Sub-board of Neonatal-Perinatal Medicine.
Heading
Program Director's Message
Media Component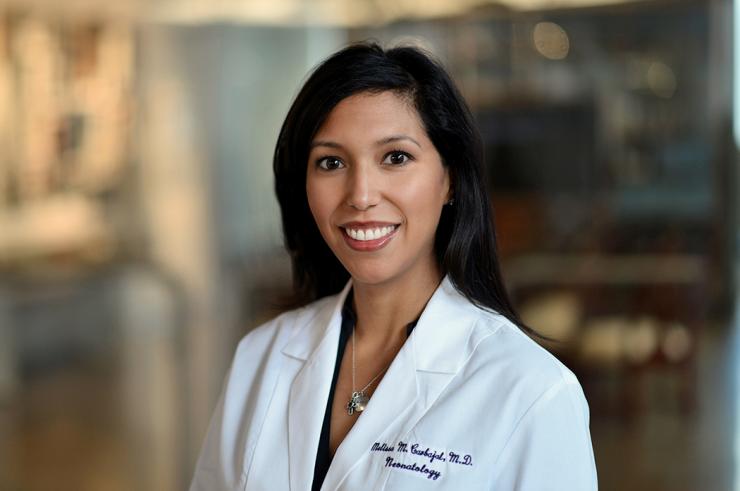 Content
Welcome to the Baylor College of Medicine Neonatology Fellowship Program! We're glad you are interested in our neonatology fellowship program and may be considering doing your fellowship here. The Neonatal-Perinatal Medicine Fellowship Program was begun in 1961 by Dr. Arnold J. Rudolph. It was one of the first such fellowship programs established in the United States, and is currently among the largest academic neonatology training programs.
Each year, we select six pediatric residents to continue in an ACGME accredited three-year neonatology fellowship training program conducted at Texas Children's Hospital, the largest pediatric hospital in the United States, Ben Taub Hospital, a public hospital in Houston, and in the laboratories of investigators at Baylor and elsewhere in the Texas Medical Center. All of our fellows are selected via the NRMP match process.
In the last 30 years, our neonatology fellowship program has graduated over 150 fellows. These former fellows are practicing throughout the country and across the world. The neonatal-perinatal fellows who have graduated the program account for over 4 percent of the neonatologists in the nation. We have graduates working in Turkey, Guatemala, The Netherlands, Australia and Israel. Our fellows conduct research in diverse clinical fields including human milk use in the NICU, in translational areas including the development and evaluation of novel lipid products for neonatal use, and in basic science such as novel methods to understand and prevent oxygen toxicity among other topics. Our laboratory resources include the USDA/ARS Children's Nutrition Research Center, a unique collaboration of the USDA/ARS, Baylor College of Medicine and Texas Children's Hospital to conduct a range of nutritional research in children, and the Texas Children's Hospital Feigin Center.  They also conduct scholarly projects in Education, QI, Advocacy, as well other ABP approved areas for scholarly activities. Our fellows have the opportunity to earn a certificate or a Masters Degree from the Clinical Scientist Training Program at BCM to augment their basic fellowship training in these skill areas. BCM/TCH supports this research by providing scholarships to 10 Pediatric Subspecialty Fellows each year to offset the cost of tuition for Masters Degrees. During the last five years, neonatal-perinatal fellows in training have published more than 40 peer-reviewed articles, presented their research at national and regional scientific meetings, and received awards and national recognition from organizations including the Division of Perinatal Pediatrics of the American Academy of Pediatrics.
The clinical experience in our neonatology fellowship program includes the opportunity to work in our beautiful Pavilion for Women where about 5000 infants are being delivered each year, many of them part of our high-risk perinatal service which includes a fetal surgery service. We have clinical neonatology efforts dedicated to providing care to infants from throughout the community with bronchopulmonary dysplasia and intestinal failure. Our clinical efforts are supported by training in our state-of-the-art simulation center, where both clinicians and trainees get to practice working in high-risk life-threatening situations before they encounter them with real patients in the clinical environment. Whole body cooling, ECMO and EXIT procedure management are routine parts of our neonatology fellowship training experience. Our daily neonatology census at our primary training hospitals is usually over 150 babies each day.
We are committed to offering our fellows an outstanding experience in their training and in developing their career in neonatology. We welcome you to take a look through the website and to contact our neonatology fellowship program coordinator, Amiya Davis at Amiya.davis@bcm.edu. You may also contact me directly with any questions.
We look forward to hearing from you!
Melissa M. Carbajal, M.D.
Assistant Professor of Pediatrics
Neonatal-Perinatal Fellowship Director
Division of Neonatology
Department of Pediatrics