Master
Media Component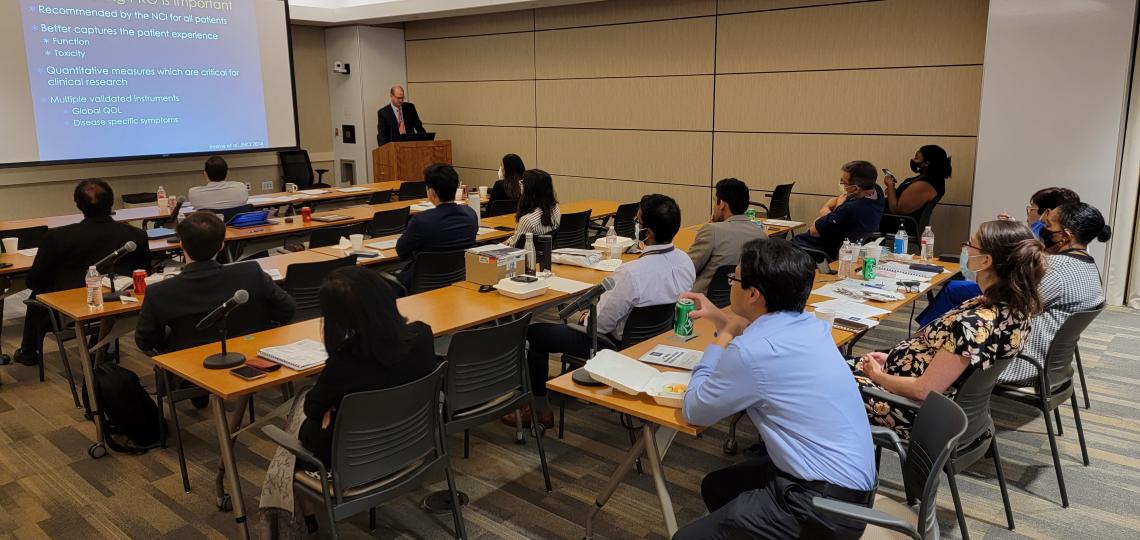 Heading
Clinical Curriculum
Content
We are a four-year program offering at least 36 months in clinical radiation oncology training.
Our trainees gain experience in the following:
Performing histories and physicals, and diagnostic evaluations
Staging appropriate to specific malignancies.
Prescribing and implementing radiation therapy specific to a particular tumor site and histology.
Clinical application of 3D conformal treatment planning and delivery, IMRT, IGRT, radiosurgery, radioimmunotherapy, unsealed sources, total body irradiation as used in stem-cell transplantation, high- and low-dose rate brachytherapy, hyperthermia, kilovoltage irradiation, plaque therapy, and particle therapy.
The principles of normal tissue tolerance to radiation and tumor dose-response.
The use of combined modality therapy and altered fractionation schemes.
Pain management and palliative care.
Developing the communication skills required to establish working relationships with medical and surgical oncologists, and other health-care professionals.
Content
Our residents work one-on-one with an attending physician at three different sites. Rotations last three months. During the resident's second year they will also do a rotation at MD Anderson.
Harris Health
The residents spend a lot of their time at the J. Evans and Mary P. Attwell Radiation Therapy Center, located within the Harris Health Smith Clinic. The Smith Clinic was designed exclusively for outpatients requiring specialty care. In addition to the radiation therapy center, the facility also houses The Smith Breast Center, the Smith Infusion Therapy Clinic, the Smith Diagnostic Imaging Department and the Smith Oncology clinic. The facility opened in October 2012.
Michael E. DeBakey VA Medical Center
The MEDVAMC Radiation Therapy center provides services to veterans in southeast Texas at the VA Medical Center's main campus.  The center is equipped with a CyberKnife system. The center provides External Beam radiation and IMRT.
Baylor St. Luke's Medical Center
The CHI St. Luke's Radiation Therapy and Cyberknife Center provides services for the Dan L. Duncan Cancer Center and gives our trainees exposure to the private practice setting. 
MD Anderson Cancer Center
Residents spend three months at MD Anderson, where they gain valuable experience  with low-dose rate (LDR) permanent seed implants for prostate cancer and treating pediatric patients  at the MD Anderson Proton Therapy Center.
Heading
Clinical Didactic Course
Content
This course consists of faculty lectures, problem-based case conferences, an oncoanatomy curriculum featuring guest lecturers from other oncology specialties, resident lectures (supervised by faculty), and guest Radiation Oncologist lectures. The goal of the clinical didactic course is to provide an in-depth knowledge of clinical radiation oncology including the indications for irradiation and special therapeutic considerations unique to each site and stage of disease.
Heading
Multidisciplinary Conferences & Tumor Boards
Content
Residents will attend multidisciplinary conferences, and present cases as needed. They will attain the skills and experience to:
Recognize the common presentations and physical findings in patients with particular types of malignancies.
Know the various means of obtaining tissue for diagnosis, which methods are best for particular types of tumors, and recognize the difference between benign and malignant tissues on pathologic review.
Be able to interpret plain films, CT scans, MRI and nuclear medicine studies for diagnosis and staging of patients.
Be familiar with the different modalities used in treatment of various malignancies (surgery, chemotherapy or radiation therapy), and which types of treatment are most effective for a particular type or stage of malignancy.
Gain communication skills by presenting cases and providing the risks and benefits of radiation therapy as it relates to particular case.
Documented tumor board attendance can be used to fulfill the requirements for radiology and pathology.