Master
Media Component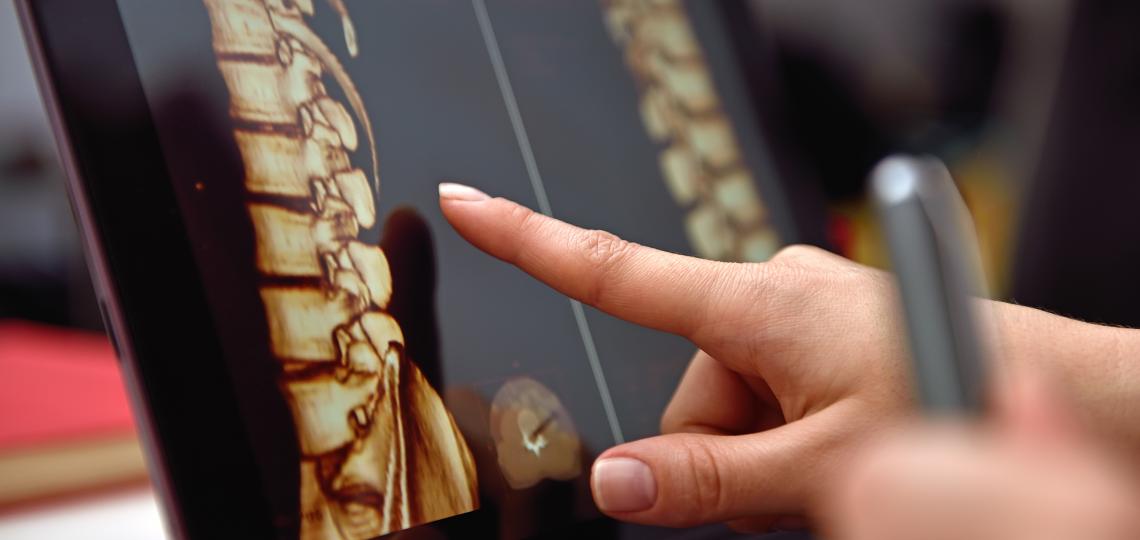 Content
At the Baylor Medicine Spine Center, we treat varied and complex clinical problems associated with the spine. We treat all diseases of the cervical, thoracic and lumbar spine including:
Heading
General Spine Conditions
Media Component

Credit
Baylor College of Medicine
Content
There are conditions that are not specific to any region of the spine or can affect several regions of the spine. They include:
Adult Spinal Deformities
Ankylosing Spondylitis (AS)
Back and Neck Pain
Scoliosis
Spinal Cord Injuries and Compression
Spinal Fractures and Trauma
Spinal Infections
Spinal Pain, including pain after spinal surgery (Post-laminectomy Syndrome)
Spondylitis / Spondyloarthritis / Spondyloarthropathy
Request an Appointment
Heading
Cervical Spine (Neck Region)
Content
The neck region of the spinal column is called the cervical spine. It has seven bones (C1-C7 vertebrae) which are separated from each other by discs. These discs are composed of a capsule of connective tissue surrounding a soft, jellylike center. These discs absorb shock and provide flexibility within the spine.
Basilar Invagination
Cervical Arthritis
Cervical Spine Fractures (Broken Neck)
Facet Arthropathy
Spondylolysis
Heading
Thoracic Spine (Upper and Middle Back)
Content
The upper and middle back is called the thoracic spine. It has 12 vertebrae, which attach to your rib cage. They make up the longest part of your back. Discs separate the vertebrae and absorb shock as you move. Muscles and ligaments hold the spine together.
Kyphosis
Scoliosis
Spinal Fracture (Broken Back)
Thoracic Disc Herniation
Heading
Lumbar Spine (Lower Back)
Content
The lower back is called the lumbar spine. It has five vertebrae, in the lower part of the spine between the ribs and pelvis. They make up the longest part of your back. Discs separate the vertebrae and absorb shock as you move. Muscles and ligaments hold the spine together.
Chronic Lower Back Pain
Degenerative Disc Disease
Facet Arthropathy
Flat Back Syndrome
Herniated Disc (Ruptured Disc or Slipped Disc)
Lumbar Claudation / Neurogenic Claudation
Lumbar Scoliosis and Spinal Deformities
Sciatica
Spinal Fracture (Broken Back)
Spinal Stenosis
Spondylolisthesis Spondylolysis (Pars Defects)
Content
The sacrum is the lowest portion of the spine. It is a single bone that connects the spine to the pelvis.
Coccydnia (Tailbone Pain)
Fractures of the Sacrum and Coccyx (Broken Pelvis and Tailbone)
Sacral Nerve Compression
Sacroilitis
SI (Sacroiliac) Joint Dysfunction
Spinal Tumors
Make an Appointment
Heading
Services and Treatments
Content
Rest assured that when you seek care at Baylor Medicine's Spine Center, you'll have access to the most advanced, evidence-based surgical and non-surgical treatments available.
Spine Treatments
Heading
Meet the Spine Team
Content
From chronic lower back pain to spinal fractures our team of physicians specialize in the care and treatment of a variety of spinal conditions.
View Spine Team
Healthwise Credits
© 2016-2020 Healthwise, Incorporated. This information does not replace the advice of a doctor.