Master
Media Component

Credit
© 2016-2019 Healthwise, Incorporated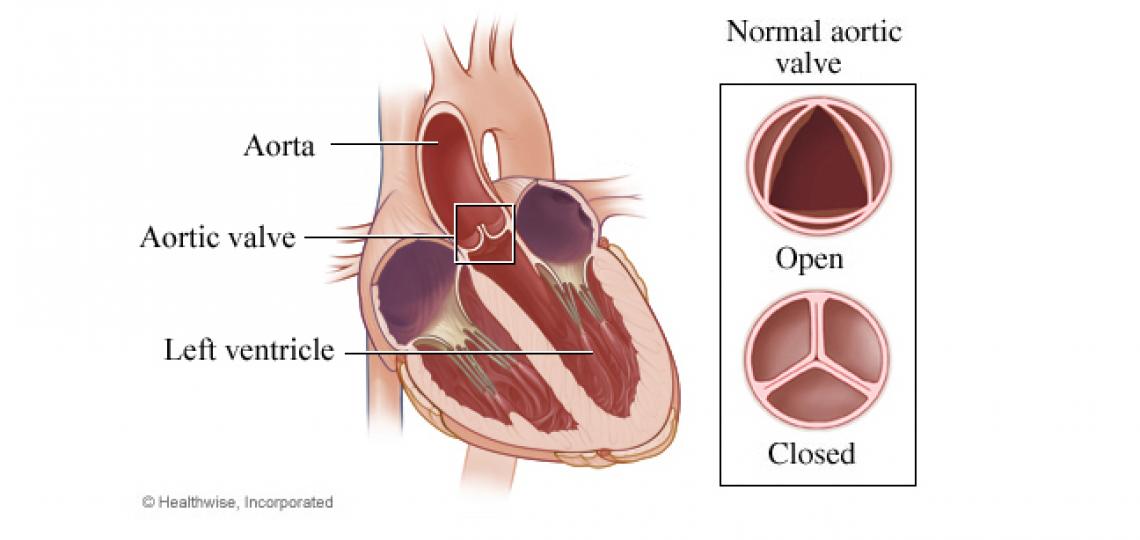 Content
Surgery to replace an aortic valve is done for aortic valve stenosis and aortic valve regurgitation. During this surgery, the damaged valve is removed and replaced with an artificial valve. The valve replacement is typically an open-heart surgery.
A minimally invasive surgery or a catheter procedure to replace the aortic valve may be an option for some people.
How is the surgery done?
During open-heart valve surgery, the doctor makes a large incision in the chest. Blood is circulated outside of the body through a machine to add oxygen to it (cardiopulmonary bypass or heart-lung machine). The heart may be cooled to slow or stop the heartbeat so that the heart is protected from damage while surgery is done to replace the valve with an artificial valve.
The artificial valve might be mechanical (made of man-made substances). Others are made out of animal tissue, often from a pig.
Content
Aortic valve replacement gives you a new aortic heart valve. The new valve may be mechanical or made of animal tissue, often from a pig. Your doctor will talk with you before surgery about which type of valve is best for you.
The aortic valve opens and closes to keep blood flowing in the proper direction through your heart. When the aortic valve does not close properly, it's called aortic valve regurgitation. If the valve is very tight and narrow, it's called aortic valve stenosis. In both of these cases, blood does not flow through the heart the right way.
You will be asleep during the surgery. Your doctor will make a cut in the skin over your breastbone (sternum). This cut is called an incision. Then the doctor will cut through your sternum to reach your heart.
The doctor will connect you to a heart-lung bypass machine. It adds oxygen to your blood and moves the blood through your body. This machine will allow the doctor to stop your heartbeat and replace the valve.
After the doctor has replaced your aortic valve, he or she will restart your heartbeat. Then the doctor will use wire to put your sternum back together. Your incision will be closed with stitches or staples. The wire will stay in your chest. The incision will leave a scar that may fade with time.
You will stay in the hospital for 3 to 8 days after surgery.
Content
You have had surgery to replace your heart's aortic valve. Your doctor did the surgery through a cut, called an incision, in your chest.
You will feel tired and sore for the first few weeks after surgery. You may have some brief, sharp pains on either side of your chest. Your chest, shoulders, and upper back may ache. The incision in your chest may be sore or swollen. These symptoms usually get better after 4 to 6 weeks.
You will probably be able to do many of your usual activities after 4 to 6 weeks. But for at least 6 weeks, you will not be able to lift heavy objects or do activities that strain your chest or upper arm muscles. At first you may notice that you get tired easily and need to rest often. It may take 1 to 2 months to get your energy back.
Some people find that they are more emotional after this surgery. You may cry easily or show emotion in ways that are unusual for you. This is common and may last for up to a year. Some people get depressed after this surgery. Talk with your doctor if you have sadness that continues or you are concerned about how you are feeling. Treatment and other support can help you feel better.
Even though you have a new aortic valve, it is still important to eat a heart-healthy diet, get regular exercise, not smoke, take your heart medicines, and reduce stress. Your doctor may recommend that you work with a nurse, a dietitian, and a physical therapist to make these changes. This is sometimes called cardiac rehabilitation.
© 2016-2019 Healthwise, Incorporated.