Milenka Cuevas Guaman, M.D.
Picture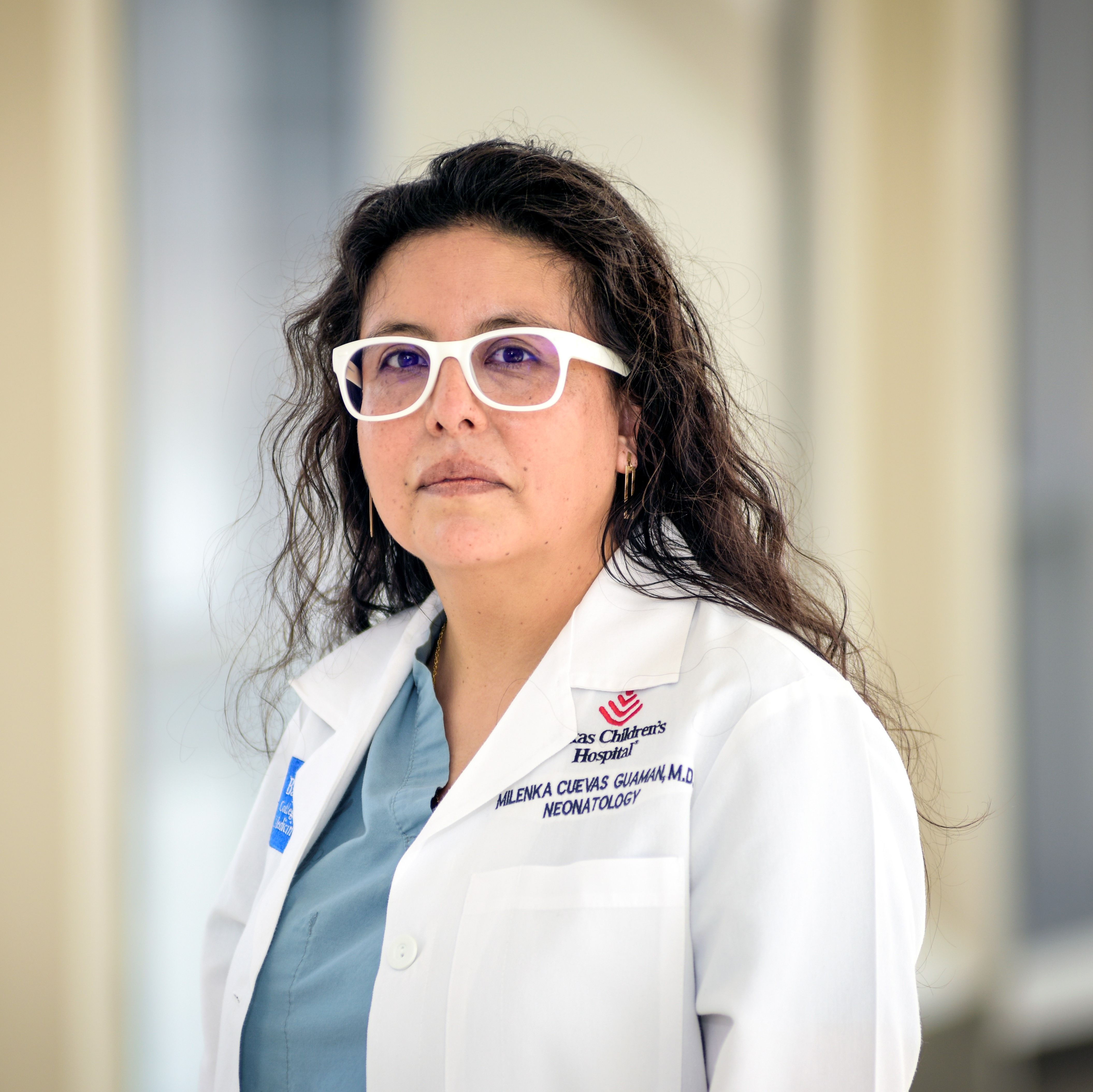 Milenka Cuevas Guaman, M.D.
Positions
Assistant Professor

Pediatrics
Neonatology
Baylor College of Medicine
Houston, TX US
Addresses
Neonatology (Clinic)

Texas Children's Hospital
6621 Fannin St Ste W6104
Houston, TX 77030
United States
Phone: (832) 826-1380
mxcuevas@texaschildrens.org
BCM Neonatology
Education
MD from Universidad Mayor de San Andres

La Paz, Bolivia
Residency at University of South Alabama College of Medicine

Mobile, AL
Pediatrics
Fellowship at Baylor College of Medicine

Houston, TX
Neonatal and Perinatal Medicine
Certifications
Pediatrics

American Board of Pediatrics
Professional Interests
Professional Statement
Every kid deserves the opportunity to grow to their fullest potential from the first minute they are alive.
Websites
Selected Publications
Pew BK, Harris RA, Sbrana E, Guaman MC, Shope C, Chen R, Meloche S, Aagaard K.

"Structural and transcriptomic response to antenatal corticosteroids in an Erk3-null mouse model of respiratory distress.." Am J Obstet Gynecol.. 2016 Sep;215(3):384. Pubmed PMID: 27143398

Guaman MC, Gien J, Baker CD, Zhang H, Austin ED, Collaco JM.

"Point Prevalence, Clinical Characteristics, and Treatment Variation for Infants with Severe Bronchopulmonary Dysplasia.." Am J Perinatol.. 2015 Aug;32(10):960-7. Pubmed PMID: 25738785

Cuevas Guaman M, Sbrana E, Shope C, Showalter L, Hu M, Meloche S, Aagaard K.

"Administration of antenatal glucocorticoids and postnatal surfactant ameliorates respiratory distress syndrome-associated neonatal lethality in Erk3(-/-) mouse pups.." Pediatr Res.. 2014 Jul;76(1):24-32. Pubmed PMID: 24732107
Memberships
American Academy of Pediatrics

Member
American Academy of Pediatrics, Perinatal Section

Member
Texas Pediatric Society, Fetus and Newborn Committee

Member
American Thoracic Society

Member