Master
Media Component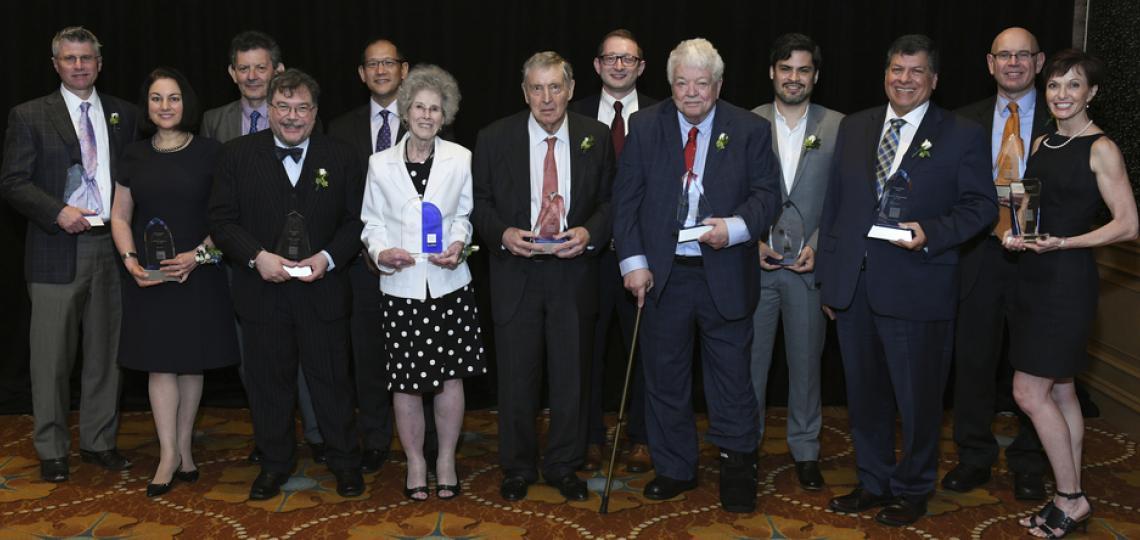 Content
Alumni Awards winners on Thursday, May 2, during the 2019 annual Alumni Awards and Recognition Dinner at the St. Regis Hotel in Houston. The awards were presented by Dr. Paul Klotman, president, CEO and executive dean of Baylor College of Medicine, and alumni association president Dr. George Perry, Ph.D., PostDoc '82.
Terms

Item Definition
Dr. Scavuzzo earned her Ph.D. at Baylor College of Medicine while studying the genetic mechanisms dictating pancreatic lineage determination with direct applications to regenerative therapies for diabetic patients. She currently is a postdoctoral scholar and Hartwell Fellow at Case Western Reserve University where she aims to outline the mechanisms regulating cell fate decisions in every tissue. Outside of her studies, she participates in community activities that make science more accessible to youth from diverse backgrounds.

Item Definition
Dr. Trantham worked with Baylor College of Medicine's Family Medicine Interest Group and taught clinical skills as a teaching assistant for the Patient, Physician and Society course while earning his medical degree. He also led the Peer Resource Network and Orientation Retreat and now plans to practice full-spectrum primary care for patients in a rural area where health services are limited.

Item Definition
Physician Assistant Wei supervises the advanced practice providers in the Department of Surgical Oncology and directs the PA Student Elective Oncology Rotation at MD Anderson Cancer Center, where he has worked in the Hepatic-Pancreato-Biliary Section for 19 years. He received recognition for his strong advocacy and positive influence in training the next generation of advanced practice providers. Throughout his career, he has organized several advanced practitioner symposiums and chaired the inaugural Surgical Oncology Advanced Practitioner Conference.

Item Definition
Dr. Nuila founded the Program of Narrative Medicine at Baylor College of Medicine, where he currently is an Associate Professor of Medicine and Medical Ethics and Health Policy. He is known worldwide for his medical journalism and medically-based fiction that highlights health disparities and policy challenges in the healthcare system. His work has won multiple awards and has been published in highly esteemed media outlets, such as The New Yorker, Texas Monthly, The Atlantic, the Houston Chronicle, The Virginia Quarterly Review, McSweeney's and The New England Journal of Medicine.

Item Definition
Dr. Brenner moved to the United States from England to head the Cell and Gene Therapy Program at St. Jude's Children's Research Hospital before establishing the Center for Cell and Gene Therapy at Baylor College of Medicine. He has been instrumental to furthering stem cell transplantation research at Baylor. His novel therapies and strategies have earned numerous awards from prestigious organizations around the world, and he has been elected to the American Association of Physicians and the National Academy of Medicine.

Item Definition
Dr. Hotez is internationally known for developing vaccines for neglected tropical diseases that afflict the world's poorest populations. He currently directs the National School of Tropical Medicine at Baylor College of Medicine and the Texas Children's Center for Vaccine Development at Texas Children's Hospital. Outside of Baylor, he facilitates global efforts to increase healthcare access for underserved areas and leads national efforts to defend vaccines against the growing "anti-vaxx" threat.

Item Definition
Dr. Chetkovich is Chair of Neurology at Vanderbilt University School of Medicine, where he investigates the molecular mechanisms that underlie the targeting of ion channels to synapses and other specialized areas of neurons. He has been invited to many national and international conferences to speak about his National Institutes of Health-supported work. In addition to research, he helps prepare the next generation of neurologists for board certification as a member of the American Board of Psychiatry and Neurology Certification Committee.

Item Definition
Dr. Jenson co-invented the human papillomavirus (HPV) vaccine, which has prevented cancer in potentially hundreds of thousands of people. His lab continues to study the role of HPV in cervical, oropharyngeal and other cancers in the James Graham Brown Cancer Center at the University of Louisville School of Medicine. He obtained his master's and medical degrees and completed a pathology residency at Baylor College of Medicine.

Item Definition
Dr. Matzuk directs the Center for Drug Discovery at Baylor College of Medicine and has won numerous awards and grants for his research into reproductive biology, cancer biology and clinical pathology. He is a member of many societies and organizations and has chaired the National Institutes of Health Cellular, Molecular and Integrative Reproduction Study Section as well as the review panels for the Burroughs Wellcome Fund Career Awards in the Biomedical Sciences and Career Awards for Medical Scientists.

Item Definition
Dr. Noon completed his medical degree and surgical and thoracic residencies at Baylor College of Medicine before being personally recruited as a faculty member by Michael E. DeBakey, M.D. The duo performed the world's first multi-organ transplant and developed the heart pump. He has been sought out by several foreign leaders for his surgical abilities and has established several cardiovascular surgery programs worldwide. He currently is President of the DeBakey Medical Foundation and is Professor of Surgery in the Division of Transplant and Assist Devices at Baylor.

Item Definition
Dr. Coburn completed her medical degree, internship, ophthalmology residency and fellowship at Baylor College of Medicine. She is being recognized for her extensive work in the Houston community to increase eye care services for the underserved and those affected by natural disasters. She is a member of the Houston Ophthalmological Society, Prevent Blindness Texas and several other organizations where she has organized efforts to care for veterans, the homeless and victims of natural disasters such as Hurricanes Katrina and Harvey.

Item Definition
Dr. Hernandez has dedicated his life to transforming healthcare delivery throughout Travis County, Texas. He began his medical journey as a nurse before graduating from Baylor with an M.D. and entering the general internal medicine practice with Baylor Scott & White Clinic. Over the years, he has improved population health programs to serve the needs of chronically ill under- and un-insured patients. He currently is the Chief Medical Officer of the Community Care Collaborative, a unique public-private partnership that cares for more than 100,000 low-income residents in Travis County.

Item Definition
Dr. Mattox helped develop the internationally renowned Ben Taub Hospital Emergency Center and Trauma Center and is a Professor in the Michael E. DeBakey Department of Surgery at Baylor College of Medicine. As one of the most recognized surgeons around the world, he also created and directed the Las Vegas Trauma, Critical Care, and Acute Care Surgery Conference and the Medical Disaster Response Conference. He has led several national organizations and frequently helps to form and pass legislation to improve care for trauma patients at the local, state and national levels.