Master
Content
According to a recent report, charitable giving by Americans has never been more generous! Over the past four decades the Parkinson's Disease Center and Movement Disorders Clinic has benefitted from the generosity of our patients and friends. Without such support we would not have achieved the pre-eminent status as one of the most accomplished clinical, research, and educational centers in the world. With a robust database of over 32,000 patients and 36,000 diagnoses and a long history of important contributions to research and education, the PDCMDC has been recognized as a "Center of Excellence" by the Parkinson's Foundation, Huntington Disease Society of America, Tourette Association of America, and the Wilson Disease Association. We currently have five movement disorders fellows, all of whom are graduates of the Baylor Neurology Residency Program, testifying to the high regard for the PDCMDC training program among our residents. In addition, we have recruited our first "translational research" fellow, partly supported by the prestigious Parkinson Study Group/Parkinson Foundation Mentored Clinical Research Award. However, in order to continue on this path of success and productivity we need over $500,000 annually to fund our Movement Disorders Fellowship Training Program!
During the next few weeks we will be actively recruiting new faculty to help us continue delivering the most expert care using cutting-edge medical and surgical treatments and to advance our experimental therapeutic program. In November 2018 we will be hosting in Houston the 25th Annual Meeting of the Huntington Study Group. We will also have a site visit from the Parkinson's Foundation during which time we will have an opportunity to showcase our center.
Media Component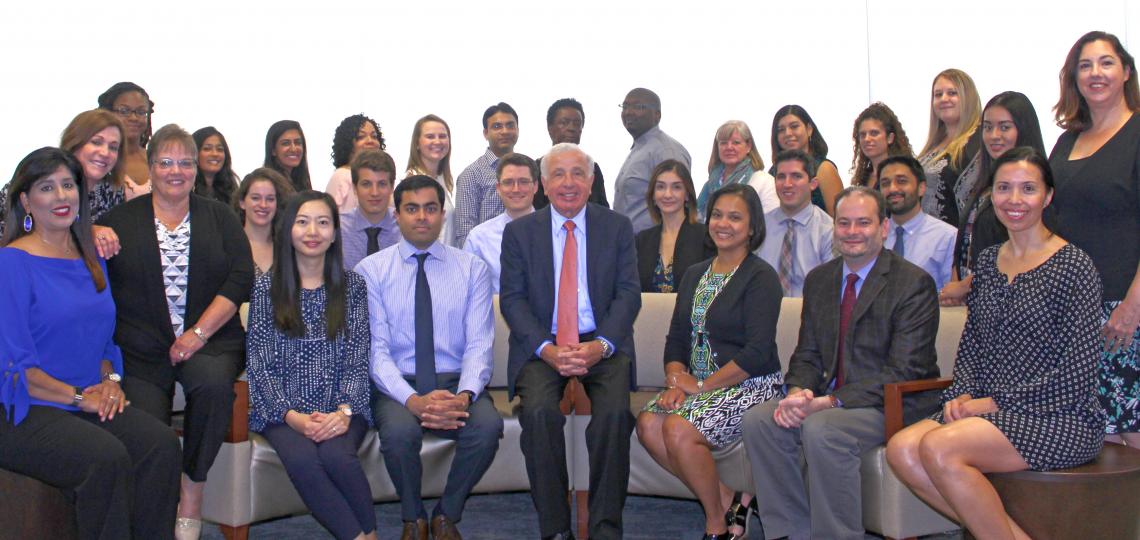 Heading
Joseph Jankovic, M.D.
Content
During the past year Dr. Jankovic was invited to participate at national and international meetings on research conducted by the PDCMDC team, including lectures at the First International Tremor Congress sponsored by Columbia University and presentations in Europe and Asia related to Parkinson's disease, dystonia, Huntington disease, and Tourette syndrome.
His contributions to the field of therapeutic neurotoxins, such as BOTOX, over the past 35 years will be recognized by a Lifetime Achievement Award, presented by the International Neurotoxin Association in Copenhagen, Denmark.
Dr. Jankovic has published over 1,200 peer-reviewed articles and 55 books and is currently working on three books.
Heading
Joohi Jimenez-Shahed, M.D.
Content
Dr. Jimenez-Shahed has been promoted to associate professor of neurology.
She is the recipient of a research grant from the Michael J. Fox Foundation to serve as the co-principle investigator of a nation-wide registry of Parkinson's patients undergoing deep brain stimulation.
Dr. Jimenez-Shahed was recognized by the American Academy of Neurology for completing a "women in Neurology" leadership program.
In the past year, Dr. Jimenez-Shahed has been invited to lecture nationally and internationally on topics related to DBS and Tourette syndrome.
Heading
Joshua M. Shulman, M.D., Ph.D.
Content
In collaboration with the International Parkinson's Disease Genomics, Dr. Shulman participated in the largest ever genetic study of Parkinson's disease risk factors, identifying 92 genetic variants. The study examined genetic samples from more than 1 million subjects, including many contributed by PDCMDC.
Heading
Arjun Tarakad, M.D.
Content
Over the past year, Dr. Tarakad has participated in patient outreach and educational programs including lectures for the Houston Area Parkinson's Society (HAPS) and Help4HD (Huntington's Disease).
Dr. Tarakad has been appointed to Harris Health (the county health system) to provide specialized movement disorders care to Houston's uninsured/underserved populations.
Heading
Christine B. Hunter, R.N., B.S.N.
Content
Christine Hunter serves on the task force for the Mentoring Program Committee of the Parkinson Foundation and on the executive board of Tourette Association of Texas.
She also participates in the Parkinson Foundation: Women and PD Talk national forum held in Houston and hosted by the PDCMDC.
She is working with the Parkinson Foundation to partner with the Edmond J. Safra Visiting Nurse Faculty Program to bring this program to the Houston area in the spring 2019.
Content
The PDCMDC continues to be at the forefront of research into Parkinson's disease and other neurodegenerative and movement disorders. Our focus is on the most compassionate and expert clinical care and research into genetics, experimental therapeutics and surgical treatments for movement disorders as well as training future experts and leaders in the field. Please consider a gift today to help advance our clinical, research and educational areas.
With warm appreciation,
Joseph Jankovic, M.D.