Master
Media Component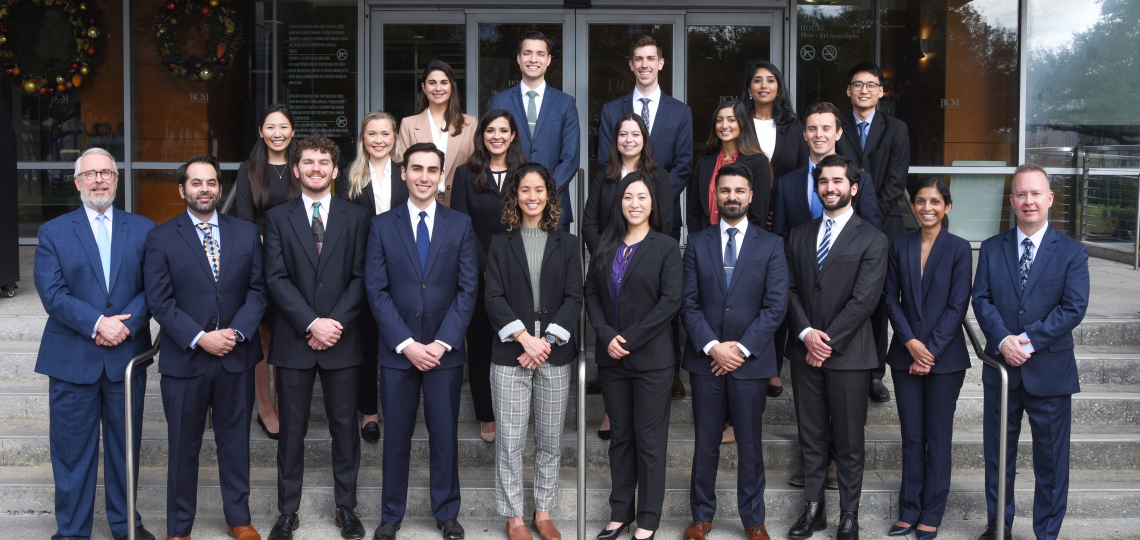 Heading
About the Program
Content
The Ophthalmology Residency Program in the Cullen Eye Institute at Baylor College of Medicine provides outstanding clinical and surgical training with extensive exposure to every ophthalmic subspecialty. Our nationally renowned and fully ACGME-accredited program (#10 in Doximity's 2021, 2022 and 2023 program rankings) offers a wide array of training opportunities in one of the most advanced medical centers in the world. 
Our comprehensive, three-year program admits six trainees per year for a total of 18 ophthalmology residents (postgraduate years 2-4). In addition to our core group of residents, we have also partnered with Baylor's Department of Medicine in a joint internship program that provides our incoming residents with a broad PGY1 experience that includes 4 months of dedicated ophthalmic education.
Throughout the course of their residency, our trainees work in multiple and varied clinical settings that encompass the unbeatable experience of private and public healthcare delivery. These facilities include Baylor's Alkek Eye Center, Ben Taub General Hospital (in the Harris Health System), the Michael E. Debakey Veterans Affairs Medical Center, Texas Children's Hospital, CHI/St. Luke's Medical Center, and Houston Methodist Hospital. All of our clinics and hospitals are located less than 2 miles from each other within the Texas Medical Center, the world's largest medical center. 
Our mission is to provide our residents with superb education in all aspects of ophthalmology that empower them to pursue the career of their choice - comprehensive or subspecialty ophthalmology in an academic or private practice setting. 
Heading
Program Curriculum
Content
Our curriculum offers depth of clinical and surgical training, and exposure to a diverse patient population.
Learn More
Heading
Resident Wellness
Content
Resident wellness is an important aspect of the program including safety precautions related to COVID-19. Our benefits page provides information about our wellness programs.
Learn More
Content
Affiliations with leading research and healthcare institutions in and around the Texas Medical Center, the world's largest healthcare complex, provide access to an exceptionally diverse array of people and resources.
View Training Sites
Content
Houston, the nation's fourth-largest and most diverse city, offers all the benefits of a big city at a significantly lower cost of living than other major cities.
Explore Houston