Master
Content
The Spinal Cord Medicine Injury Program trains fellows to:
Be proficient practitioners in all aspects of care provided to persons with acute and long-term spinal cord injuries,
Develop expertise in clinical decision-making regarding rehabilitative aspects of SCI care,
Confidently diagnose and manage neurogenic bladder and bowel, sexuality and fertility, spasticity, pressure ulcers, pain, and other pertinent SCI secondary complications,
Develop and demonstrate the skills of team leadership in an interdisciplinary environment,
Be competent in teaching medical students, residents, and others, and
Become skilled in the field of spinal cord injury research.
Heading
Fellow Responsibilities
Content
The fellow will:
Participate in inpatient and outpatient clinical activities at MEDVAMC and TIRR SCI services on a rotating basis,
Participate in SCI consultative activities at MEDVAMC and Memorial Hermann,
Supervise and teach medical students and residents under the mentorship of program attendings,
Participate in appropriate SCI educational activities at the training locations.
Work closely with interdisciplinary staff to monitor and treat all aspects of health and rehabilitation,
Assume responsibility for at least one scholarly project relevant to spinal cord injury medicine, and
Stay abreast of the latest developments in the field of SCI by discussing articles and chapters from current literature.
Heading
Spinal Cord Injury Fellowship Schedule
Media Component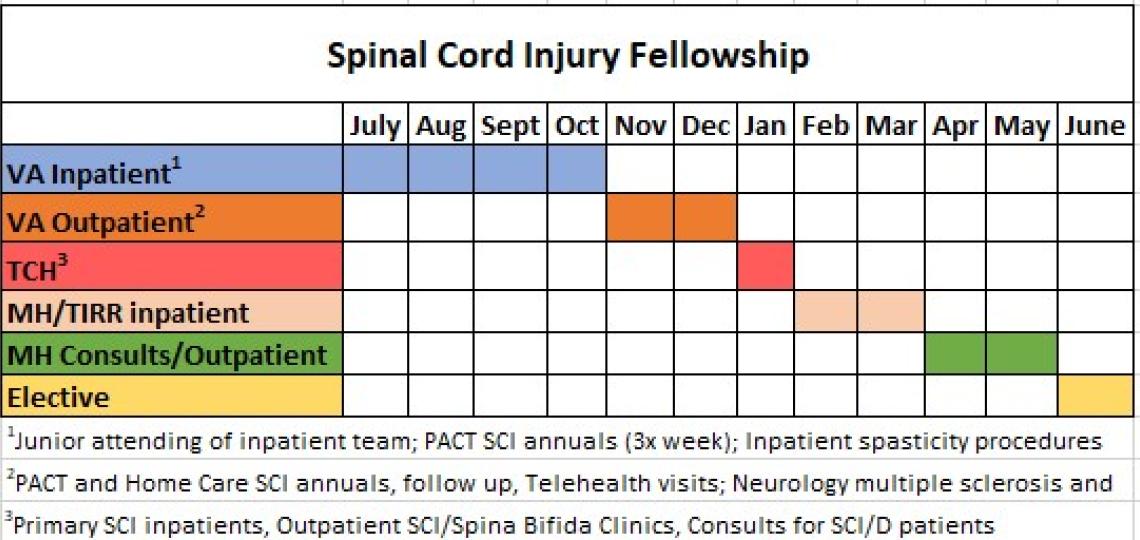 Content
VA Inpatient
Junior attending of inpatient team; PACT SCI annuals (3x week); Inpatient spasticity procedures
Months: July, August, September, October.
VA Outpatient
PACT and Home Care SCI annuals, follow up, Telehealth visits; Neurology multiple sclerosis and ALS clinics; Geriatrics wound care clinic (if interested); Outpatient spasticity procedures; Home visits
Months: November, December
TCH
Primary SCI inpatients, Outpatient SCI/Spina Bifida Clinics, Consults for SCI/D patients
Months: January
MH/TIRR inpatient
Months: February, March
MH Consults/Outpatient
Months: April, May
Elective
Months: June