Master
Heading
Education Overview
Content
The division faculty contribute to the education of medical students at Baylor through the provision of lectures in the Behavioral Science Course (in Terms 4 and 5 of the Pre-Clerkship Curriculum) and through supervision of students rotating on their services.
The division contributes to Undergraduate Medical Education through two neuropsychiatry-specific rotations: MEPSY-SPEC (Psychiatry Clinical Special), which enables medical students to rotation on the division's clinical neuropsychiatry services at MEDVAMC, TIRR Memorial Hermann, and The Menninger Clinic, as well as MEPSY-527 (Neuropsychiatry of HIV/AIDS).
Dr. Arciniegas provides career development counseling and mentoring to medical students considering careers in neurology, psychiatry, and neurorehabilitation, including those who are seeking guidance on a path into BNNP subspecialization as well as those seeking guidance on the selection of a specialty within the clinical neurosciences.
Heading
Neuropsychiatry Didactics for Psychiatry Residents
Content
The Baylor Neuropsychiatry Educators Group was established in 2012 by Dr. Arciniegas and worked over the following year as a division-based inter-institutional neuropsychiatry curriculum development group. Its members included David B. Arciniegas, M.D. (leader), Aruna Gottumukkala, M.D., David P. Graham, M.D., Janet Hickey, M.D., and Andrea Stolar, MD (ex officio). The group was establised to develop a four-year didactic and experiential neuropsychiatry curriculum for psychiatry residents.
The group focused on understanding brain-behavior relationships and applying that understanding to the evaluation and management of persons with neuropsychiatric conditions. In the service of identifying existing curricula (didactic and experiential) and resources/materials for teaching these relationships to psychiatry residents, the Neuropsychiatry Educators Group reviewed: ABPN Content Blueprint for Certification Examination in Psychiatry for neuropsychiatry-related content; ACGME Program Requirements for Graduate Medical Education in Psychiatry; emerging drafts of the ACGME MK.3 Clinical Neuroscience Milestones for psychiatry residency training; the Core Curriculum for Training in Neuropsychiatry developed by Dr. Arciniegas and adopted by the United Council for Neurologic Subspecialties; and reference textbooks in the field (tables of contents as well as neuropsychiatry education-focused chapters).
Based on these reviews, the Baylor Neuropsychiatry Educators Group developed overall goals for the acquisition of clinical skills and medical knowledge in neuropsychiatry. These overall goals then were adapted to meet the educational needs and objectives for training at each PGY training level in our program (i.e., separate goals for PGY-Is, PGY-IIs, PGY-IIIs, and PGY-IVs). These goals were anchored to the ACGME core competencies: patient care (PC), medical knowledge (MK), interpersonal and communication skills (ICS), practice-based learning and improvement (PBLI), systems based practice (SBP), and professionalism (P).
Heading
Curriculum Objectives
Content
At the conclusion of the neuropsychiatry didactic curriculum in the Baylor Psychiatry Residency Program, psychiatry residents will be able to:
Perform neuropsychiatric history-taking, including interview of patients, families, and other healthcare professionals, and review of medical records (PC, ICS)
Administer neurological, mental status, and cognitive examinations, including standardized neurological rating scales, neuropsychiatric rating scales, and screening measures of cognition (PC, MK)
Recognize indications for and integrate findings from laboratory assessments, including neuroimaging, electroencephalography, cerebrospinal fluid, serum, and urine studies (PC, MK, PBLI)
Order and integrate findings from concurrent medical, neuropsychological, and rehabilitative assessments (PC, MK, PBLI)
Formulate, document, effectively communicate, and take responsibility for following-up on neuropsychiatric findings, differential diagnoses, diagnostic formulations, and treatment recommendations (PC, MK, ICS, P)
Prescribe and monitor neuropsychiatric treatments, including somatic (i.e., pharmacological, procedural), psychosocial, crisis, and neurorehabilitative interventions (PC, MK, PBLI)
Content
These objectives for didactic education of psychiatry residents are met through the provision of five courses.
The courses in which psychiatry residents are engaged in learning this material include:
PGY-I Brain and Behavior Course (6 hrs/yr) - Course Director: David B. Arciniegas, M.D.
PGY-I Neuropsychiatry Course (13 hrs/yr) - Course Director: David B. Arciniegas, M.D.
PGY-II Brain and Behavior Course (12 hrs/yr) - Course Director: Joshua J. Rodgers, M.D.
PGY-III Brain and Behavior Course (11 hrs/yr) - Course Director: David B. Arciniegas, M.D.
PGY-IV ABPN Board Prep: Neurology for Psychiatrists (6 hrs/yr) - Course Director: David B. Arciniegas, M.D.
Content
Dr. Arciniegas and Dr. Rodgers tailor the curriculum through a guided self-assessment at the beginning of each course, the elements of which are anchored to the PGY-level specific goals and objectives for that course. Through case-based self-assessment, combining teacher-student interaction with online question-and-answer (using PollEverywhere), the specific lectures are selected in response to the outcomes of the self-assessment and within the boundaries of the a priori established goals and objectives for that class. Dr. Arciniegas and Dr. Rodgers call on division faculty to offer lectures in their specific expertise areas; regularly participating faculty contributors include Lea Steele, Ph.D., Ricardo Jorge, M.D., Laura Marsh, M.D., Janet Hickey, M.D., and Joseph Kass, M.D., J.D. In-case materials are supplemented by a library of online materials made available to residents and faculty on Baylor's Blackboard website. In-class learning is also reinforced during interactions with division faculty providing supervision in general psychiatry and neurology rotations as well as neuropsychiatry-specific rotations.
Heading
Neuropsychiatry Didactics for Neurology Residents
Content
Drs. Kass and Martini, in the Baylor Department of Neurology, have partnered with Dr. Arciniegas to develop neuropsychiatry-related didactic content for neurology residents. Focused principally on neuropsychiatric assessment, and particularly cognitive examination, and provided during the PGY-I year, the brief didactic exposure of neurology residents to neuropsychiatry sets the stage for their continued learning about the neuropsychiatric approach to patient care during clinical rotations.
Heading
Clinical Rotations in Neuropsychiatry for Psychiatry and Neurology Residents
Content
Rotations in Behavioral Neurology & Neuropsychiatry of 4-12 weeks duration are available to Baylor residents in psychiatry and neurology as well as psychiatry and neurology residents from other programs. Experiences are provided in parallel with those in which the division's BNNP fellows are engaged at TIRR Memorial Hermann, MEDVAMC, and The Menninger Clinic. Residents are encouraged to participate in scholarly projects during their rotations, including the development of case reports, literature reviews, and educational products.
Heading
Neuropsychiatry Mentoring for Psychiatry and Neurology Residents
Content
Residents interested in neuropsychiatry also may select a division faculty member as a research, educational, or clinical mentor. Resident mentees and faculty mentors meet on a regular basis (usually monthly) over the course of the mentees time in the residency to discuss clinical cases, educational and other scholarly projects, and research opportunities. All residents mentees are encouraged to work with their mentor on case reports, review articles (narrative or systematic), and research-oriented mentees are provided opportunities to gain experience in research design, execution, data analysis, and manuscript writing.
Heading
Behavioral Neurology & Neuropsychiatry Fellowship Training Program
Content
The Behavioral Neurology & Neuropsychiatry Fellowship Training Program is co-sponsored by the Department of Neurology and the Menninger Department of Psychiatry and Behavioral Sciences at the Baylor College of Medicine. The United Council for Neurologic Subspecialties accredited the Baylor BNNP Fellowship Program to provide 12-month fellowships for one fellow annually.
Applications are accepted on a continuing basis until our positions are filled. For additional information, contact: Laura.Marsh2@va.gov
Heading
Behavioral Neurology & Neuropsychiatry Monthly Conference
Content
This monthly lecture-based series provides attendees with information to promote evidence-informed evaluation and treatment of persons with neuropsychiatric conditions. This is a CME-approved conference, offering 1.0 AMA PRA Category 1 CME Credit(s)TM per conference. Dr. Arciniegas serves as the CME course director and the planning committee includes Dr. Byars, Dr. Kass, and Margaret Struchen, Ph.D. (one of Dr. Arciniegas' clinical collaborators at TIRR Memorial Hermann). This series provides a forum for lectures by division faculty, Visiting Professors in Neuropsychiatry, and faculty candidates. It also serves as a forum for discussion of developments in the division with its faculty and key stakeholders throughout the TMC, especially those based at TIRR Memorial Hermann. It also serves as a venue for visiting scholars, visiting professors, and other thought leaders in neuropsychiatry to present to division faculty and other conference participants.
Heading
Visiting Neuropsychiatry Postdoctoral Fellowship
Media Component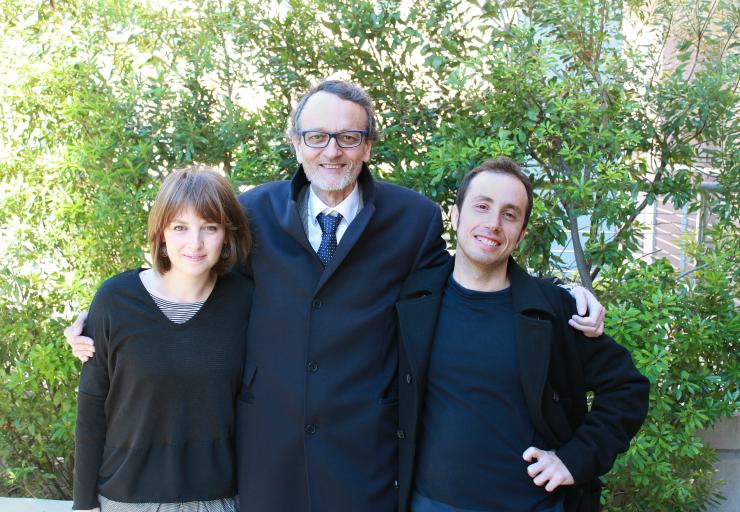 Content
In partnership with Sapienza University of Rome and Psychiatry Department, School of Medicine and Psychology, Sant'Andrea Hospital, Sapienza University (Rome-Italy), Drs. Arciniegas and Jorge established a research training program for psychiatry residents interested in learning the principles and practice of neuropsychiatric research. These J-1 visa credentialed residents are funded fully by their home institution for a one-year postdoctoral fellowship experience.
This program began in late June 2015, and has supported two visiting neuropsychiatry postdoctoral fellows: Elisa Ambrosi, M.D., presently embedded with the McNair Initiative for Neuroscience Discovery at Menninger and Baylor (MIND-MB) research team at The Menninger Clinic and collaborating with Dr. Arciniegas on data analysis and interpretation; and Alessio Simonetti, M.D., presently embedded with the Baylor Mood Disorders Program and the laboratory of Alan Swann, M.D., and collaborating with Drs. Jorge and Arciniegas on his work in that context.