Master
Media Component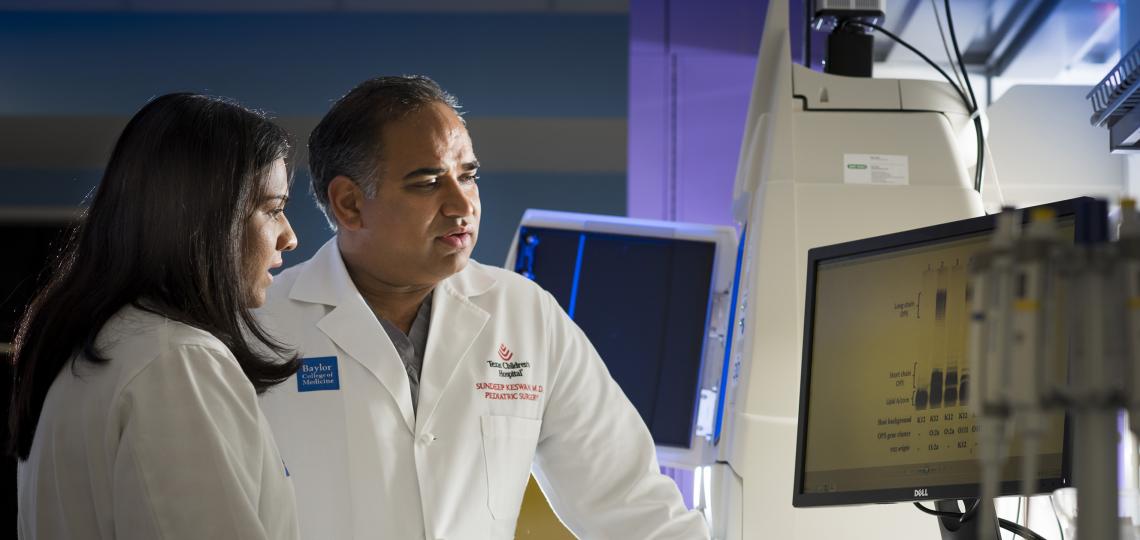 Content
The Division of Congenital Heart Surgery maintains a broad and active research program. The division focuses specifically on congenital heart surgical outcomes and quality, pediatric heart and lung transplantation, mechanical circulatory support, neurodevelopmental protection, minimally invasive repair of congenital heart defects, aortic reconstruction, surgical repair of congenital coronary anomalies, and, in collaboration with Rice University, pediatric bioengineering. This research takes place at Texas Children's Hospital, ranked #1 in the nation for pediatric cardiology and heart surgery by U.S. News & World Report.
Strong local, national, and global networks and collaborations, such as the Pediatric Heart Network funded by the National Heart, Lung and Blood Institute, are a critical component of congenital heart disease research, bringing together adequate numbers of patients with uncommon, dissimilar forms of disease for meaningful research. Dr. Christopher Caldarone, chief of Congenital Heart Surgery, has been at the forefront of many of these collaborative efforts.  
Baylor surgeons and staff and Texas Children's have a long history of leading the way in finding new approaches for treating patients with congenital heart disease. Texas Children's was the lead institution for the 17-center Berlin Heart study and implanted more Berlin Heart EXCOR® devices than any other center during the study. This team was instrumental in gaining FDA approval for the Berlin Heart to become the first long-term VAD solution approved for children in the United States.
Dr. Iki Adachi, associate professor of surgery, has continued leading research for VAD use in children. He conducts research in pediatric myocardial recovery and mechanical assist devices to understand the factors that impact bridge to transplant or bridge to recovery, and is now lead investigator for the Pump for Kids, Infants, and Neonates (PumpKIN) study funded by the National Heart, Lung, and Blood Institute. Dr. Adachi has the most U.S. experience with implanting the HeartWare VAD in the pediatric population.
The Pediatric Cardiac Bioengineering Laboratory within the Division of Congenital Heart Surgery is a joint effort between Baylor College of Medicine, Texas Children's, and Rice University, and seeks to solve critical congenital heart issues through new technology. Dr. Jane Grande-Allen of Rice University's Department of Bioengineering and Dr. Sundeep Keswani, director of surgical research at Texas Children's and associate professor of Surgery at Baylor, are the investigating the influences of biophysical cues such as stress, strain, shear, substrate stiffness, and electrical stimulation on the development and maturation of heart cells and tissues.
Helping to create and maintain an important resource for this research, faculty in the Division of Congenital Heart Surgery contribute to the Heart Center Tissue Bank (HCTB), which has collected nearly 4000 specimens including peripheral blood, urine and cardiac tissues obtained from daily cardiac surgeries for congenital or acquired heart defects. These specimens are available not only for local researchers but shared through registries around the world.
Dr. Edward Hickey, associate professor of surgery and surgical director of the Adult Congenital Heart Disease program at Texas Children's, is developing a significant new initiative, the Texas Outcomes Registry for Congenital Heart Disease in Adults (TORCH) study, a prospective, longitudinal clinical data registry for CHD patients at Texas Children's that aims to provide real-time tracking and analysis of surgical outcomes to drive improved patient care across the lifespan. 
Through the efforts of researchers who have both the willingness and ability to work across geographic and institutional boundaries, advances are being made in this challenging field.