Master
Media Component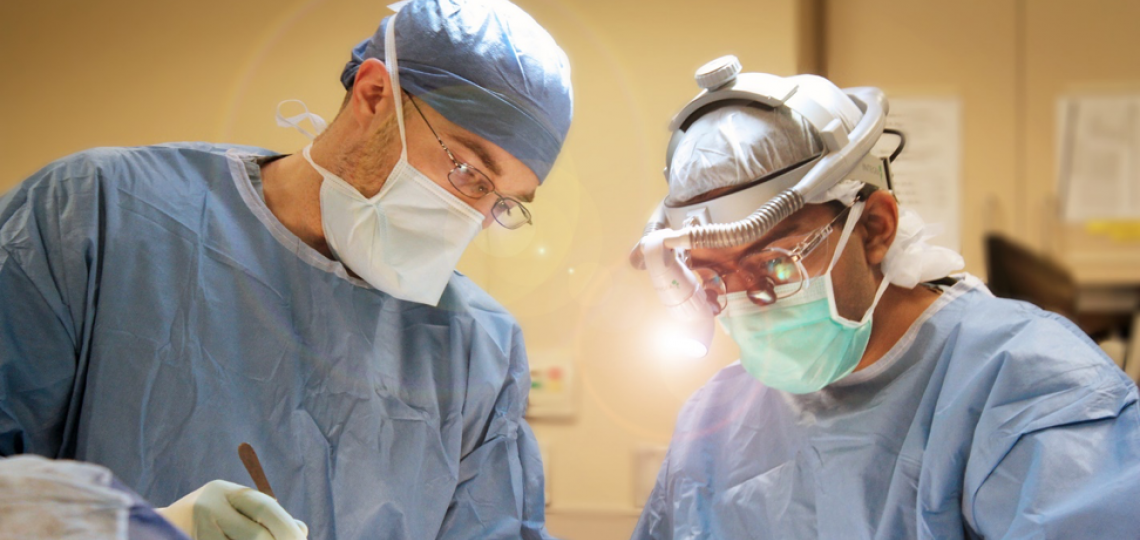 Content
The Department of Surgery is dedicated to providing a premier educational experience for residents. While much learning occurs during clinical experiences, such as seeing outpatients or performing surgeries, we also realize that didactic lectures and conferences are also an integral part of increasing a resident's knowledge base. Therefore, we have set aside dedicated time for these lectures and conferences on Wednesday mornings, following our weekly Grand Rounds presentations. The Wednesday morning conference bloc is protected time, and the resident is relieved of clinical duties during this time to attend these conferences.
The curriculum and educational approach of the Baylor College of Medicine General Surgery Residency Program is characterized by three primary features:
Clinical Education on Surgical Services
Operative Experience
Educational and Core Curriculum Didactic Conferences
Heading
Clinical Education on Surgical Services
Media Component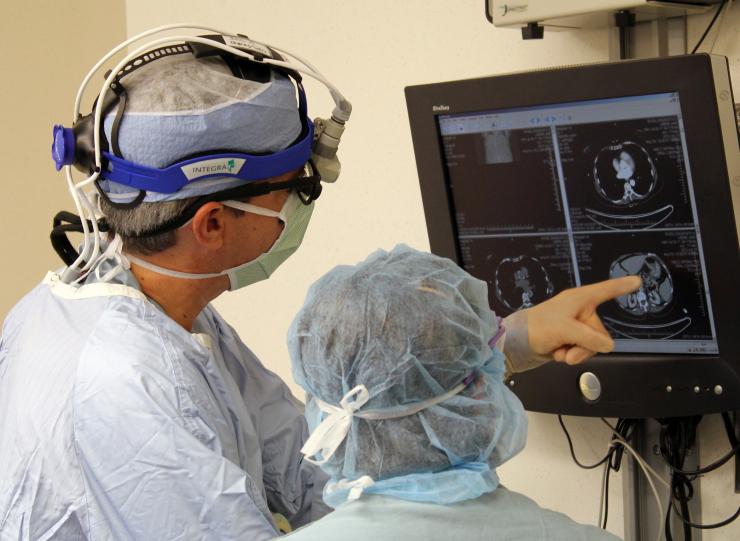 Content
The General Surgery Residency Program offers five years of clinical training encompassing a broad range of surgical specialties. All residents in our program are expected, through experience on these clinical rotations, to fulfill the requirements for certification by the American Board of Surgery. Residency training is characterized by increasingly graded responsibility from one level to the next with appropriate supervision at all levels. Clinical rotations that take place across a number of different sites enhance the quality of residents' educational experience through exposure to a diverse array of patient populations and immersion in a range of healthcare contexts and practice systems.
While clinical education at levels PGY-1 and PGY-2 involves daily operative experience, a major emphasis at these levels is on pre-operative and post-operative patient care. Residents at the PGY-2 level also serve as senior residents in the surgical intensive care units, as well as acute care consultants. Clinical training at levels PGY-3 and PGY-4 focus more heavily on surgical technique and skill refinement. Chief residents at the PGY-5 level residents are expected to capably lead their own surgical team and assume full responsibility for patient and resident team management.
Heading
Operative Experience
Media Component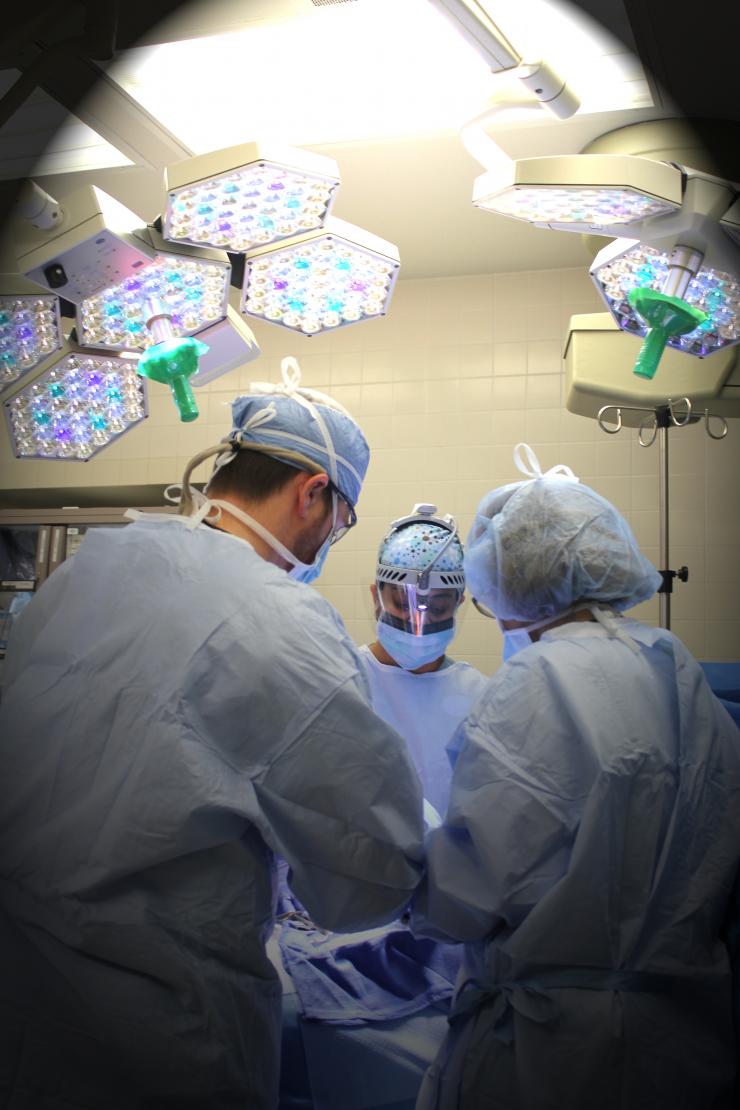 Content
The scope of surgical experience in our residency program is substantial and residents gain sufficient operative experience to meet the American Board of Surgery requirements. Notably, our training program offers residents at higher levels of training strong experience in complex major cases. Similar to increasingly graded clinical responsibility from one level to the next, residents are afforded progressive operative experience beginning with more basic procedures in the earlier years of residency and advancing to more complex cases as they gain further experience and expertise.
On average, our graduating chief residents perform approximately 1400 cases and obtain significant experience in a wide range of specialized procedures, including robotic surgery, transplant surgery, trauma and penetrating injury surgery, bariatric surgery, hepatobiliary surgery, and pediatric surgery. Much of this experience takes place at some of the busiest or most highly ranked services in the nation.
Heading
Surgical Skills and Simulation Activities
Media Component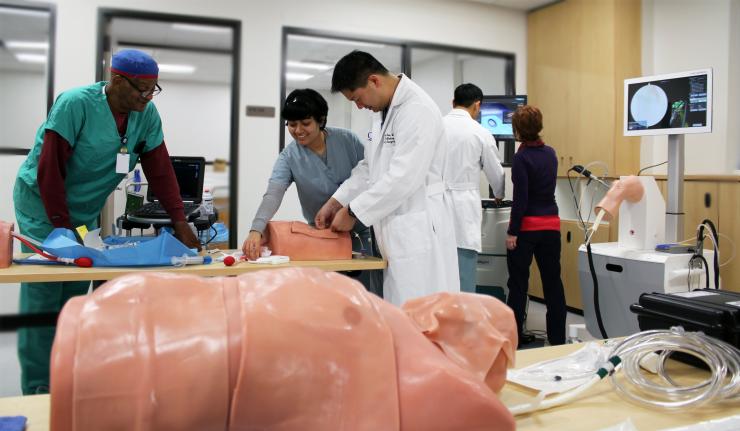 Content
Our Simulation Center features a wide variety of resources for surgical skills development, including multiple state-of-the-art computerized surgical simulators, a series of basic skills stations, two fully equipped operating rooms with fluoroscopic imaging capabilities, and the latest telecommunication technologies that allow faculty and staff to observe operating room activity from the conference room next door and record the activity for future use.
The lab is a vital resource for providing residents and fellows training in the latest minimally invasive surgical techniques, continuing education for practicing surgeons, and core lab support for pre-clinical research. As an AAALAC-accredited facility, we ensure all procedures are performed in compliance with federal and institutional guidelines.
Learn more about the Simulation Center