Master
Heading
Counseling at the Center for Balance Disorders
Media Component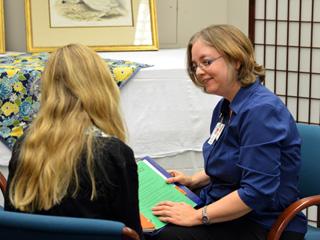 Content
If your doctor has recommended counseling at the Center for Balance Disorders, you may not know what to expect. Here are some frequently asked questions that may make things clearer for you.
Why is my doctor sending me for counseling? Does he or she think the problem is all in my head?
No, unless by "in your head" you mean" in your inner ear" or "in your throat." Many medical conditions, such as chronic tinnitus, chronic vestibulopathy, Meniere's disease or dysphonia are made worse by stress and they cause you stress and affect your life and relationships. They cause you stress, your condition gets worse, causing you more stress...it's a vicious cycle. That's where counseling comes in. By becoming more educated about your condition, lowering your stress level, and dealing with other sources of stress in your life, you can make your condition more manageable. In addition, it is not unusual for people struggling with chronic medical conditions to feel depressed, anxious, angry or some combination of those feelings. Counseling can help you combat and reduce those reactions.
What happens when I come in for counseling?
Our counselor will sit down with you and discuss the ways in which your condition affects your life, and what you've found works and does not work for you. She will look for ways to get you some relief quickly, as well as examining patterns that you may have fallen into without realizing it. Changing those patterns that are not benefiting you will likely be one focus of therapy. She is also likely to work on stress management techniques. Counseling will be tailored to you - it will depend on where you are struggling and what your goals are.
What can I expect from counseling?
Many people who are motivated to change find that counseling helps them focus much less on their medical condition and a lot more on the important things in their lives - the people and things they really care about.
If you have further questions or concerns, or want to make an appointment, please do not hesitate to call Melody Fregia, M.A., LPC, at (713) 798-6336.
Media Component

Credit
BCMweb
Content
Melody Fregia, a licensed professional counselor in the Department of Otolaryngology- Head and Neck Surgery at Baylor Medicine, describes what counseling entails for patients who experience dizziness, vertigo or balance issues.