Master
Heading
Multiple Endocrine Neoplasia
Media Component

Credit
A.D.A.M. Inc.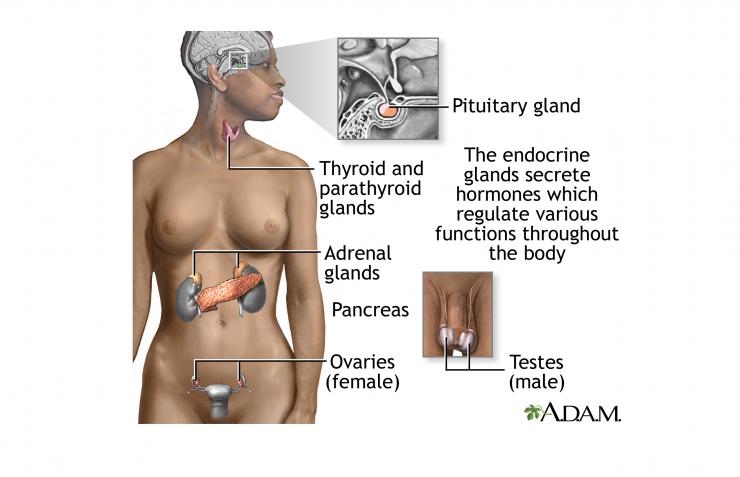 Content
Multiple endocrine neoplasia (MEN) describes a group of rare genetic disorders that affect the body's hormone-producing glands.
MEN type 1 usually affects the parathyroid gland(s), the pituitary gland, and the pancreas. Patients with MEN-1 may develop tumors in the pancreas, which then release excess hormones.
MEN type 2A can cause medullary thyroid cancer, hyperparathyroidism, and pheochromocytoma.
MEN type 2B is a very rare disorder and can cause medullary thyroid cancer, pheochromocytoma, and lesions on the tongue and lips (mucosal neuromas).
Heading
Familial Paraganglioma-Pheochromocytoma Syndrome
Content
Familial paraganglioma-pheochromocytoma syndrome is a hereditary condition indicated by the presence of tumors called paragangliomas and/or pheochromocytomas. Paranganglioma tumors arise from bundles of neuroendocrine cells that exist in different locations of the body — from the pelvis, to the spine, to the base of the skull.
A pheochromocytoma is a paraganglioma that arises in adrenal gland tissue, which results in the overproduction of adrenal hormones (epinephrine and norepinephrine). People with familial paranganglioma-pheochromocytoma syndrome might develop these two kinds of tumors early in life, however they can also be diagnosed at a later age. Also, in this hereditary condition these tumors can potentially be recurrent or malignant.
Genetic counseling is part of treatment for all patients diagnosed with pheochromocytoma and paraganglioma tumors because these conditions most commonly run in families. About one-third of pheochromocytoma cases are inherited or genetic. Genetic screening can provide critical information about the patient's chance of recovery. Comprehensive screening for family members of a person with this diagnosis is highly recommended.
Content
Baylor College of Medicine Medical Center
McNair Campus
7200 Cambridge St.
8th Floor, Suite 8B
Houston, TX 77030
See all locations