Dr. Koch receives $10 million gift to support innovative research
Media Component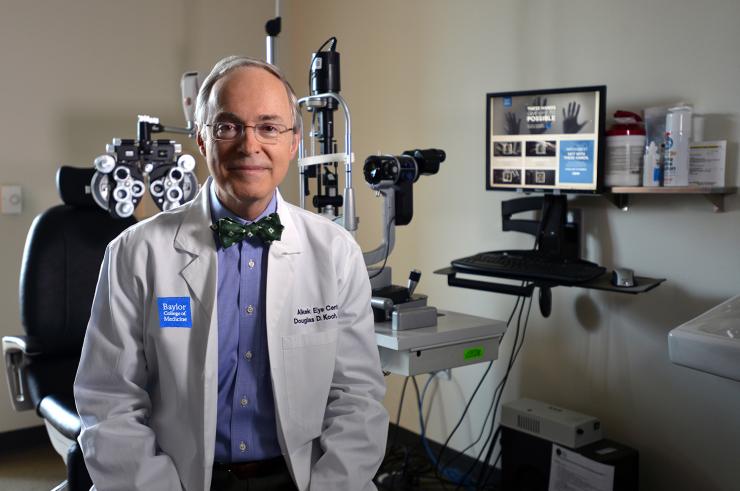 Content
Baylor College of Medicine has received a $10 million gift from the SRB Charitable Corp., a private foundation based in Fort Worth, Texas, to be used for research under the direction of Dr. Douglas D. Koch, professor and Allen, Mosbacher, and Law Chair in Ophthalmology at Baylor.
In addition to ground-breaking research in patient safety and outcomes, Koch's extraordinary 40-year career includes the management of complex conditions, including cataract and intraocular lens problems, iris repair and replacement and management of LASIK and PRK problems. Koch is the editor emeritus of the Journal of Cataract and Refractive Surgery, has authored over 250 articles and book chapters on the topics of cataract and refractive surgery and has taught more than 250 residents and fellows. Among his research contributions are new insights in the optics of the eye, new methods for accurately selecting lens implants for cataract surgery and a new discovery that has changed the way that astigmatism is corrected with cataract surgery.
"We are very grateful for this transformational gift from SRBCC and the confidence they have in me and our team at Baylor. The ophthalmology department at Baylor has been recognized worldwide for decades for our leadership in cataract and refractive surgery with a commitment to delivering the best outcomes to patients and to ensuring patient safety," Koch said. "This gift gives us an extraordinary opportunity to further our research. As a physician-scientist treating patients with these debilitating diseases for years, nothing is more important than to generate new discoveries to improve the quality of care that we provide our patients."
Support from SRB Charitable Corp. will be used under the direction of Dr. Douglas D. Koch for basic research in optics and corneal biomechanics as well as in clinical research to further improve outcomes and safety of lens implantation and to develop and refine new procedures and devices for treating nearsightedness, farsightedness and astigmatism. Baylor's Cullen Eye Institute is home to the oldest and largest ophthalmology program in the Southwest United States, the No. 1 ranked eye program in Texas and one of the top gene therapy centers in the country.