Scalp cooling effective in reducing hair loss during chemo
Media Component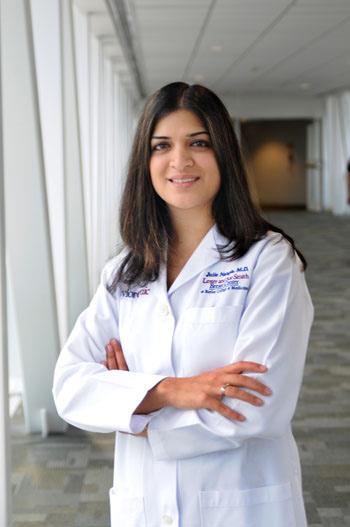 Content
One of the most traumatic and outwardly visible side effects for many women undergoing chemotherapy treatment for breast cancer is hair loss. In a paper published in JAMA, Dr. Julie Nangia, assistant professor in the Lester and Sue Smith Breast Center within the NCI-designated Dan L Duncan Comprehensive Cancer Center at Baylor College of Medicine, reports the results of her research studying the effectiveness of scalp cooling therapy in reducing hair loss in women undergoing taxane or anthracycline chemotherapy regimens.
"Hair loss takes a tremendous toll on the patient's body image and they no longer have the anonymity of hiding the disease; everyone can see that they're sick," said Nangia. "Patients and physicians have been hoping and searching for methods or therapies to prevent or reduce hair loss due to chemotherapy, but the options have been very limited due to the complexity of both the disease and the treatment."
Nangia's Scalp Cooling Alopecia Prevention trial (SCALP) utilized one cooling cap in particular, the Orbis Paxman Hair Loss Prevention System (OPHLPS), a product of Paxman Coolers Ltd. The device operates using a two-cap system, with the inner silicon cap circulating a refrigerated fluid and the outer neoprene cap insulating the scalp and fitting snugly to the patient's head with a chin strap. Both caps are fitted once and worn for the duration of the each chemotherapy treatment session. The two-cap system ensures the coolant stays at a consistent temperature and is connected to a small machine, which can be briefly detached from the patient to allow for greater mobility during sessions.
The study involved seven trial sites across the country, and enrolled 182 women with either stage I or II breast cancer who planned to have at least four cycles of either taxane or anthracycline-based chemotherapy, who were randomized on a 2 to 1 ratio to determine if they received the scalp cooling device versus no cooling therapy.
The primary objective of the trial was to determine the safety and efficacy of the scalp cooling device in reducing hair loss in patients undergoing chemotherapy. Secondary endpoints included whether patients in the cooling arm required use of a wig or scarf and overall quality of life, as scored by the European Organisation for Research and Treatment of Cancer Quality of Life Questionnaire – Core 30, the Hospital Anxiety and Depression Scale and a summary scale of the Body Image Scale.
Prior to the SCALP trial, there had been no randomized studies assessing modern scalp cooling to prevent alopecia, and the results from similar non-randomized trials have varied historically.
Patients in the trial who received scalp cooling wore the device for 30 minutes prior to their chemotherapy treatment, for the duration of their treatment, and for 90 minutes following treatment.
"Chemotherapy treatment works by attacking rapidly dividing cells, but in doing this, it also targets rapidly-dividing hair cells, 90 percent of which are in the growth stage, resulting in hair loss," Nangia said. "With scalp cooling, we are lowering the temperature of the scalp, thereby constricting the blood vessels and reducing the flow of blood to the hair follicles, which will help reduce hair loss by limiting the amount of chemo drugs reaching the follicles."
At the time of provisional analysis, 95 patients in the cooling group and 47 patients in the no cooling group were evaluable and had completed four cycles of chemotherapy. Among them, 48 (50.5 percent) out of 95 in the cooling group had hair preservation of grade 0 or 1, meaning no wig or scarf was needed, compared to 0 (0 percent) out of 47 in the no cooling group.
At a 50.5 percent success, the trial's results crossed the superiority boundary and resulted in researchers ceasing to accrue patients and halting the study early to release the data.
"Variation in hair retention seen across the sites is likely a result of different types of chemotherapy administered, as taxanes have higher hair retention rates, and the learning curve for fitting and operating the scalp cooling cap by nurses and physicians," explained Nangia. "As the cap becomes more widely-used, best practices will be developed to ensure maximum results."
Throughout the trial, mild side effects such as headaches and temporary discomfort were reported. No serious adverse device events were reported. Patients involved in the scalp cooling study will be followed for five years to determine any adverse effects, including scalp metastases, along with recurrence and overall survival. There were no significant differences in quality of life scores between the control and scalp cooling groups after four chemotherapy cycles.
The trial shows that scalp cooling using the Orbis Paxman Hair Loss Prevention System is highly effective in hair preservation after the fourth chemotherapy cycle for patients who receive taxane or anthracycline, or both, chemotherapy for stage I or II breast cancer.
"We chose to focus this study on women with breast cancer because of its prevalence and large patient population, and women are more emotionally sensitive to hair loss in general," said Nangia. "Preventing hair loss may help improve the emotional well-being for patients and help them maintain a degree of privacy."
The interim analysis was presented at the 2016 San Antonio Breast Cancer Symposium in December. Further research is needed to assess longer-term efficacy and adverse effects. Paxman has filed for FDA clearance for its device.
The study was funded by Paxman Coolers Ltd. Other trial sites include Cleveland Clinic, Memorial Sloan Kettering Cancer Center, Texas Oncology Baylor Sammons Cancer Center, Texas Oncology Medical City Dallas, Texas Oncology Memorial City and Hematology and Oncology Associates of Northern New Jersey, now Summit Medical Group-MD Anderson Cancer Center. Nangia declares no direct conflicts of interest, but Paxman Ltd provided financial support to her institution for the clinical trial.
Other contributors to this study include Tao Wang, Polly Niravath, Mari Rude, Susan Hilsenbeck, C. Kent Osborne, Mothaffar Rimawi and Kristen Otte, all with Baylor College of Medicine, Cynthia Osborne, Frankie Holmes and Jay Courtright with Texas Oncology, US Oncology, Richard Paxman with Paxman Coolers Ltd., Steven Papish with Summit Medical Group-MD Anderson Cancer Center, Jame Abraham with Cleveland Clinic and Mario Lacouture with Memorial Sloan Kettering Cancer Center.
To watch a video of Dr. Nangia explaining the scalp cooling device, click here.