Master
Media Component
Heading
Step 2. Configure Your Profile and Settings
Content
On the My Profile page, you can change your:
Avatar (used when you turn off your camera and for our IM feature)
Time Zone
Default Call in Country
Password
After configuring your profile, click on the My Settings tab to set your In Meeting, Email Notification, Security, and Scheduling Privileges preferences.
Heading
Step 3. Install Zoom
Content
Now we need to get the actual Zoom software installed on your PC/Mac. The easiest way to do this is to head to https://zoom.us/meeting and click Start to the far right of your Personal Meeting Room.
Media Component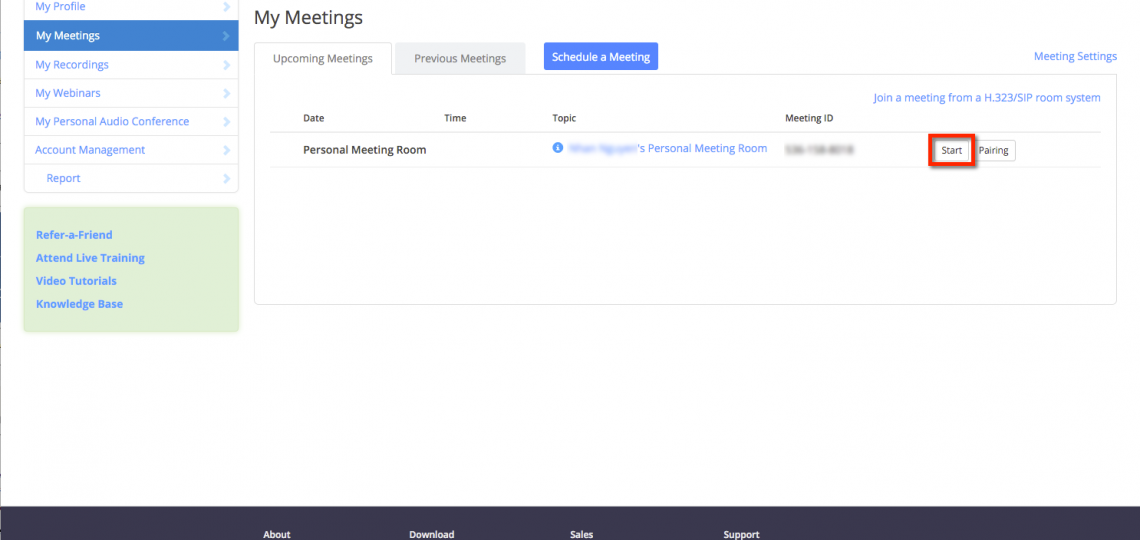 Content
On the right side of your Personal Meeting row on the My Meetings page, click the Start button.
Once you click the Start button, your browser will begin the installation of the Zoom client and you will join your own Personal Meeting Room. Once successfully installed and the Meeting is started, you should be looking at yourself via your webcam. Feel free to click on End Meeting at the lower right-hand side of the Zoom interface.
Heading
Set up Zoom to Start with Your Computer
Content
You can set Zoom to automatically start when your computer starts, so you can join or create meetings more quickly.
On Windows machines, open Zoom and click Settings at the top right to open the Settings window.
Click General on the left side to show the General settings for Zoom on the right side of the pane.
Check the box "Start Zoom when I start Windows."
On Macs, right-click (or Option + click) the Zoom icon in the dock at the bottom of your screen, then select Options > Open at Login.