Master
Media Component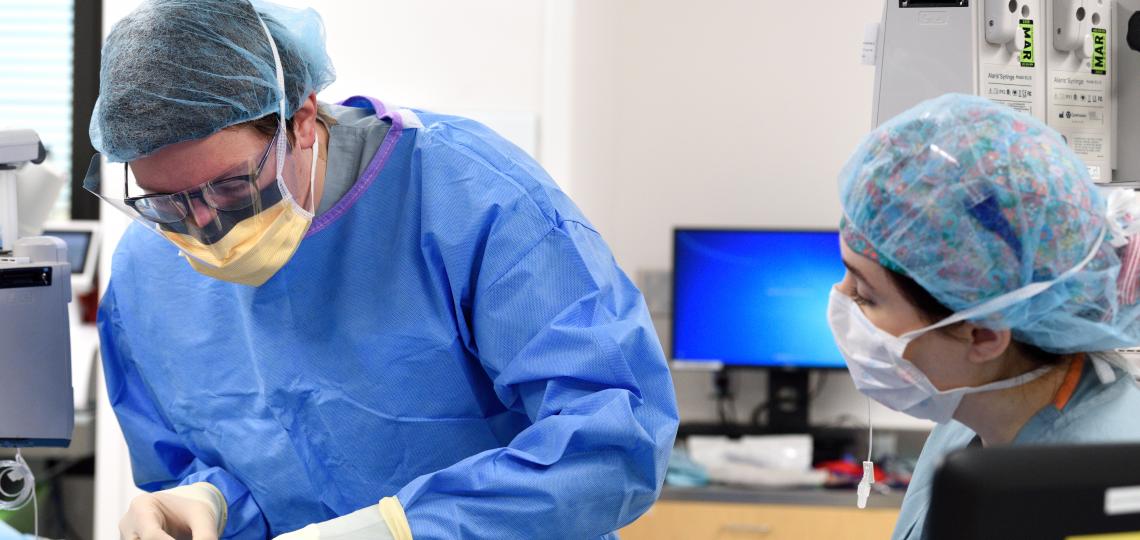 Content
Our fundamental goal is to prepare our fellows to confidently and capably manage any patient with congenital or acquired pediatric cardiac disease in any setting.  To achieve this broad goal, many smaller goals must be met. The below table summarizes the core competencies and their associated milestones that we seek to provide during your fellowship in congenital cardiac anesthesia.
Patient Care
Perioperative assessment, planning, and management
Technical/procedural skills
Understanding cardiovascular surgical procedures
Understanding cardiac catheter-based therapeutic procedures and electrophysiological studies
Medical Knowledge
Congenital and acquired cardiovascular anatomy, physiology, and pathophysiology
Pharmacology
Cardiopulmonary bypass, extracorporeal circulation, and circulatory assist devices principles
Understanding cardiac diagnostic procedures (echocardiography, magnetic resonance imaging, cardiac catheterization, computed tomography
System-Based Practice
Coordination of care
Incorporation of patient safety and quality improvement into clinical practice
Understanding of health care economics; cost awareness and cost-benefit analysis
Practice-based Learning and Improvement
Self-directed learning and scholarly activity
Education of team members and other health care providers
Professionalism
Commitment to institution, department, and colleagues
Receiving and giving feedback
Interpersonal and Communication Skills
Communication with patients and families
Interprofessional communication and transitions of care

Adapted from "Fellowship Training in Pediatric Cardiac Anesthesia: History, Maturation, and Current Status," a review article by Drs. Viviane Nasr, Nina Guzzetta, and our own Emad Mossad – our Division Chief.
Content
Below is a template of what we offer our fellows. Based on individual interests, we can adjust the rotations and their lengths as needed.
Cardiovascular Operating Room: Nine months
1:1 experience with attending
Most often bypass and non-bypass index cases (see Clinical Experience)
Other: direct laryngoscopy and bronchoscopy, tracheostomy placement, laparoscopic gastrostomy tube placement, dental interventions
Cardiac Catheterization Lab: Two-Three days per month (more by request)
1:1 experience with attending; attending may be covering two labs
Diagnostic and interventional procedures
Imaging and Interventional Radiology: One day per month (more by request)
Essential training in sedation and airway management for complex and often sick patients for CT, MRI, and various interventional radiology procedures
Congenital Echocardiography: Four weeks
In two-week blocks divided in each half of the year
Time spent in the operating room observing TEE and in the reading room
Cardiovascular Intensive Care Unit (CICU): Two weeks
2nd half of the year
Primarily in the neonatal CICU (to focus on the pathophysiology of critical lesions)
Rotate with dual-trained anesthesiologist-intensivists from our department (Dr. Blaine Easley, Dr. Ash Resheidat)
Perfusion: One week
1:1 experience with our perfusionists to learn bypass management
Elective: Two weeks
Texas Heart Institute (adult hospital): echo experience
Cath lab with cardiologists: experience the "other side" of the drapes
International experience: Dr. Pablo Motta regularly does a one-week mission to Bolivia; other international experience can be approved
Non-cardiac surgery for cardiac patients in the Main OR
Or tailored to your interests
Content
Our fellows are in the call pool with dedicated cardiac CRNAs, general pediatric anesthesiology fellows, and adult cardiovascular anesthesiology fellows who may be rotating at the time.
Calls are designated as either "late call" or "first call."
Late Call
The person assigned to late call commonly stays until the second to last case finishes – most often prior to 7P. Once dismissed, we do not call the late person back. 
On average, our fellows have taken three late calls per month. There is no late call on the weekends or on BCM designated holidays.
First Call
This person will typically be assigned to what is predicted to be the longest case of the day, often the most complex case or a transplant. On weekdays, this person will stay until the last case is complete, and is subsequently on pager call from home until 7A the following day. On weekends, call is similarly from home for a 24-hour shift: 7A to 7A. The most common cases performed on the weekend include delayed sternal closures, transplants, and ECMO-CPRs. A dedicated call room is available if needed. 
On average, our fellows can anticipate three first calls per month including one Saturday or Sunday call. 
Post-call days
The day following a first call assignment is ALWAYS a true post-call day with no clinical or educational responsibilities. 
Importantly, if you are on-call or post-call on a BCM designated holiday, you will receive that day back as a vacation day. And if you are on-call on a Saturday, you will receive a post-call day during the following week. 
Following a late call day, we strictly follow ACGME guidelines that the fellow should have a minimum of eight hours away from the hospital. In the rare event that you are needed beyond midnight, the next day will be treated as a true post-call day.
Heading
Non-clinical Time
Content
To allow our fellows protected time to pursue academic or clinical projects, we provide at minimum one non-clinical day per month. As with our rotations, this can be adjusted based on the project needs and/or individual goals.