Master
Media Component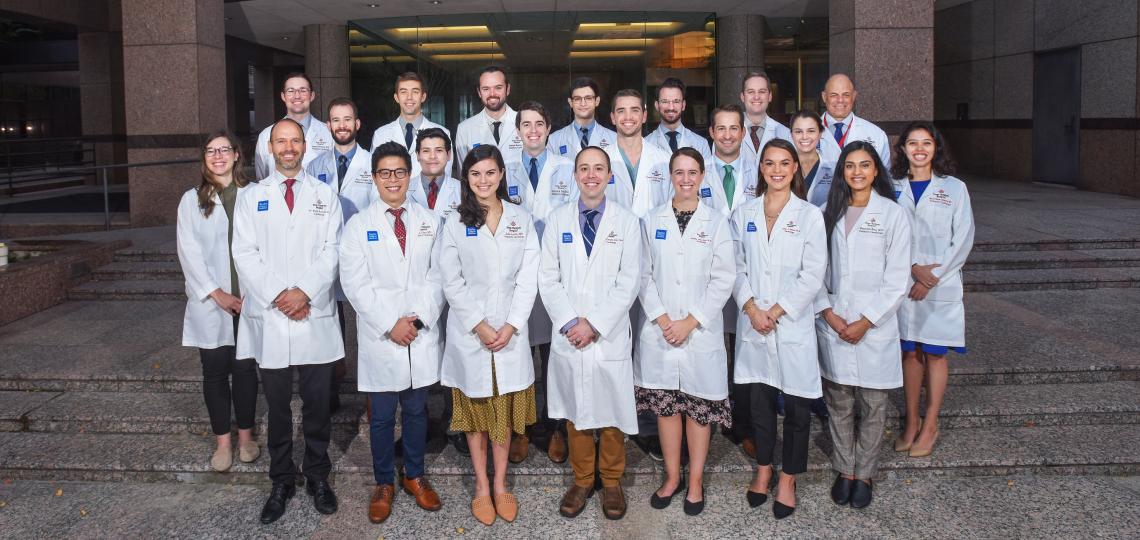 Heading
Pediatric Cardiology Fellows
Heading
Advanced Training Fellows
Content
Razleen Brar, M.D. (Advanced Imaging)
Medical School: Sidney Kimmel Medical College at Thomas Jefferson University
Residency: University of California, Irvine / Children's Hospital of Orange County
Michael Bruno, M.D. (Electrophysiology)
Medical School: University of Pittsburgh School of Medicine
Residency: Children's Hospital of Philadelphia
Ryan Byrne, M.D. (Adult Congenital Heart Disease)
Medical School: Baylor College of Medicine
Residency: Vanderbilt University
Mary Howell, M.D. (Interventional Cardiology)
Medical School: University of Virginia
Residency: Carolinas Medical Center
Elizabeth Kalb, M.D. (Heart Failure, Cardiomyopathy & Transplant and QI)
Medical School: Rutgers Robert Wood Johnson Medical School
Residency: Children's Hospital of Philadelphia
Ruthie Morrison, M.D. (Advanced Imaging)
Medical School: University of Tennessee
Residency: Baylor College of Medicine
BriAnna Souder, M.S., D.O. (Advanced Imaging & Quality Improvement)
Medical School: UNT Health Science Center- Texas College of Osteopathic Medicine
Residency: Baylor College of Medicine
Heading
Third-Year Fellows
Content
Ryan Bishop, M.D.
Medical School: University of Texas Health Science Center at Houston
Residency: University of Texas Southwestern
Natalie Craik, M.D.
Medical School: Baylor College of Medicine
Residency: Phoenix Children's
Julie Lovin, M.D.
Medical School: Wake Forest School of Medicine
Residency: Baylor College of Medicine
John Shabosky, M.D.
Medical School: University of Cincinnati College of Medicine
Residency: Baylor College of Medicine
Hanna "John" Tadros, M.D.
Medical School: Royal College of Surgeons in Ireland Medical University of Bahrain
Residency: University of Florida – Gainesville
Ran Xiao, M.D.
Medical School: University of Illinois College of Medicine - Peoria
Residency: Baylor College of Medicine
Heading
Second-Year Fellows
Content
Joseph Burns, M.D.
Medical School: Florida International University, Herbert Wertheim College of Medicine
Residency: Zucker School of Medicine at Hofstra/Northwell at Cohen Children's Medical Center Program
Paul Cooper, M.D.
Medical School: University of Pittsburgh School of Medicine
Residency: University of Illinois at Chicago
Patrick Day, M.D.
Medical School: McGovern Medical School at the University of Texas
Health Science Center at Houston
Residency: Baylor College of Medicine
Alexander Kiener, M.D.
Medical School: Emory University School of Medicine
Residency: University of Washington/Seattle Children's
Derek Norton, M.D.
Medical School: Rush Medical College of Rush University Medical Center
Residency: University of Minnesota Medicine School
Mounica Rao, M.D.
Medical School: University of Arizona College of Medicine - Phoenix
Residency: Children's Hospital, Los Angeles
Carlos Sanchez, M.D.
Medical School: Medical University of South Carolina College of Medicine
Residency: University of South Florida
Heading
First-Year Fellows
Content
Chelsea Boyd, M.D.
Medical School: The Warren Alpert Medical School of Brown University
Residency: Brown University
Mary Jenkins, M.D.
Medical School: Georgetown University School of Medicine
Residency: Tulane University School of Medicine
Carlos Lodeiro, M.D.
Medical School: Texas Tech University Health Sciences Center Paul L. Foster
Residency: Baylor College of Medicine
Jasmine Moreno, M.D.
Medical School: Baylor College of Medicine
Residency: Baylor College of Medicine
Elliott Moss, M.D.
Medical School: The University of Texas Health Science at San Antonio
Residency: Baylor College of Medicine
Donnchadh O'Sullivan, M.D.
Medical School: University College Cork School of Medicine
Residency: Mayo Clinic
Bita Salamat, D.O.
Medical School: University of North Texas Health Science Center at Forth-Worth
Residency: Baylor College of Medicine
Heading
Diversity, Equity and Inclusion
Content
The faculty, staff, and trainees of the Pediatric Cardiology Fellowship Program at Baylor College of Medicine and Texas Children's Hospital believe that diversity, equity, and inclusion are fundamental to our success. All diversity, including diversity of race, ethnicity, experience, age, gender, geographic origin, sexual orientation, and religion, is celebrated within our program. We aim to recruit and retain diverse individuals and create an environment of unity in which our members learn and benefit from one another while equipping themselves to provide high-quality, culturally competent care to every patient.
Learn More
Heading
Get to Know Houston
Content
There is more to Houston than you think. For those who haven't spent time in our great city, you will be amazed by the culture, diversity, activities, and experiences that await you here. We are a uniquely international city that always showcases our southern hospitality. There is truly something for everyone. Watch this video to learn more.
Content
Our pediatric cardiology fellows come to us from all around the globe.
View hometown Map
Content
Our fellows provide information about why they chose the program, life in Houston and other interesting facts about themselves.
Learn More