Master
Media Component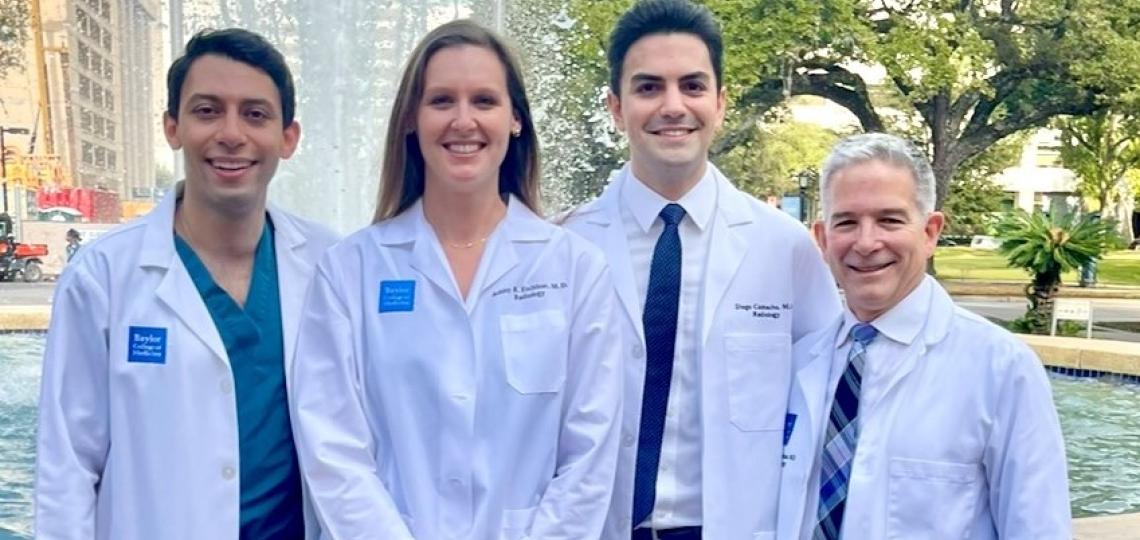 Media Component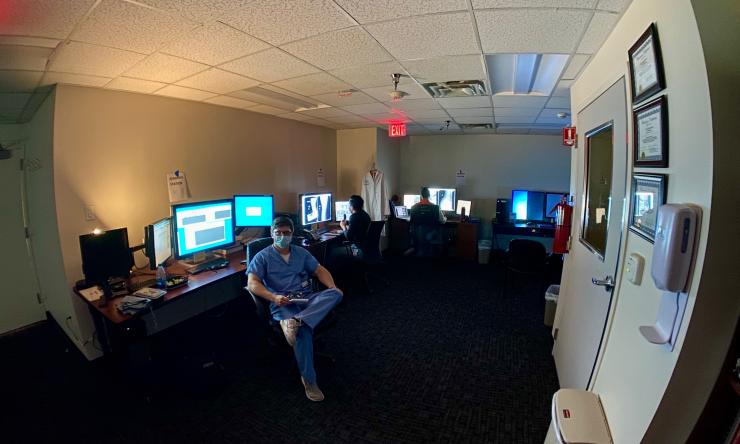 Content
PGY2 radiology resident, Ben Howard, in the Ben Taub Radiology Reading Room.
Media Component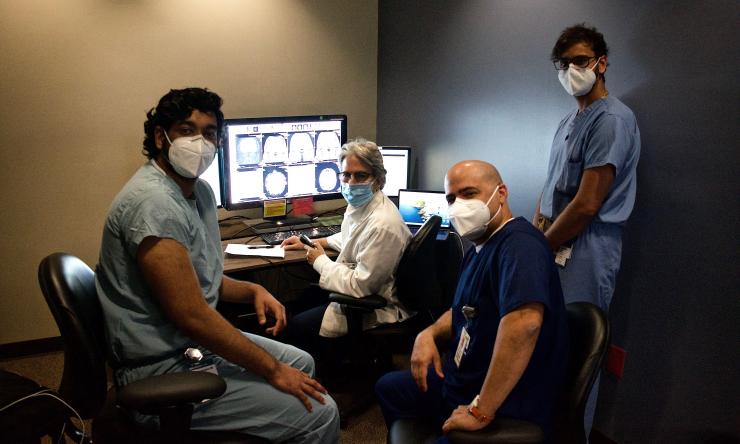 Content
Radiology Residents and faculty collaborating on a neuroradiology case at Ben Taub.
Heading
Clinical Rotations
Content
First-Year Rotations
Eight months of the first year are spent within the Harris Health System. Residents will spend a month each in body imaging, fluoroscopy, breast imaging, musculoskeletal radiology, chest imaging, neuroradiology, and ultrasound. Residents also gain early, supervised autonomy on their one-month rotation reading studies from the Ben Taub Hospital Emergency Center. As one of two level I trauma centers in the Texas Medical Center, the BTH EC allows residents to read a large volume of studies while learning the practical skills of radiology. This early level of supervised autonomy puts Baylor first-year residents well ahead of their counterparts at other programs in terms of efficiency, speed, and fund of knowledge. Two months will be spent at the VAMC in Ultrasound and Nuclear Medicine. Residents have early exposure to pediatric radiology at Texas Children's Hospital on their one-month rotation. Residents also gain additional nuclear medicine experience at St. Luke's Episcopal Hospital on their one-month rotation.
The first-year rotations and didactics at Baylor are structured to give residents a strong foundation in the fundamentals of radiology. First-year residents have their own, separate curriculum. These noon conferences are interactive and centered on team-based learning. This approach allows the curriculum to be tailored to an R1 level of training and maximizes the learning potential of first-year residents.
R1 Rotations:
Ben Taub Body
Ben Taub Ultrasound
Ben Taub Neuroradiology
Ben Taub Chest
Ben Taub MSK
Ben Taub Emergency Center
Smith Clinic Fluoroscopy
Smith Clinic Breast Imaging
St. Luke's Nuclear Medicine
Texas Children's Pediatrics
VA Nuclear Medicine
VA Ultrasound
Second-Year Rotations
With a strong foundation in the fundamentals of radiology, second-year residents enter their most rigorous year of training.
Residents rotate through vascular and interventional radiology at Ben Taub in a three-month block. The first two months are dedicated to body cases and the last month is spent on interventional neuroradiology. Residents are given graduated levels of autonomy and responsibility as they build their procedural skills over the four months. As there is no VIR fellowship program at Baylor, the residents are treated as fellows with regards to responsibilities and procedural caseload. Consequently, residents accumulate substantial experience as primary operators on a large variety of cases.
Residents do a second month of Breast Imaging at Smith Clinic, which includes interpreting diagnostic exams (mammograms, ultrasounds, and MRIs) as well as performing a variety of procedures, including ultrasound, MRI and stereotactic-guided biopsies. One additional month at Ben Taub will be in Chest, MSK, Body or as a Floater. Two months are spent at the VAMC on Nuclear Medicine and MRI rotations. Another month is dedicated to TCH pediatric radiology. One month is spent at MD Anderson on a Chest Imaging rotation.
R2 Rotations:
Ben Taub IR 1
Ben Taub IR 2
Ben Taub IR 3
Ben Taub Night Float 1
Ben Taub Night Float 2
Ben Taub Neuroradiology
Ben Taub Chest, MSK, Body or Floater
Smith Clinic Breast Imaging
MD Anderson Chest
Texas Children's Pediatrics
VA Nuclear Medicine
VA Body/MSK MRI
Third-Year Rotations
As residents transition to their third year, with the ABR Core Exam in their near future, rotations are well-balanced to allow residents to continue learning the day-to-day skills of radiology yet provide enough time for independent study. Daily conferences are tailored to meet the expectations of the Core Exam. One of the many benefits of being in the Texas Medical Center is the number of partner institutions Baylor residents draw from for board reviews. Through collaboration with UT Houston Radiology and Methodist Radiology, residents from all programs attend multiple reviews given by leaders in each subspecialty of radiology.
Six months are spent within the Harris Health System with one month dedicated to obstetrical imaging. This unique rotation prepares residents well for the Core Exam and more importantly, their radiology practice. As an upper level resident rotating at BTH, you have the opportunity to interact with colleagues from other specialties while attending, and frequently presenting at, multidisciplinary conferences.
Two months are also spent at the St Luke's, one in Body Imaging and the second in Cardiac Imaging. The Baylor St Luke's advanced cardiac imaging department works in conjunction with the Texas Heart Institute, one of the largest centers and pioneers of cardiac care in the world. The resident will be trained in the intricacies of cardiac CT and MRI by dedicated cardiac imagers.
R3 Rotations:
Ben Taub Night Float
Ben Taub Obstetrics
Ben Taub MSK
Ben Taub Chest
Ben Taub/Smith Clinic Body
Ben Taub Chest, MSK or Floater
MD Anderson PET
St. Luke's Body
St. Luke's Cardiac Imaging
TCH Pediatrics
TCH Pediatrics
VA Neuroradiology
Fourth-Year Rotations
With the ABR Core exam and fellowship match behind them, fourth-year residents have the opportunity to build an individualized curriculum to suit their needs during their final year of residency. The curriculum allows several months of electives spread across Texas Children's Hospital, the VA Medical Center, BTGH/Smith Clinic, MD Anderson, and Baylor St. Luke's Medical Center.
Recognizing that there is more to radiology than "dictating in a vacuum," fourth-year residents also have the opportunity to present at multidisciplinary conferences, sit in on quality and safety meetings and to teach the lower-level residents on both rotations and in conferences. At Baylor, we strive to produce outstanding radiologists who are educators and leaders in their field.
R4 Rotations:
Ben Taub Night Float
Ben Taub Nuclear Medicine
Smith Clinic Breast Imaging
Ben Taub/Smith Elective
Ben Taub/Smith Elective
Ben Taub/Smith Elective
Ben Taub/Smith Elective
VA Elective
Texas Children's Pediatric
St. Luke's Body
MD Anderson Elective
Elective at Ben Taub, VA, St. Luke's or MD Anderson
Content
All residents attend a daily noon conference. Conferences for PGY-3 through PGY-5 residents are generally case-based. The PGY-2 residents attend a special year-long conference series designed to teach the fundamentals of radiology, including the physics of radiology. These interactive conferences are organized into 1-month blocks, each block focusing on a different subspecialty.
Residents also benefit from a monthly journal club, radiology-pathology conference, PBL (practice-based learning) conference, TBL (team-based learning) sessions, a business-in-medicine conference series and a new, innovative artificial intelligence in radiology conference series. Though the COVID-19 pandemic came with many difficulties, the advent of tele-lectures has also allowed BCM Radiology to invite experts from both the Texas Medical Center and around the country to give lectures tailored towards our residents.
Additionally, depending on the rotation, there are additional conferences, such as the daily 7 a.m. Neuroradiology conference.
Content
Our residents are asked to produce at least one publication during their four years as a resident. Up to $1000 is provided to those residents who present their work at a national meeting. Those with a special interest in research will find ample opportunity to work with mentors throughout the Texas Medical Center.
Heading
Educational Resources
Content
In addition to the Texas Medical Center Library, all residents have access to STATdx and RADPrimer. These web-based tools help residents increase their knowledge, accuracy and confidence, and are a valuable resource when preparing for the ABR Core Examination.