Master
Content
View images and read about life in our program from our residents' perspectives.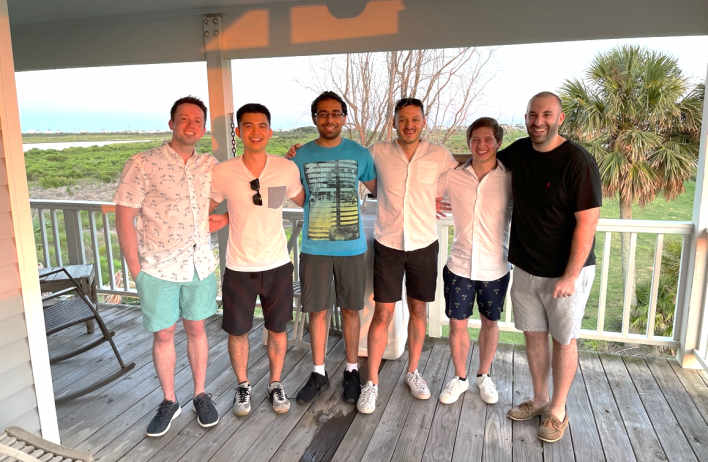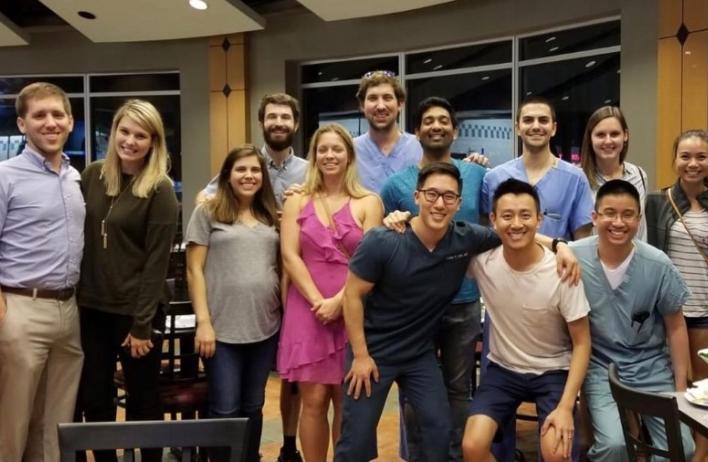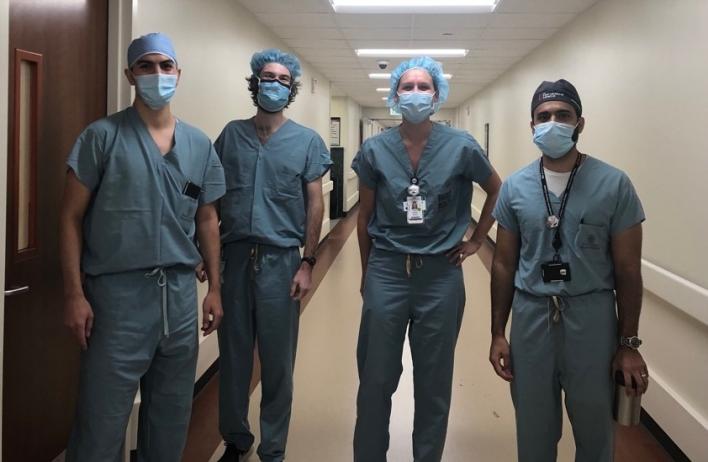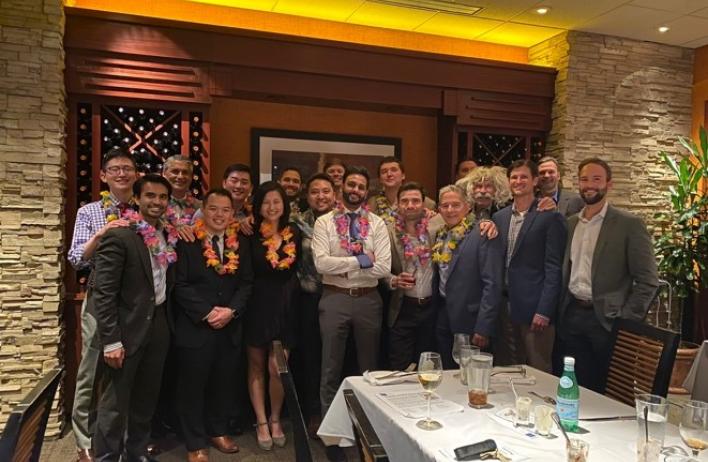 Heading
First-Year Residents
Media Component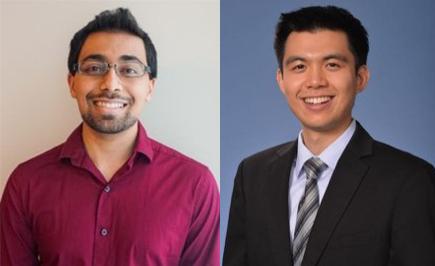 Content
Adapted from Ashley Etchison, M.D. (Class of 2023)
Revised by Aaroh Parikh, M.D., M.B.A. and Jerry So, M.D. (Class of 2024)
The first year of radiology residency is such an exciting time because you finally begin your journey to becoming a radiologist. A "typical day" for an R1 is somewhat variable as you rotate between five incredible teaching sites in the Texas Medical Center and surrounding area, each with its own unique patient population and assortment of pathologies. R1s spend more than half of the year in the Harris Health System, rotating at Ben Taub General Hospital (Houston's flagship county hospital) and Smith Clinic (outpatient center). These rotations are exciting and busy, featuring a mi x of imaging interpretation and procedures. 
On an average day at Ben Taub, you will begin your day around 7 a.m. by protocoling upcoming studies and reading a variety of x-rays and CTs that pertain to your rotation's subspecialty. On the MSK and Body rotations, you'll also perform joint injections and fluoroscopic procedures between reading cases, which is a great introduction to procedures well before your months on IR. You'll review your morning cases with your attending before leaving for noon conference. 
During noon conference, you will join your co-residents for lunch while attending an educational lecture. Many noon conferences are designed specifically for first-year residents and include physics and team-based learning (TBL) lectures. TBL lectures focus on foundational neuroradiology and abdominal imaging and often have a short pre-reading assignment. 
After noon conference, you will return to the reading room and dictate more cases. You'll review your cases with your attending once again, and wrap up your day by 5 PM. Later in the evening, you'll review topics related to your subspecialty rotation or pre-read for upcoming TBL lectures.
Although learning radiology from scratch feels intimidating at first, the first year of residency is a very rewarding introduction to the field through the wide variety of radiologic subspecialties and will ultimately build a strong foundation for second year and call. Additionally, our team-building exercises with TBL help set us up for a great teamwork dynamic before we enter our call-heavy and procedure-heavy years! Because we don't take emergency reading room call as first year residents, we additionally have a lot of time to spend with each other on the holidays and weekends and get to know each other better, with each of us forming multiple friendships that last for the remainder of residency and beyond.
Heading
Second-Year Resident
Media Component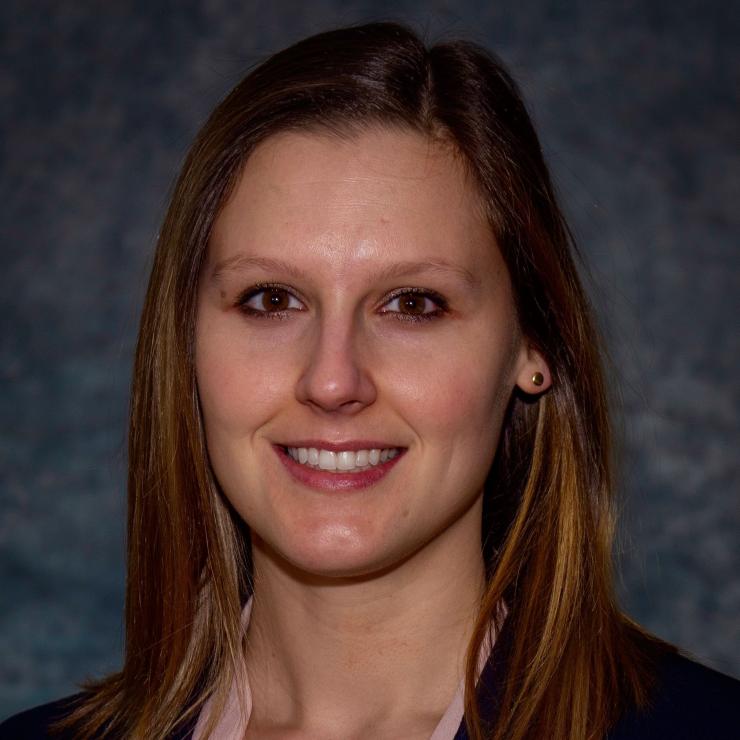 Content
Adapted from Nikita Consul, M.D. (Class of 2023)
Revised by Ashley Etchison, M.D. (Class of 2022)
The second year of radiology training is certainly the busiest year for Baylor residents. However, residents make huge strides in radiology knowledge and build confidence as they transition from junior to senior radiology residents.
The second year of training is hallmarked by two months of overnight call at Ben Taub, as well as periodic weekend day shifts. During these call shifts, residents become proficient in reading inpatient and Emergency Department Neuro CTs (including acute stroke care and level 1 trauma cases), as well as plain films. As the year progresses, second year residents expand their responsibilities and read inpatient and Emergency Department Body CT/MRI studies. Residents also rotate for one month at MD Anderson Cancer Center, where we are taught by world-renowned faculty. This rotation also includes a week of independent overnight call where we sharpen our Body CT skills.
Another hallmark of second year is our Interventional Radiology experience. We spend three consecutive months in the Interventional Radiology Department honing ultrasound and CT-guided procedure skills, including tissue biopsies and drain placements. During the third month, we expand our skills in the fluoroscopy suite with focused Neuro IR procedures and assist with Body procedures as needed.
Although challenging and fast-paced, our IR rotations are very rewarding and fun, as we spend a lot of time with co-residents, IR faculty, nurses, and technologists. By the end of second year, residents make significant progress in their radiology training and are more confident in their diagnostic and procedural skills. Seasoned second-year residents are ready to tackle board studying and take on leadership roles as senior radiology residents.
Heading
Third-Year Resident
Media Component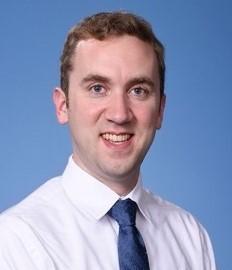 Content
Adapted from Matthew Darce, M.D. (Class of 2021)
Revised by Robert Litwin, M.D. (Class of 2022)
A day in the life of a third-year radiology resident at Baylor is a whirlwind that is highlighted by graduated responsibility and autonomy on rotations, attending the AIRP conference in DC, matching into competitive fellowships, and culminating in taking the CORE exam.
During your third year, you will continue to do core rotations at Ben Taub Hospital. You will do a very busy night-float rotation at Ben Taub where you are the upper level resident. In this, you get a very real feel for what it is like to practice as an independent radiologist.
You will also have the opportunity to do rotations at MD Anderson and St. Luke's Hospital, which are slower paced rotations during which you will focus on more advanced imaging modalities such as MRI and PET imaging.
Third year is not all spent in the reading room, however. You have the opportunity to spend a month in Washington, DC to attend the AIRP conference with residents from across the globe listening to world-renowned lectures. You will also spend a portion of your year on the road interviewing for fellowships, and Baylor has a very strong track record of matching its residents into top ranked fellowship programs.
Finally, the last half of your year will be spent preparing for the CORE exam, which you will take at the end of your third year. Though busy, the third year at Baylor is both challenging and exciting and will set you up for success as a fourth-year resident and practicing radiologist.
Heading
Fourth-Year Residents
Media Component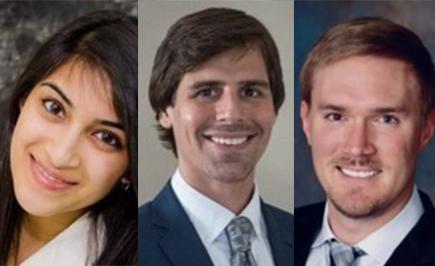 Content
Written by Nikita Consul, M.D., Corey Area, M.D., and Spencer Wehring, D.O. (Class of 2022)
As fourth-year (PGY5) residents, we have significant flexibility in scheduling our rotations, which grants us the opportunity to hone in on the skills that we will need to become experts in our future subspecialty, as well as gain more generalized experience. While the residents in the ESIR pathway do five-seven months of IR at various rotation sites in their fourth year, the diagnostic residents can choose to do three-four months to focus in a single subspecialty plus three-four additional diagnostic rotations across various rotation sites including St. Luke's, Michael DeBakey V.A., and M.D. Anderson Cancer Center.
In the spring, we do a final month of night float at Ben Taub to help the third-year residents study for the CORE, but other than this we no longer take call on weekends or holidays which allows us to hang out more as a class year! As fourth years, we operate as the team leaders on rotations at Ben Taub Hospital, which involves mentoring junior residents, giving medical student lectures, and leading interdisciplinary tumor boards. This is a great experience for gaining independence before starting fellowship. 
Outside of the reading room, we take on multiple leadership roles throughout the program to help coordinate our conferences, run quality improvement projects, contribute to the educational activities in the medical school or for other subspecialty residents through DIRRECT, and expand our Wellness curriculum.
We also take on active roles gathering all of the residents in the other years for various social activities that we do outside of work! It is this culture at Baylor residency that continues year after year, and builds strong friendships across class years among all of the residents.
Media Component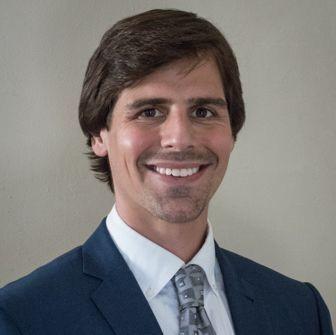 Content
Adapted from Brian Imada, M.D. (Class of 2021)
Revised by Corey Area, M.D. (Class of 2022)
Baylor College of Medicine is the only program in the country to directly match four ESIR residents per class. Our robust curriculum provides 13 months of interventional radiology training at several distinguished hospitals throughout the Texas Medical Center as well as a SICU rotation at Ben Taub hospital. The diversity of these hospitals is a unique strength of the BCM ESIR program and provides our trainees with a broad procedural and clinical training environment. Furthermore, as there are no IR fellows at Baylor, we are required to have a huge level of autonomy and act as primary operators on high level cases starting as R2s, which accelerates our technical acumen.
The variety of training is massively advantageous and exposes trainees to faculty from a diverse array of backgrounds, lending to a variety of teaching styles, procedural preferences, and clinical expertise. These hospitals include Ben Taub Hospital, one of only two level I trauma centers in Houston, the Michael E. DeBakey Veterans Affairs Medical Center, the largest VA medical centers in the country, and at MD Anderson Cancer Center, one of the premier comprehensive cancer centers in the nation. Additional IR rotations take place at Texas Children's Hospital, one of the top pediatric hospitals in the nation, and at Baylor St. Luke's, an affiliated private practice hospital.
The diverse training paradigm at BCM ensures a well-rounded breadth of cases that span from short, common procedures to long, multidisciplinary cases that involve multiple rooms and specialties with leaders in the field such as aortic aneurysm repairs and high-end interventional oncology. By the end of the four-year residency, you should expect to complete well over 1200 procedures along with the acquisition of the confidence and skill set to excel in the final year of dedicated IR training and allow you to confidently enter the workforce in either a private practice or academic setting. 
Heading
Resident Life in Houston
Content
Food in Houston
If Flavor Town were a place, it'd be Houston. As the 4th largest city in America, Houston is home to a melting pot of cultures. Our diverse population makes for an exciting dining scene. One of the hardest parts of living here is deciding where to eat. Do you want to go down Bellaire Boulevard to Chinatown for dumplings? Do you want to head to Hillcroft for some of the best Indian in the country? Or maybe you want to try one of the many Central Texas-style BBQ joints around the city. Trying new restaurants is a great way to get to know your co-residents while getting a feel for the city. What we lack in climate, we make up for in one of the best food scenes in the country.
- Lincoln Downs, M.D.
Explore Houston Culture
Heading
Housing in Houston
Media Component

Credit
HoustonNoLimits
Content
There is truly something for everyone in Houston. For its size, Houston has a phenomenal cost of living with an incredibly wide variety of housing options available for residents. Houston is, in essence, constructed of concentric sets of highways that encircle the city center. "Inside the loop" refers to the area within the first ring formed by the 610 highway. Within the loop, you can expect a less than 30-minute commute to work, with many residents living ~ 10-15 minutes from the medical center. Within the loop, there's a plethora of affordable apartments and houses for rent. If you're willing to tolerate a slightly longer commute, it's not unreasonable to imagine being able to purchase a house located outside the loop. I did my intern year in New Orleans. When I moved to Houston, I paid about $700 per month less than I did in New Orleans for my apartment (AND my apartment in Houston had one more bedroom and bathroom than my apartment in New Orleans).
- Insun Chong, M.D.
Get to Know Houston Neighborhoods