Master
Media Component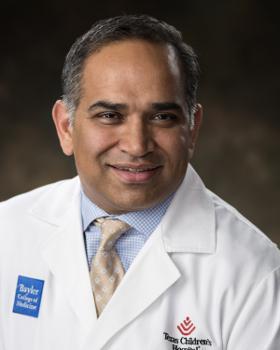 Content
It is a pleasure to introduce you to the Division of Pediatric Surgery. We are a team of 18 full-time faculty members at the Department of Surgery and attending surgeons at Texas Children's Hospital, which U.S. News & World Report ranked one of the top three children's hospitals in the nation in 2019.
Our practice encompasses the entire spectrum of pediatric surgery. We routinely provide consultation and treatment for surgical problems including hernias/hydroceles, undescended testicles, lumps & bumps, acute gastrointestinal illnesses, circumcisions, breast masses, appendicitis, pyloric stenosis, intussusception and other routine problems. We have also developed a particular expertise in minimally invasive surgery. 
The division offers a number of innovative pediatric surgery services. Our group is subdivided in specialty teams, so that we are able to offer concentrated expertise and experience in even rare pediatric surgical problems. In the Adolescent Bariatric Surgery Program, for example, our surgeons have performed over 35 laparoscopic gastric bypass surgeries in the last year, including Roux-en-Y and sleeve gastrectomy. This program participates in NIH-funded studies on long-term outcomes.
Fetal surgery is another specialized service offered by our surgeons. The Texas Children's Fetal Center utilizes the latest diagnostic algorithms and advanced imaging tools, and leads the nation in performing and developing techniques to diagnose and treat the unborn child with cardiac conditions, twin-twin transfusion syndrome, spina bifida, and congenital diaphragmatic hernia. Advanced surgeries performed by our team include fetoscopic tracheal balloon occlusion for congenital diaphragmatic hernia, exit procedures, and open fetal procedures for tumors.
Research is a priority and our faculty members are engaged in ground-breaking projects. As a result, Texas Children's is recognized as the #1 hospital in Texas for the treatment of pediatric cancer by U. S. News and World Report. One landmark national study reported excellent prolonged survival of 83 babies with isolated neuroblastoma treated with non-surgical intervention.
We offer, in conjunction with Texas Children's, a translational research fellowship focusing on neuroblasoma. There is also a basic translational research fellowship that is directed at exploring wound healing and fetal therapy.
Sundeep G. Keswani, M.D.
Professor and Chief
Division of Pediatric Surgery
Baylor College of Medicine
Surgical Director of Basic Science Research
Clayton Endowed Chair in Surgical Research
Texas Children's Hospital