Master
Content
Beginning in the 1960's, Dr. Michael E. DeBakey developed the Michael E. DeBakey Summer Surgery Program to allow science fair winners the opportunity to continue their research and encourage them to apply their science aptitudes to medicine.
As the program became more popular, it expanded to include rotations on one of the clinical services. For the past 40 years, this program has been conducted in an effort to develop and maintain the interest of well-qualified young students who are considering a medically oriented career.
From Dr. DeBakey's efforts, this program has become highly competitive with over 200 applicants for about 15 coveted positions.
Content
The Michael E. DeBakey Summer Surgery Program familiarizes the student with hospital and operating room environments as well as time management skills. Students selected for this eight-week program will be assigned to a surgery faculty mentor who they will work closely with by participating in their surgical service activities at one of the following hospitals: Ben Taub Hospital, Baylor St. Luke's Medical Center or Texas Children's Hospital. The mentors will include faculty members from the following surgical services: general surgery and its subspecialty areas, transplantation, surgical oncology, trauma surgery, plastic surgery, pediatric surgery, vascular surgery, congenital heart surgery, thoracic surgery and cardiothoracic surgery.
Students are introduced to the fundamentals of a surgical practice and will have the opportunity to acquire skills used in the evaluation and treatment of surgical conditions. Perioperative evaluation, operative principles, and post-operative care are emphasized. Functioning as a sub-intern on a busy surgery service, students work with faculty, residents, medical students, nurses, and administrative personnel. The student is expected to become an integral part of the team by participating in rounds, operative cases, patient care, and conferences.
Media Component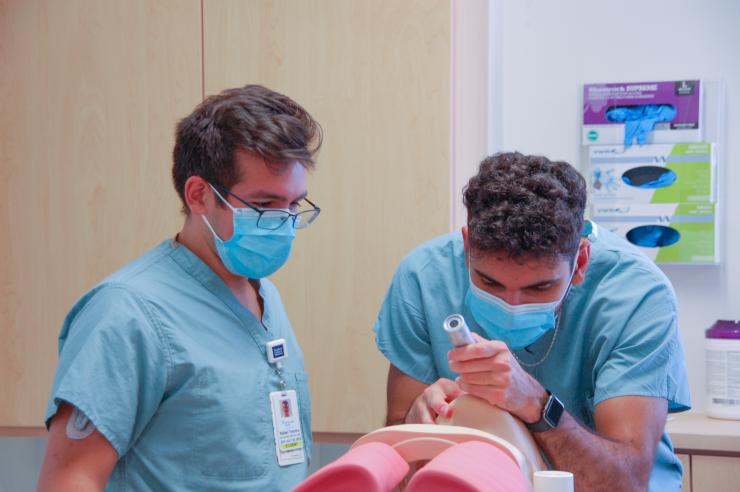 Content
Students participating in the program can anticipate beginning their days at 6 a.m. and leaving the hospital around 6 p.m. While weekends are not expected, students are able to take a night shift at Ben Taub Hospital. Typically, each day begins with early morning rounds. Most mornings are spent in the operating room, with clinic and/or conferences in the afternoon. All participants will observe surgery during the length of the program. Didactics are held throughout the eight-weeks on various topics which could include medical school admissions, information on surgical subspecialties, and surgical skills lab sessions.
Heading
Goals and Objectives
Content
The students learn basic knowledge of surgical diseases, diagnosis, surgical treatment, and preoperative and postoperative care.
The students recognize the significance of other diagnostic services and understand the correlation and interaction of such services; for example, radiology and pathology.
The students observe decision-making under elective as well as emergency conditions.