Master
Media Component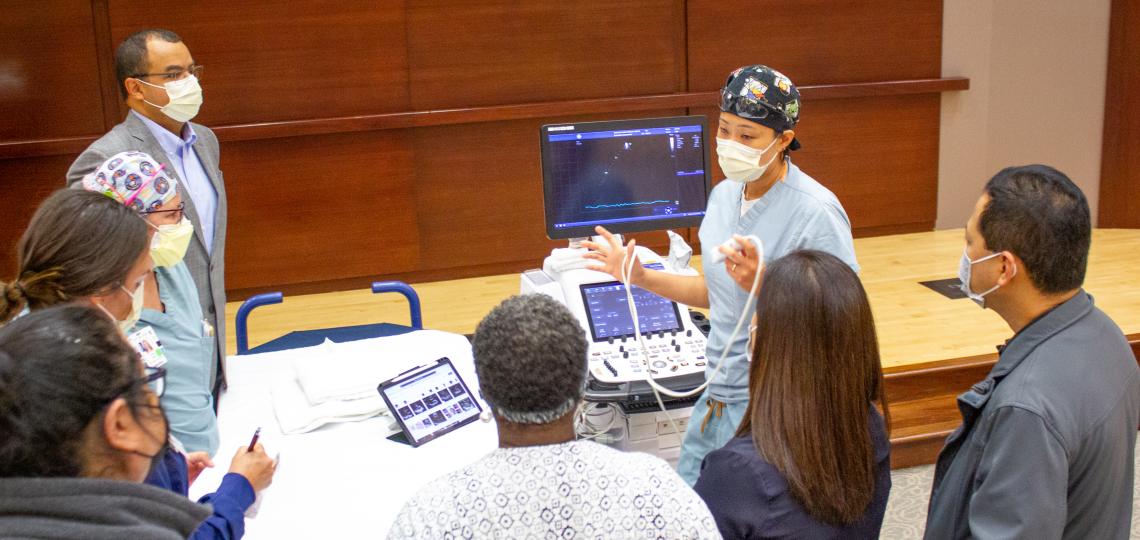 Heading
For Advanced Practice Clinicians in the Greater Houston Area
Content
2022 Workshop TBA
Location:  The Denton Cooley Auditorium – Baylor St. Luke's Medical Center
Heading
Learning Objectives
Content
At the end of this workshop, participants will be able to:
Demonstrate basic knowledge in critical care echocardiography and lung/abdominal ultrasonography
 Acquire appropriate images of standard sonographic views through participation in skill stations 
Demonstrate adequate image interpretation and basic integration of the most common ultrasonographic findings in patients suffering shock or acute respiratory failure
The participant will have access to pre-recorded presentations on fundamentals of critical care echocardiography and lung ultrasonography. In addition, essential manuscript and a booklet will be available prior to the workshop.
Content
Cesar Castillo, M.D.
Jayne Chirdo, PA-C
Jose Diaz-Gomez, M.D.
Mourad Senussi, M.D.
Edward Yang, M.D.
Erik Su, M.D.
Jackie Sohn, D.O.
Content
10:15-10:30 a.m.  Welcome and Introductions – First Group of Attendees (AM SESSION) - Drs. Jose L. Diaz-Gomez and Mourad Senussi
10:30 a.m.-12:15 p.m.  Skill stations by Texas Medical Center Faculty
Parasternal view
Apical view
Subcostal view
Lung/abdominal ultrasonography
12:15-12:30 p.m. Question and Answers – All Faculty
12:30-1 p.m. Lunch for Faculty
1-2:45 p.m. Skill stations by Texas Medical Center Faculty (PM SESSION)
Parasternal view
Apical view
Subcostal view
Lung/abdominal ultrasonography
2:45-3 p.m. Question and Answers – All Faculty