Master
Media Component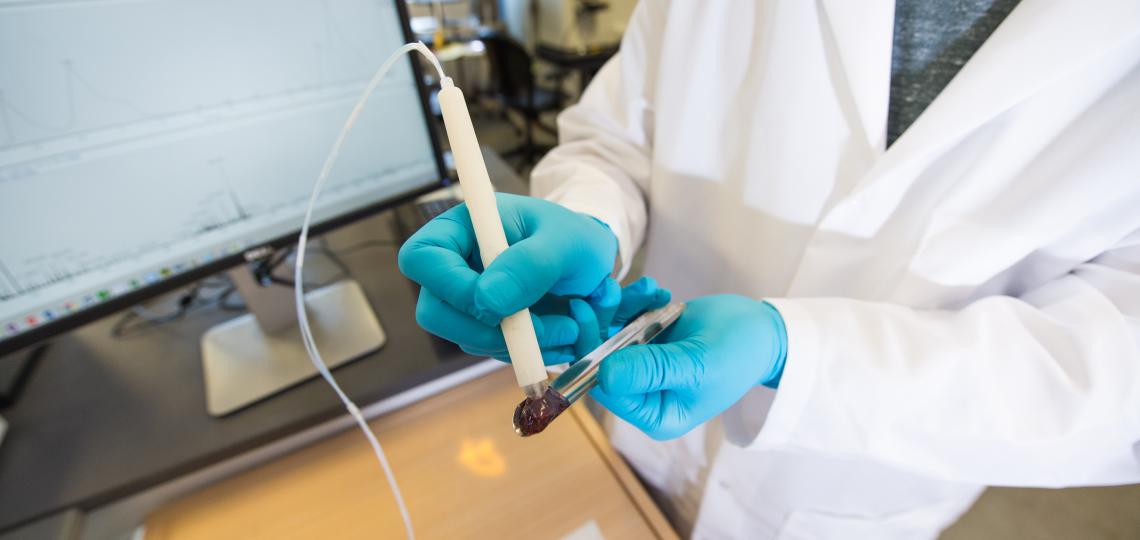 Content
Cancer Research in the Michael E. DeBakey Department of Surgery
Surgeons have always held a pivotal role in cancer care. Among highly diverse and complex cancer disease processes, surgery has been a mainstay intervention at every point of care, from diagnosis and primary tumor removal to palliative pain management and symptom control. Because most forms of cancer require multimodal therapies, surgical oncologists participate as members of multidisciplinary teams whose coordinated efforts provide the best possible outcomes for their patients. This collaborative mindset permeates every aspect of their work, including research.

Today, surgeons within the Michael E. DeBakey Department of Surgery are teaming up with cell biologists, oncologists, genetic scientists, imaging experts, bioinformatics specialists, and industry leaders. These fields are converging in exciting new ways to extend survival and improve the quality of life for patients with cancer. The broad scope of dynamic research activity currently taking place within the department is informing surgical care throughout our affiliated hospitals and institutions.
New Technology Provides Tumor Discrimination During Surgery
Dr. Livia Eberlin and Dr. James Suliburk's research program centers around the development and application of novel mass spectrometry technologies in health-related research. Dr. Eberlin's expertise is in the development and application of direct mass spectrometry technologies for tissue analysis and disease detection. Projects are focused on the identification of metabolic markers of cancer and other diseases, as well as in the development of mass spectrometry technologies and medical devices for surgical use. 
Providing National Leadership for Pancreatic Cancer
Baylor College of Medicine is proud to be a center for the continuing NIH-funded Consortium to Study Chronic Pancreatitis, Diabetes, and Pancreatic Cancer. Our consortium center, which has been led by PI Dr. William Fisher, has been accruing patients for large national cohorts that span both pediatric and adult populations. Drawn from Harris County's diverse population and an extensive national referral base, Baylor's high-volume affiliate hospitals are a valuable resource for these consortium studies, including Dr. Fisher's ongoing work to establish a mature tissue and specimen repository that not only supports pancreatic research at Baylor College of Medicine, but which has been shared liberally with researchers across the nation. Most recently, Dr. Fisher's lab proposes to characterize the microbiota from patients with chronic pancreatitis using next-generation sequencing protocols in collaboration with the BCM Alkek Center for Metagenomics and Microbiome Research.
As founding director of the Elkins Pancreas Center at Baylor College of Medicine, Dr. Fisher has helped develop the clinical care for a large pancreatic cancer patient population as well as coordinating the basic science and clinical research related to pancreatic cancer being performed at Baylor. The Elkins Pancreas Center is nationally recognized for its treatment of pancreatic cancer and other pancreatic diseases through surgery, gene therapy, clinical trials, general surgery, and minimally invasive surgery. The clinical research program has included two NIH-funded multicenter randomized clinical trials that generated national and international practice-changing impact on the use of drains during pancreatectomy. Dr. Fisher has also been the driving force behind several large collaborative gene sequencing studies that led to novel discoveries of the genetics of pancreatic cancer published in Nature.
New Strategies for Thoracic Cancer
The Division of Thoracic Surgery and the Lung Institute were founded in 2014 under the direction of Dr. David Sugarbaker, one of the preeminent experts in the treatment of thoracic cancers, including mesothelioma. Dr. Sugarbaker built a comprehensive multidisciplinary program that focuses on the disease of the lung. The Lung Institute's unique approach integrates patient care and a strong surgical program with clinical and translational research, leveraging Baylor's leading genomic research program. Several outstanding surgeons are building on Dr. Sugarbaker's legacy.
NIH-Funded Study of Allogenic Antibody Therapy for Malignant Mesothelioma
Malignant pleural mesothelioma is a deadly malignancy caused by asbestos that affects more than 3,000 individuals in the United States each year. Dr. Bryan Burt, assistant professor of surgery and chief of the Division of Thoracic Surgery, was awarded an R03 grant from the National Cancer Institute of the National Institutes of Health or his research based on data showing a critical role for allogeneic IgG antibodies in the recognition of tumor cells, and in the generation of a powerful anti-tumor immune response when combined with stimulation of immune-surveillance cells. Successful completion of this research will provide the feasibility for a future phase I clinical trial that will be designed to use alloIgG therapy for the treatment of malignant pleural mesothelioma. Dr. Burt is also a primary investigator of the first-in-human clinical trial combining immunotherapy and surgery for the treatment of mesothelioma.
CPRIT-Funded Study for to Determine Variable Response to PD-1 Blockade
Immunotherapy has been shown to be highly effective for many kinds of cancer, including lung cancer. However, frustrating initial hopes, immunotherapy has proven to work in only a limited percentage of cases. Dr. Hyun-Sung Lee, assistant professor of surgery and member of the Dan L Duncan Comprehensive Cancer Center, received funding from the Cancer Prevention and Research Institute in Texas to investigate this variable response, which may be attributable to the complexities of the immune cell networks. Combining recent advances in imaging mass cytometry and computing technologies, Dr. Lee's lab has developed a novel spatial tumor immune microenvironment classification system that is expected to discriminate response and resistance to PD-1 blockade in malignant mesothelioma. Importantly, imaging mass cytometry is back-compatible and can be used with all formalin-fixed paraffin-embedded tissue biopsies in clinical repositories worldwide; these proposed methods will enable comparative investigation with other malignant pleural mesothelioma samples and human tumors.
NIH Researcher Brings BH3 Profiling to Baylor College of Medicine
Dr. R. Taylor Ripley, director of the Mesothelioma Treatment Center, has centered his research program on the metabolic reprogramming of tumor cells to increase their vulnerability to current drug therapies. His current research is an extension of investigational work he began with his team of scientists during his four years at the National Cancer Institute in Bethesda, Maryland. His current strategy targets processes within the mitochondria, a novel downstream approach that circumvents the mutational ability of these aggressive tumors. Through the study of cellular energetics, Dr. Ripley's team has developed a technique called bcl-2 homology domain-3 (BH3) profiling in thoracic cancers, a cellular signature that correlates with treatment response or emerging resistance. This signature is expected to provide a timely and accurate biomarker for effective patient therapy. Dr. Ripley's dynamic BH3 profiling technique, which is performed on live tumor at the time of surgical resection, produces actionable information within three days.
Achieving Better Outcomes for Breast Cancer through Conservative Approaches
Advances in screening mammography identify breast cancers earlier, but many clinicians suspect that earlier detection may be leading to overtreatment in some women. Ductal carcinoma in situ, which may comprise up to 25 percent of screen-diagnosed breast cancers, is a prime example of this potential overtreatment. DCIS is often treated similarly to invasive breast cancers with surgery, radiation, and hormone therapy as some DCIS may progress to invasive breast cancer. However, these treatments themselves can have physical, emotional, and financial consequences despite newer research that suggest they offer no difference in patient survival. As part of the PRECISION (PREvent ductal Carcinoma In Situ Overtreatment Now) Consortium, Dr. Alastair Thompson, professor and chief of the Section of Breast Surgery, is investigating the characteristics that distinguish indolent DCIS from more aggressive forms, aiming to reduce the burden of unnecessary treatment without compromising the excellent clinical outcomes that are currently achieved. Additionally, Dr. Thompson is the principle investigator of the COMET clinical trial, evaluating long-term benefits and risks of DCIS treatment by comparing the standard surgery versus active monitoring to manage low-risk DCIS. The research from the PRECISION consortium, COMET clinical trial, and other breast cancer research currently underway at Baylor College of Medicine will ultimately ensure that breast cancer patients are receiving the best, least invasive evidence-based care.
Furthermore, for those patients who choose to undergo breast conserving surgery for DCIS or other breast cancers, Dr. Thompson and Baylor College of Medicine have partnered with Perimeter Medical Imaging in a study that will use a high-resolution imaging system to collect images of breast tumors in order to develop artificial intelligence. This system is currently in development and will help surgeons assess if they have successfully removed the entire tumor during surgery. The device uses tissue that is already obtained during the routine surgical process, and could ultimately be an improvement for patient care by helping patients avoid a second surgery and the physical, emotional, and financial stresses that accompany it.
Vaccine Strategies Train the Immune System to Fight Cancer
The research team of Dr. Qizhi Cathy Yao has been addressing the need to better understand the molecular mechanisms of pancreatic cancer tumorigenesis to develop more effective treatments. Dr. Yao holds an appointment as professor of surgery in the Division of Surgical Oncology as well as appointments as professor of molecular virology & microbiology and professor of pathology & immunology. Drawing upon her expertise within these multiple disciplines, she has been developing new approaches for cancer treatment through her work in immunization therapy with virus like particles to promote humoral and cellular immune response. Advances in vaccine engineering capitalize on our understanding of DNA structure and the ability of VLPs. VLPs are made from proteins and are not infectious so they are safe to use), but to an immune system, they look like the real thing. This new technology platform can train the immune system to directly defend itself against cancer.
Dr. Yao's lab has been studying the basic mechanisms of VLP-induced immune responses, and other factors that affect these responses over several years. For example, they found that VLP vaccines travel to the lymph nodes upon immunization, and that VLP vaccines activate conventional B2 cells and promote B cell differentiation to IgG2a-producing plasma cells. In the study "The VesiVax® System: Vaccine Development Made Easy" funded through the National Institute of Allergy and Infectious Diseases of the NIH, Dr. Yao has been developing better adjuvants for many different diseases, including pancreatic cancer. Additionally, Dr. Yao's team has developed 25 lines of patient-derived xenografts, fully characterized with mutations and gene expression information, which can be designed for use in future research projects. Dr. Yao's extensive research program is currently funded through the NIH, CPRIT, and the US Department of Veterans Affairs.
Improving the Odds in Pediatric Liver Cancer
The Pediatric Surgical Oncology Laboratory in collaboration with the Texas Children's Cancer Center is directed by Dr. Sanjeev Vasudevan. The laboratory is discovering new ways to target therapy for pediatric solid tumors, with a focus on neuroblastoma, hepatocellular carcinoma, and hepatoblastoma. Although rare, pediatric liver cancers are a devastating disease with long term survival rates less than 50 percent. To improve this dismal prognosis, lab efforts are focusing on the mechanisms behind vascular invasion and metastasis in these liver cancers. Dr. Vasudevan and his team of researchers and trainees are actively collecting patient tumor tissues for cell line and patient-derived xenograft development in order to discover new, less toxic therapeutic agents for children with these solid tumors. Dr. Vasudevan's lab has also developed new intraoperative imaging techniques using indocyanine green, which provides real-time visualization of the liver during surgery, which allows surgeons to fully visualizing the tumor margin in relation to the blood vessels of the liver. These and other advances in the surgical management of pediatric liver cancer are described in more detail in this comprehensive Cancers publication.
New Technology for Managing Neuropathy Complications of Chemotherapy
Dr. Bijan Najafi, professor and director of clinical research in the Division of Vascular Surgery and Endovascular Therapy and director of iCAMP (Interdisciplinary Consortium on Advanced Motion Performance), is principal investigator of an NIH National Cancer Institute funded clinical study "Managing Chemotherapy Induced Neuropathy in Cancer Patients Using Exergaming," one of his several ongoing trials funded by NIH Small Business Innovation Research and Small Business Technology Transfer grants. Chemotherapy-induced peripheral neuropathy is one of the most challenging and complex complications of cancer chemotherapy, a condition that is experienced by 30-40 percent of cancer patients. This condition affects the sensory input that controls balance, which makes walking difficult and increases the risk for falls. Dr. Nafaji has developed wearable sensors that can assess CIPN and provide feedback training to improve balance and gait performance.