Master
Media Component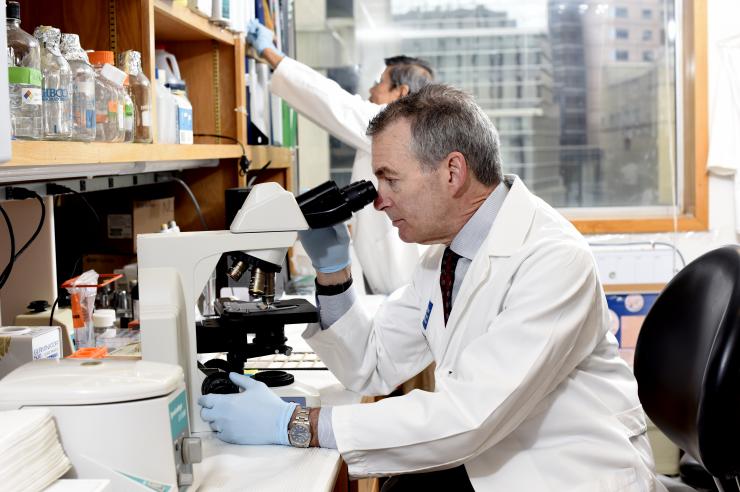 Content
Research is a critical component of the training experience at Baylor College of Medicine. Our department is fortunate to have teaching faculty with national and international reputations who work on a wide array of both clinical and basic science projects. The areas of investigation include bladder cancer, renal cell carcinoma, urological trauma, stone disease, men's health, education and wellness, and more. Texas Children's Hospital, an internationally recognized pediatric hospital, likewise offers an abundance of research opportunities. Residents are encouraged to participate in research activities at the very earliest stages in their training as they are paired with more senior residents to enable them to hone in on their clinical interests. We have a structured and robust academic mentor program which helps guide residents throughout their five year experience. 
The six-month PGY-3 Minimally Invasive Surgery and Research rotation is a particularly productive time for residents. With reduced clinical responsibilities (mainly developing competence in laparoscopic and robotic cases), the rotation affords significant time to pursue scholarly pursuits. Residents become involved with a variety of scholarly pursuits ranging from clinical research to medical device innovation to basic science experiences. The program has supported resident applications to the prestigious AUA Residency Research Award Program.
Media Component
Content
Productivity is rewarded with attendance at regional and national meetings. A number of residents attend and present at the South Central AUA and national AUA meeting annually. Residents are also been able to attend other national meetings such as SUFU and SUO if their projects are accepted. Finally, we encourage active involvement in the Society for Women in Urology and support a large contingency at this important conference annually. 
Our program endorses a collaborative approach to research, with faculty, senior, and junior residents working together to ask and answer important questions. Given Baylor's unique position in the largest medical center in the world, residents have also collaborated with faculty at Houston Methodist Hospital and MD Anderson.
In summary, our program aims to equip each of our trainees with the visibility to place them in their fellowship of choice, with the foundation necessary for a career in academic urology, and the skills required of all urologists to practice lifelong learning.