Master
Media Component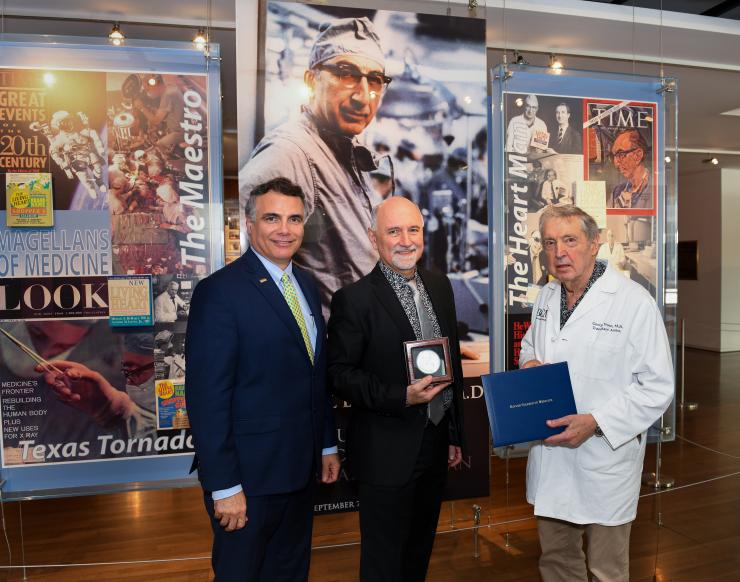 Content
Area: Molecular and Human Genetics
Professor of Molecular and Human Genetics; Director of Program in Quantitative and Computational Biosciences
Dr. Milosavljevic's laboratory develops bioinformatics methods and advanced data platforms while contributing to the fields of genomics, clinical genomics, epigenomics and extracellular RNA communication. Using advanced web technologies, his lab provides data platforms and supports data coordination and analysis needs for NIH Common Fund projects and for the NIH-NHGRI Clinical Genome Resource (ClinGen). As part of the NIH Roadmap Epigenomics project, the lab established an ontogenetic tree of cellular differentiation, including global maps of cell-type specific regulatory elements and regulatory modules of coordinated activity and their likely activators and repressors. By analyzing allele-specific epigenome maps, the lab discovered nearly universal stochastic behavior of transcription factors, as evidenced by their methylation "footprints" at regulatory sites. The results provide a unifying model that links sequence-dependent allelic imbalances of the epigenome, stochastic switching at gene regulatory loci and disease-associated genetic variation. Dr. Milosavljevic's lab leads the development of the FDA-recognized ClinGen database to inform clinical interpretation of genetic variation, and the lab currently serves as the Data Coordination Center for the NIH Extracellular RNA Communications project, which produced the ExRNA Atlas and developed the first comprehensive map of extracellular RNA in human biofluids. Developments in his work have been published in recently in Science, Genome Medicine and the American Journal of Human Genetics.
Dr. Milosavljevic's nomination was based on the following publications:
Onuchic V, Lurie E, Carrero I, Pawliczek P, Patel RY, Rozowsky J, Galeev T, Huang Z, Altshuler RC, Zhang Z, Harris RA, Coarfa C, Ashmore L, Bertol JW, Fakhouri WD, Yu F, Kellis M, Gerstein M, Milosavljevic A. Allele-specific epigenome maps reveal sequence-dependent stochastic switching at regulatory loci. Science. 2018 Sep 28;361(6409):eaar3146. doi: 10.1126/science.aar3146. Epub 2018 Aug 23.
Patel RY, Shah N, Jackson AR, Ghosh R, Pawliczek P, Paithankar S, Baker A, Riehle K, Chen H, Milosavljevic S, Bizon C, Rynearson S, Nelson T, Jarvik GP, Rehm HL, Harrison SM, Azzariti D, Powell B, Babb L, Plon SE, Milosavljevic A; ClinGen Resource. ClinGen Pathogenicity Calculator: a configurable system for assessing pathogenicity of genetic variants. Genome Med. 2017 Jan 12;9(1):3. doi: 10.1186/s13073-016-0391-z.
Amendola LM, Jarvik GP, Leo MC, McLaughlin HM, Akkari Y, Amaral MD, Berg JS, Biswas S, Bowling KM, Conlin LK, Cooper GM, Dorschner MO, Dulik MC, Ghazani AA, Ghosh R, Green RC, Hart R, Horton C, Johnston JJ, Lebo MS, Milosavljevic A, Ou J, Pak CM, Patel RY, Punj S, Richards CS, Salama J, Strande NT, Yang Y, Plon SE, Biesecker LG, Rehm HL. Performance of ACMG-AMP Variant-Interpretation Guidelines among Nine Laboratories in the Clinical Sequencing Exploratory Research Consortium. Am J Hum Genet. 2016 Jun 2;98(6):1067-1076. doi: 10.1016/j.ajhg.2016.03.024. Epub 2016 May 12. Erratum in: Am J Hum Genet. 2016 Jul 7;99(1):247. PubMed PMID: 27181684; PubMed Central PMCID: PMC4908185.
Heading
DeBakey Award Nominations
Content
Baylor College of Medicine faculty members are invited to nominate colleagues for Michael E. DeBakey, M.D., Excellence in Research Awards. Learn more.