Master
Heading
Science Classroom Enrichment
Content
Summer training for teachers provides tools to enrich science classrooms
Media Component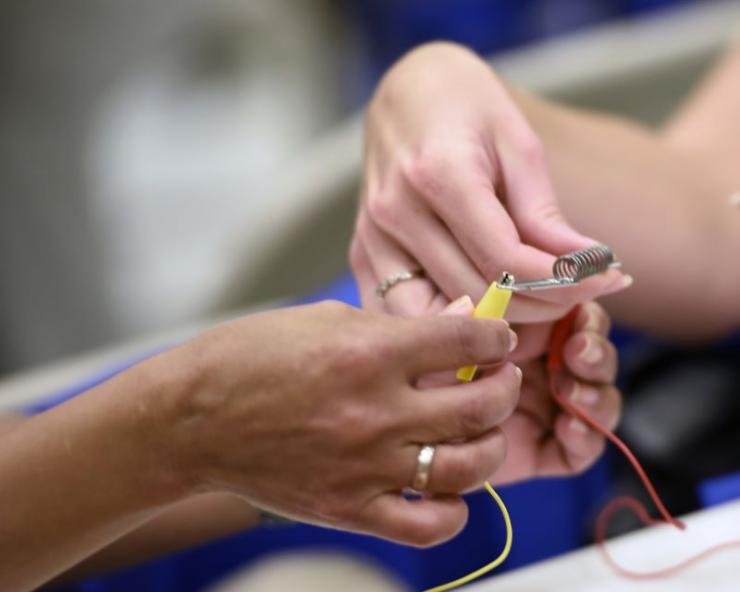 Content
When school gets out for the summer, some dedicated Houston Independent School District elementary teachers head right back to the classroom to participate in a weeklong training program through Baylor College of Medicine's Baylor Summer Science Institute.
The overall goal of the Baylor Summer Science Institute is to work with the teachers during the summer to increase their content knowledge and also to give them actual physical science lessons that are grade-level appropriate that they can implement in their classrooms.
In 2016, nearly 200 elementary school teachers from 63 HISD campuses participated in the program at Sylvan Rodriguez Elementary School. The program is focused primarily on elementary school grades but also has included middle and high school grades.
Media Component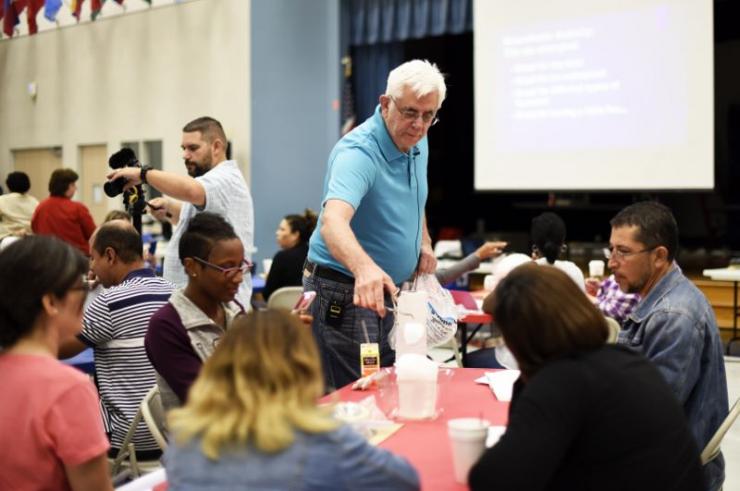 Content
Throughout the program presentations are made by scientists, doctors and science authors who give teachers more in-depth science lessons. Teachers also receive resources such as books and lesson materials to help them in the classroom.
"Through the program we help engage the teachers with things like experiments so they can actually explore the scientific phenomenon for themselves in safe, exciting way while getting content and a legitimate understanding," said Christopher Burnett, assistant director of the Baylor Summer Science Institute and project manager for the Center for Educational Outreach.
Working through experiments and lessons provides the teachers a chance to gain hands-on experience with the materials before they teach their students, said Tharp.
According to Tharp, it is extremely important to help elementary school science teachers feel empowered and comfortable teaching science because they lay the educational foundation for students.
Media Component
Content
Steven Eaton, a third grade teacher at Isaacs Elementary School, said he is impressed with the experiments and is eager to see how his students react to the new material.
"The hands-on experiments are phenomenal. The best part about that the experiments is that they are very easy to assemble so there's not a lot of preparation time involved," Eaton said. "This makes them very applicable to the students and with us being excited about it, the kids will be too."
Cheskisha Williams is a master teacher, an educator that has gone through the program who is now helping to train the new teachers. Williams said the training benefits students because the teachers are learning techniques that will help the students thrive.
"We want our teachers to feel comfortable so our students can be successful. This program provides teachers with this in-depth content and helps them understand it so they are able to take it back to their classrooms and break it down for the students so the students understand," Williams, also a third grade teacher at Montgomery Elementary School, said. "It also makes learning so fun, and when kids are having fun learning, they are storing information in their long-term memory."
"It is a really strong program. The teachers that come here get a lot out of it," added Donna Williams, master teacher and third grade teacher at Poe Elementary School. "This program teaches you that you can do a quick and meaningful science lesson almost every day."
Heading
Teacher Professional Development
Content
Baylor's Center For Educational Outreach professional development workshops provide learning experiences, where educators earn CEUs through face-to-face workshops or online courses. Workshops and topic series can be tailored to meet the needs and requirements of individual schools or school districts.
Learn More
Heading
Poised For Success
Content
Find out how magnet programs, like Houston Independent School District's Baylor College of Medicine Academy at Ryan, are preparing students for successful biomedical careers.
Heading
From SMART students to Baylor faculty
Content
Drs. Sandeep and Kathryn Sowell Agarwal were rising seniors in college when they met through Baylor College of Medicine's SMART Program.
Read Their Story