Master
Content
The Neuroscience Graduate Program is designed to give you a well-rounded educational experience. The curriculum includes courses, directed by neuroscience faculty, that are designed to provide you a strong background in all facets of neuroscience. Our curriculum builds competency in both practical and theoretical aspects of neuroscience, including modern laboratory techniques, genetics, cell biology, developmental neuroscience, neurophysiology, neuroanatomy, systems and computational neuroscience, and neurological disease.  Courses are also available from the core curriculum of the Graduate School of Biomedical Sciences.
View core curriculum and course descriptions
Heading
Laboratory Rotations
Content
In addition to the coursework, during your first year, you will familiarize yourself with the different approaches to neuroscience research by embarking on a series of rotations in the laboratories of Neuroscience faculty. The purposes of the laboratory rotations are to provide a way for you to get to know the faculty and the focus of their research and to gain experience in a variety of experimental techniques. Research rotations are expected to lead to the selection of a thesis research project.
Explore our research
Content
At the end of the first year, you will choose an advisor. Your advisor and the Thesis Advisory Committee will guide you in developing a suitable thesis research project. You will then take a qualifying exam, which is administered by members of your Thesis Advisory Committee. This exam is designed to test your ability to synthesize, write up, and defend a scientific research project. The research proposal may cover any area of neuroscience research and typically (but not necessarily) represents a project being conducted or contemplated your thesis project. Upon the successful completion of the qualifying exam and satisfying the necessary course requirements, you will be formally admitted to candidacy for the Ph.D.
Terms

Item Definition
Neuroscience Journal Clubs are available to help students and faculty apply their knowledge and keep up-to-date with the current state of their specialty area within the neuroscience field. See a listing of the journal clubs with information about each one. 

Item Definition
Neuroscience students have regular opportunity to share their research with their peers at the monthly student chalk talks where each student is scheduled to present once a year. Chalk talks are informal presentations without slides or prepared visuals, where presenters verbally explain their work and use whiteboard illustrations if desired. Thus, students not only learn about current research but are able to solicit valuable comments on their own projects and practical suggestions for improvements in experimental design and procedure. The chalk talks are a time when students can share project ideas or current data, ask questions, discuss interesting new techniques and ask for feedback.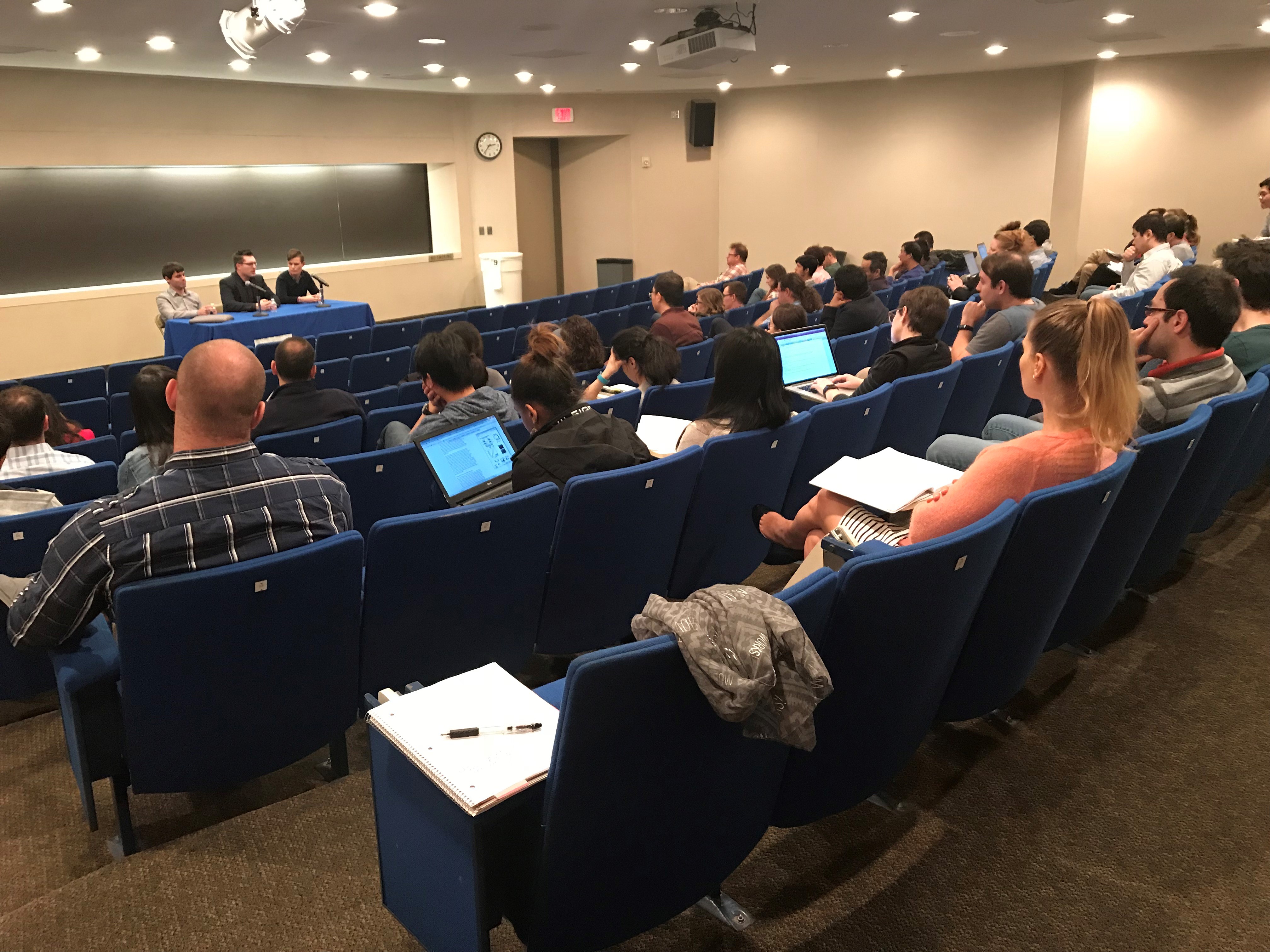 Seminar Series
Item Definition
The Department of Neuroscience sponsors a seminar series that attracts distinguished leaders and scientists from around the United States and internationally. Seminars provide opportunities to hear talks from eminent neuroscientists researching brain function from diverse perspectives - in other words it is an important aspect of your continuing, broad education into the neurosciences. You will have the opportunity to meet with many different neuroscientists after the seminar over lunch, a time specifically reserved for our students to meet with the speaker. Our weekly events are open to all members of the neuroscience community at the Texas Medical Center.

Career Development
Item Definition
The BCM Career Development Center offers many workshops and seminars as well as one-to-one counseling and other services to help plan for your future career from your first days of graduate school through graduation day and beyond.
Content
Team Launch provides innovative, interdisciplinary learning opportunities that will prepare you for careers in team-based science and healthcare.
Learn more
Heading
Student Success Resources
Content
Student success resources at BCM are designed to help you successfully navigate through your education and into the workforce. Taking care of yourself is a pre-requisite your success in school and beyond. At BCM you will have many options to participate in individualized or group wellness programs, as well as access to support services including the Student Disability Services, Ombuds Office, and more.
Learn more