Health and safety tips during flooding, flood recovery
Media Component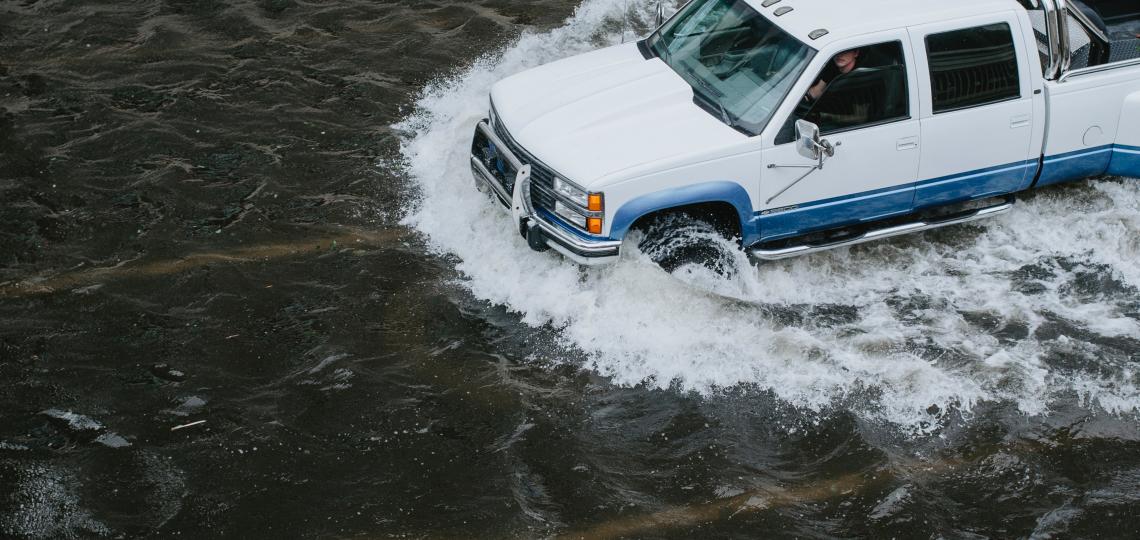 Content
A white truck drives through a flooded roadway. Flood waters can cause a variety of health concerns, including allergies, trauma and the spread of infectious diseases.
Content
Flood waters can cause a variety of health concerns, including allergies, trauma and the spread of infectious diseases. Baylor College of Medicine experts offer some health and safety tips.
Heading
Re-Entering the Home
Content
"A few key things to keep in mind when returning to your home after a flood are personal protection, stability of the structure and developing an action plan for cleanup, including safe cleaning techniques and proper disposal of waste," said Dr. Rebecca Bruhl, assistant professor of medicine - general medicine and associate director of the Environmental Health Service at Baylor. "It's important to appropriately protect yourself whenever you enter a flood-damaged or moldy building by wearing an N95 face mask, hat, heavy rubber gloves, goggles, clothing with long sleeves and pant legs, closed-toed shoes with rubber soles and disposable shoe covers. Also, be sure to cover any open wounds with a watertight bandage."
Those with asthma or other respiratory conditions or weakened immune systems should not help with cleanup activities.
Before returning to a flooded home, wait until it's safe and return only during daylight hours.
Assess for structural damage, including potential damage to your electrical, natural gas and plumbing systems before entry. If you are uncertain, turn off the systems and call a professional.
If you're using a generator, make sure it's outside to avoid carbon monoxide exposure.
Learn more about safely re-entering a home.
Content
"When people are displaced from their homes, there are general health risks that they may face," said Dr. Shital Patel, assistant professor of medicine - infectious disease at Baylor. Along with concerns for skin rashes, bacterial and viral infections, chronic conditions and infections can flare up in stressful situations, unfamiliar surroundings and crowded conditions. Patel offered advice on managing your health, post-flood:
Maintain control of routine healthcare needs such as checking sugar levels and blood pressure. Being able to get medication in a timely manner is important in a situation like this.
People with chronic or acute illnesses who have been displaced should check in with their doctor as soon as possible.
Evacuees staying in close quarters may be at particular risk for flood-related infectious diseases. A diarrheal infection such as Norovirus is definitely a concern because it can be spread rapidly.
Hand hygiene can help reduce the risk of spread of certain illnesses for you and others.
"The best thing we can recommend is if you feel an illness coming along or you feel unwell, be evaluated by a physician. It is best that you are proactive in taking care of yourself physically and mentally through these challenging times," Patel said.
Content
"When there is an event that brings more moisture into an already high-humidity environment such as Texas, then allergies are only going to get worse," said Dr. David Corry, professor of medicine – immunology, allergy and rheumatology at Baylor.
If your house was flooded, hire a reliable contractor to get the house remediated.
Do not put carpets back in the house because they tend to retain allergens. Instead, install hardwood or tile floors.
Humidity in the house should be kept between 40 and 45 percent, so monitor it whether or not your house flooded.
Run your air conditioner a little bit cooler than normal or have it adjusted by a trained technician. Adding a dehumidifying device also can be helpful.
Keep your house as dust free as possible – use a high-quality vacuum cleaner with a HEPA filter and change the air conditioner filter regularly.
Wear a mask to protect from allergens.
Get allergy testing if you don't know what you're allergic to.
Content
According to Dr. Asim Shah, professor and executive vice chair for community psychiatry in the Menninger Department of Psychiatry and Behavioral Sciences at Baylor, it's common for those who have gone through a traumatic experience to suffer from anxiety, depression, stress, fear and insecurity, which can last for months and develop into post-traumatic stress disorder.
It's especially important to pay attention to how children are dealing with the trauma.
Warning signs include:
Isolating themselves in rooms
Hiding in closets and rooms
Not eating or eating less
Not interacting with people
Address these warning signs sooner rather than later and seek professional help if needed.
He added that children can grow attached to material items like blankets and toys so it's important to remember to slowly and systematically desensitize them to the fact that their items may not be usable if their home was damaged or destroyed.
For adults who need help coping, Shah said the first step they can take toward healing is to talk about their experience and not ignore how they are feeling. The second way they can cope is by seeking professional help and, lastly, adults can use stress management and relaxation techniques.
"There are numerous ways to cope with a disaster like this, but the best thing you can do is try to cope as best as possible," Shah said.