Master
Media Component

Credit
Baylor College of Medicine Archives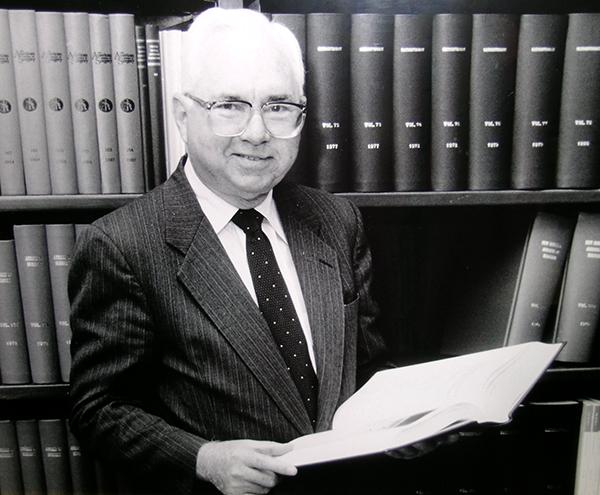 Content
Dr. George L. Jordan, Jr., graduated from Tulane University in New Orleans and came to Baylor College of Medicine in 1952 where he worked closely with Dr. Michael E. DeBakey to establish outstanding surgical, education, research and clinical programs. Dr. Jordan served as chief of surgery at the Michael E. DeBakey VA Medical Center and deputy chief of Surgery and then chief of staff at Ben Taub Hospital. He directed the Affiliated Medical services of Baylor College of Medicine and The University of Texas Health Science Center. He served for 42 years in the public health sector.
Know as "the" gastrointestinal surgeon in Houston for three decades, Dr. Jordan treated patients with pancreatic cancer, short bowel syndrome, complex gastrointestinal malignancies, complex ulcer disease, and complex pancreatic problems. He maintained a busy schedule in research and administration but did not fail to make daily rounds on his patients and often knew more about them than anyone else in the service.
As a researcher, Dr. Jordan's focus was on the diseases of the pancreas and other gastrointestinal problems. He developed the Jordan test for afferent loop syndrome and the Jordan procedure for the treatment of complex pancreato-duodenal trauma.
Dr. Jordan authored numerous publications in peer-reviewed journals and co-authored a book with John Howard titled "Surgical Diseases of the Pancreas".
Dr. Jordan's dedication to training generations of surgical residents made a profound impact on the lives of those he touched. He is highly regarded by those he taught and helped shape many of the leaders in the department today.
"Dr. George L. Jordan was my surgical father. He was the first surgeon I met when I arrived in Houston in 1960. He taught me time management, reading skills, disciplined habits, attention to detail, surgical skills, insatiable pursuit of new knowledge, patience, the art of listening, tenacity, humor, and the need for unmoving principles." - Kenneth L. Mattox, M.D., distinguished service professor at Baylor College of Medicine and chief of staff and surgeon in chief at Ben Taub Hospital.
Dr. Jordan's legacy to the department and to medicine as a whole can be found in his contributions to society through his 42 years of service in the public health sector, his dedication to education, and his relentless pursuit of research.
"He was the most caring kind, selfless, moral and honest person I have ever known. He unselfishly supported countless young surgeons to excel. He could have spent his life in the most hallowed halls of the most elite of hospitals. He did spend his life among the many hospitals of the Texas Medical Center, but resided in the Veterans and county hospital systems. He dedicated his most sacred energies to the highest quality of health care for those who had no other choice. Within the indigent care facilities, he combined his religious zeal, his surgical excellence, his teaching wisdom, and his research insight into what is uniquely Dr. George L. Jordan, Jr., M.D. - A Lifetime of Service." - Dr. Kenneth Mattox